Line 2:
Line 2:
 

'''Amselma Johanston''' is the daughter of Klara, and Thomas Johanston making her a member of [[House Johanston]].

 

'''Amselma Johanston''' is the daughter of Klara, and Thomas Johanston making her a member of [[House Johanston]].

 
 
−

Anselma Johanston would be sent to the Dreadfort following her sixth birthday to act as the hostage for House Johanston in the capital, and she would be accompanied in this endevor by her aunt Metalyn Johanston of whom was young as well and both would go with great hopes of becoming prized ladies. Anselma Johanston alongside Metalyn Johanston would accompany Domeric Bolten's peace forces to Karhold and while Metalyn would eventually be passed on as a hostage to House Karstark but Anselma returned with Domeric to the capital. Anselma Johanston would be inside the Dreadfort when the even known as the Dreadfort Court Massacre occurred and she would be one of the hostages that was killed during the massacre and her body was put into the mass grave and her family was told lies about where she was.

+

Anselma Johanston would be sent to the Dreadfort following her sixth birthday to act as the hostage for House Johanston in the capital, and she would be accompanied in this endevor by her aunt Metalyn Johanston of whom was young as well and both would go with great hopes of becoming prized ladies. Anselma Johanston alongside Metalyn Johanston would accompany Domeric Bolten's peace forces to Karhold and while Metalyn would eventually be passed on as a hostage to House Karstark but Anselma returned with Domeric to the capital. Anselma Johanston would be inside the Dreadfort when the even known as the Dreadfort Court Massacre occurred and she would be one of the hostages that was killed during the massacre and her body was put into the mass grave and her family was told lies about where she was.

 

==History==

 

==History==

 
+

Anselma Johanston would be born the second child of Thomas Johanston and his second wife Klara Johanston thus leaving her at the time of her birth outside of the line of succession due to having several elder brothers.

 

===Early History===

 

===Early History===

 

Anselma Johanston would be sent to the Dreadfort following her sixth birthday to act as the hostage for House Johanston in the capital, and she would be accompanied in this endevor by her aunt Metalyn Johanston of whom was young as well and both would go with great hopes of becoming prized ladies.

 

Anselma Johanston would be sent to the Dreadfort following her sixth birthday to act as the hostage for House Johanston in the capital, and she would be accompanied in this endevor by her aunt Metalyn Johanston of whom was young as well and both would go with great hopes of becoming prized ladies.

Line 15:
Line 16:
 

</gallery>

 

</gallery>

 

==Relationships==

 

==Relationships==

 
+

[[Category:House Johanston]]

 
+

[[Category:People]]

 
+

[[Category:People of Bolten]]

 
+

[[Category:Human]]

 
+

[[Category:Goth]]

 
+

[[Category:Dead]]
---
Revision as of 03:51, 8 November 2018
Amselma Johanston is the daughter of Klara, and Thomas Johanston making her a member of House Johanston.
Anselma Johanston would be born the second child of Thomas Johanston and his second wife Klara Johanston thus leaving her at the time of her birth outside of the line of succession due to having several elder brothers. Anselma Johanston would be sent to the Dreadfort following her sixth birthday to act as the hostage for House Johanston in the capital, and she would be accompanied in this endevor by her aunt Metalyn Johanston of whom was young as well and both would go with great hopes of becoming prized ladies. Anselma Johanston alongside Metalyn Johanston would accompany Domeric Bolten's peace forces to Karhold and while Metalyn would eventually be passed on as a hostage to House Karstark but Anselma returned with Domeric to the capital. Anselma Johanston would be inside the Dreadfort when the even known as the Dreadfort Court Massacre occurred and she would be one of the hostages that was killed during the massacre and her body was put into the mass grave and her family was told lies about where she was.
History
Anselma Johanston would be born the second child of Thomas Johanston and his second wife Klara Johanston thus leaving her at the time of her birth outside of the line of succession due to having several elder brothers.
Early History
Anselma Johanston would be sent to the Dreadfort following her sixth birthday to act as the hostage for House Johanston in the capital, and she would be accompanied in this endevor by her aunt Metalyn Johanston of whom was young as well and both would go with great hopes of becoming prized ladies.
The Near War
Conflict with House Johanston and House Karstark
I finally see you for what you are in this moment Ramsey. You need to see that the path you are on is wrong. I can help you. I can make you a better person. Just give me a chance.
"

I loved her deeply Prince Domeric. I loved her deeply and they murdered her just to spite me.

"

—

Thomas Johanston
The relationship between House Karstark and House Johanston had always been one of neglect as following the betrayal of House Starke by the Karstark elements the Johanstons had never really returned to the fold, and this meant that when Thomas Johanston traveled to Karhold and over several months fell in love with and eventually impregnated Sasha Karstark the two houses would explode. Following several deaths on both sides and a near invasion the King of Bolten in the form of Roose Bolten who come to the region and commanded the ending of fighting, but as a means to end further hostilities he commanded the splitting of time for the young child that had come of the union of Sasha and Thomas. The peace would all come to an end with the conflict that grew between Rickard Karstark, and Domeric Johanston of whom one time close friends became increasingly hateful towards eachother. Rickard Karstark II. would grow into a rivalry with his cousin Domeric Johanston and this rivalry would eventually end with the two dueling and Rickard being horribly scarred leading to Domeric being imprisoned in Karhold, and after Sasha Karstark attempted to flee Karhold to gain assistance from her former lover and Domeric's father she would be killed sparking the final conflict between House Karstark and House Johanston.
The Capital Comes
"

The Karstarks are being resisted by one of their vassals and my friend Rickard asks that we come south to stop things before they boil out of control. This will be your first true experience in the matters of vassals and their needs my son.

"

—

Roose Bolten
Domeric Bolten travels alongside his father and brother to Karhold where the forces of House Karstark are near invasion of the lands of the powerful House Johanston. Arriving in Karhold the Bolten members deal with the fallout from the relationship between Sasha Karstark and Thomas Johanston of which has already ended with the murder of Sasha by Harrion Karstark. Domeric leaves with Jordin Bolten, Randal Ollendog, Landon Turdroc, and Vatef Karstark of which the last in Vatef is an extremely troubled young man of whom is sent to represent the Karstarks in Domerics meetings with the Johanstons.
The Trade
"

When we go there Prince Domeric do not dare believe that what they ask in return will be anything but cruel. They killed Sasha in front of me for no reason other then to hurt me. They will do far worse now. Never trust a Karstark.

"

—

Thomas Johanston
Domeric returns to Karhold with Thomas Johanston and a large force of the Johanstons where they meet a mile from Karhold and the exchange is made between the two houses. Domeric recieves his son and cries bitterly with his family as his sister Metalyn goes with the Karstarks as the other element of the trade.
Ramsey's Madness
"

I thought I could save you Ramsey. I'm not ready to give up on you yet brother, but what you did here isn't okay. Do you not fear for your soul?

"

—

Domeric Bolten
Leaving Karhold with his father and the rest of the Dreadfort party he questions as to where Ramsey is and his father reveals that instead of assisting with the negotiations he went south and murdered to farmers on the Jeutenburg lands only just escaping with his life. Domeric leaves his father and goes south where he assists his brother Ramsey in negotiating a way out of the murders of the two farmers and only the promise of Domeric that Ramsey will be punished and following this Ramsey and Domeric get into a fight as Domeric is shocked as Ramsey begins laughing about what happened.
The Dreadfort Court Massacre
This is the moment where we move past redemption. If we do this we become beyond anything worth saving, but the unfortunate nature of this is that if we do not I will watch my kingdom collapse anyway. Options...Options...
Dreadfort Court Massacre
Main Article : Dreadfort Court Massacre
"

Karhold, Jeutenburg, and much of the west were being taken by the Lucernians, and I think in that moment as the noble lords watched everything they had built falling apart there were many that wanted out. The rule of Bolten meant that many of them had sons and daughters as hostages in Dreadfort and these were more important then any land would ever be.

"

—

Josh Cole
When Karhold became completely surrounded by the forces of House Starke and others from the Kingdom Of Lucerne there became a movement by many of the lords of Bolten to try and get their children from Dreadfort of which everyone knew was the next target for the Lucernians. Roose Bolten understood that he only retained many of the nobles loyalties by holding their children and for this reason refused any calls to give up the children, and in fact called for more to be sent to solitfy loyalites. Anderson Cole would start a movement to Dreadfort when he and his friend Hadrian Hornwood would lead many nobles to Dreadfort in order to see Roose Bolten and get their children back. Brodin Isnet fresh from seeing the losses of the Boltens at Jeutenburg would give command of Wishborne Castle to his son Brodin Isnet and then would lead a small force of House Isnet to the Dreadfort where he would arrive just before the arrival of Anderson Cole and was prepared to demand the release of his son and heir. When they arrived they were greeted by Roose in the Dining Hall of the main keep as they wanted to be protected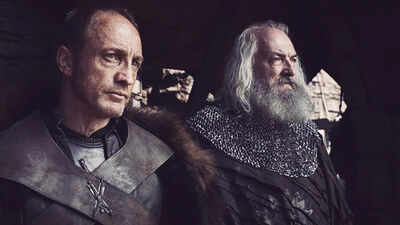 by the Guests Right, and while at first the mood was positive when talk begin on returning hostages it became clear they were not getting their children. Shocked by this turn of events Roose moved forward and they were told to leave and bring their forces to Dreadfort as they were commanded or risk their children never coming home. As this command was given several mostly led by Henrik Stout would argue that the war was not winnable if they did not work together, and that they needed to place trust in the nobles by giving them back their children and not holding them as hostages during conflict. When these arguments arose in the Dining Hall to a level that the tide turned to the rebels, Roose would shock everyone as he ordered his men to break the Guests Right by having the nobles rounded up by his guards and brought to central Dreadfort's square.
"

To see so many honest men die in that short a time was a sad thing to behold. They wanted their children back, and for their troubles many of them were forced to watch their children killed in front of them. I held Justin the entire time in my room as I knew that if he was let out he would try and save his father and that would find him dead with the rest of them. Any love I still held for my family died with those poor souls. My father had lost his mind somewhere along the road, and I knew this was the moment he went to far and got himself in too deep to ever dig himself out of the chaos.

"

—

Misha Bolten
With the nobles chained to posts in the Dreadfort square Roose and Rickard Karstarke would find every one of their children who were hostages in the capital and of those that they had more then one they executed the children while their fathers were forced to watch the act. In this brutality children as young as the five year old Sasha Cole were
executed, and as the bodies piled up a fight broke out as Cley Cerwynn would get out of his bonds and kill a gaurd in front of him. Cley's execution begin the execution of the remainder of the nobles as Roose executed everyone else in the square leaving nearly thirty nobles and fifteen children dead. It was a shocking moment for all those other then Roose, but they all stood motionless as Roose walked forward and knelt down before the body of one of the children and closed its eyes before getting up and walking back into the keep. There was little talk after this as the rest of the men there knew that there was now no escape for them, and the remaining children were brought into the keep where they would remain under house arrest. Realizing that Justin Cole was the only one of the hostages not present Tared ordered him found and brought before him, and since they had another Cole already in Sasha Cole who the others would not know was among the dead he no longer needed Justin. Misha Bolten and Justin Cole were hidden at this point and made their way into the city proper only stopped by a guardsmen who Justin was forced to kill to get past him. Making their way into the town they were close to being caught when a door opened to a house and a man beckoned them inside. Getting inside the man told them he was Veseryan Ongrill and had been sent by the Kingdom of Lucerne to find him. Fearing for their life Justin took out his sword again but as he did Veseryan would knock it from his hand and push him against the wall holding him restrained before saying.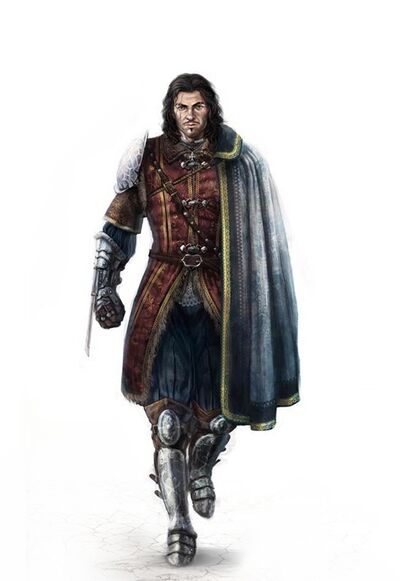 "

Fear not Lucerne young one. We are your only friend in this land of madness.

"

—

Veseryan Ongrill
Misha would come between them, and was able to sit Justin down and calm him, and once they were all seated Veseryan told them that he couldn't get them out right now as the streets were filled with men looking for Justin and Misha, but soon he would get them out through the sewers. Veseryan would hide them in a cellar beneath the house, and once inside they found several other children that clearly Veseryan had also taken in so that they would be safe. Learning more about Veseryana and the Lucernian presence from Messaries Condon the oldest of the children in the cellar he was amazed at the level of infiltration the Lucernians had already made. Back on the street the gaurds of Bolten went house to house trying to find Misha, and Justin, and when after several days they had failed to find them the story was spread that Justin had kidnapped Misha after killing many of the noble children in the capital, and thus he was blamed for much of the murders. Veseryan would be able to gain knowledge of who had died from Tyse Hornwood who remained in the keep, and it was that list that Veseryan would sent west to the besieging forces of House Starke so that they could pass that information on to the others. Returning to the house Veseryan prepared the children for the moment they would move to escape, and made them aware that it was not going to be easy, as he had noted improved guarding of the sewers as House Bolten attempted to stifle escapes from the capital.
Rescue of Ottilia Caliman
As the Executions took the lives of Willas Caliman and Egidia Caliman it was Ottilia who survived and was taken into a side room of the castle by a Bolten guard who planned to rape her before killing her. Edvard Caliman who had watched the killings from inside the castle wiped the tears away and followed the guard who had taken his cousin and Edvard was able to kill the Bolten guard who had been preparing to rape Ottilia Caliman. Following this and after calming down Ottilia the two would use the commotion to sneak Ottilia out and thus escaping from the city and making their way back to Castle Caliman.
Family Members
Relationships
Community content is available under
CC-BY-SA
unless otherwise noted.