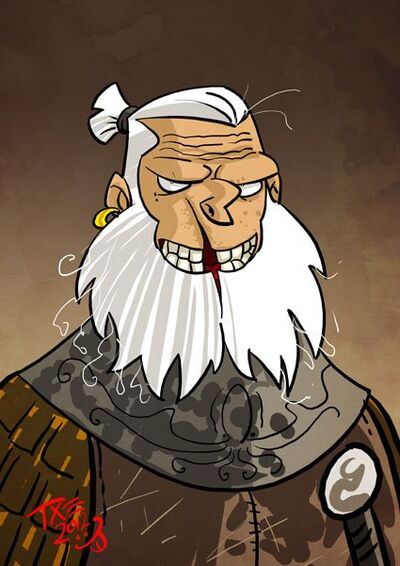 Dagmer of Pyke is an Ironborn man that serves House Greyjoy. Dagmer Pyke was brought into House Greyjoy as a young man and trained alongside Balon Greyjoy of whom he lusted after for many years, and when Balon was murdered by Euron Greyjoy Dagmer became overcome with hatred of Euron.
Dagmer Pyke was brought into House Greyjoy as a young man and trained alongside Balon Greyjoy of whom he lusted after for many years. His love for Balon was never recipricated despite the closeness of their relationship but it led Dagmer to serving House Greyjoy for years and never attempting to have himself a family. Dagmer would save the lives of Ezio Ederiz, and his Violet Dragons after they were ambushed by men of Euron, and he provided them with shelter, and then after telling them of the rise of Euron Greyjoy, and the alliance with the Boltens he provided them with a ship in order to make their way to Taraban where Ramsey was going next.
History
Early History
Dagmer Pyke was brought into House Greyjoy as a young man and trained alongside Balon Greyjoy of whom he lusted after for many years. His love for Balon was never recipricated despite the closeness of their relationship but it led Dagmer to serving House Greyjoy for years and never attempting to have himself a family.
Siege of Harrenhall
Main Article : Siege of Harrenhall
The Siege of Harrenhall
Burn the false goths in their homes. I don`t want a survivor to tell the story of how their city died. Leave none alive...From this point on I want only the memory of that city.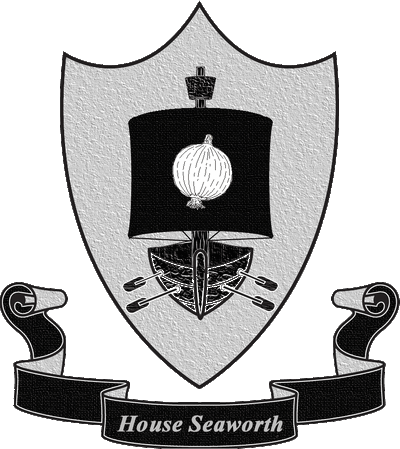 "

I got sick and tired of being unimportant to a family that had always meant everything to us. We had spent our entire history being loyal, and what had it gotten us? What had we gained through all the blood, sweat, and tears of the last many generations?

"

—

Davos Seaworth
House Seaworth had been for much of their history the second or at the worst third strongest house in Harrenhall behind only House Strong, and at times House Gronn. This position was cherished by the leadership of House Seaworth for much of their history, and they were rewarded with control over the port of Harrenhall which was hugely important to the cities power. This power they had been given though for them always felt as if it was a slight as they secretly wanted total control, and this became an even more blatent belief under Davos Seaworth who was an honorable man but also a man that wanted more of everything he could get. At first Davos had despite his silent wishes remained loyal to House Strong and simply bided his time hoping that good things found their way to his house but as time went on his patience disapeared. In this lack of patience he would turn to his one loyal vassal in House Horpe and he would turn his forces completely against the House Strong loyalty of their history. The growing discontent of House Seaworth reached its pinacle and the basic end of the line, when they attempted to gain influence in the small House Jare, and when this was discovered Robert Strong had Halten Seaworth put in jail as punishment. With this imprisonment the leadership of House Seaworth came to the conclusion that House Strong were tyrants that they should take the mantle of power in Harrenhall from. They decided to do this by reopening the channels that had existed with the Iron Islands before they had cut ties with such rebellious thoughts.
"

Did I ever think that it would lead to all this? I don't think I really thought about the consequences of making a deal with the Ironborn. I simply saw a chance to get what I wanted and I was willing to do anything and everything to get what I felt I was owed.

"

—

Davos Seaworth
In order to establish this alliance once again Davos Seaworth would send three of his sons in the form of Dale Seaworth, Maric Seaworth, and Allard Seaworth, alongside his sister Kateryn Seaworth in order to strike the deal while he himself stayed near the leadership of House Strong to make sure they were not catching on to his plotting.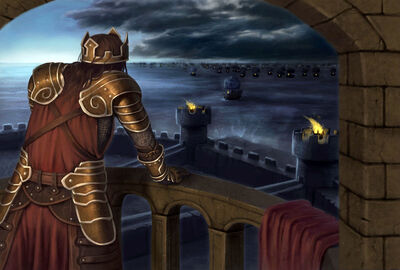 "

You let these monsters inside. Without you none of this would have ever happened.

"

—

Renley Strong to Davos Seaworth
As the plans came through and the Iron Islands agreed to finance and support the invasion in returrn for House Seaworth becoming the vassal of House Greyjoy. This vassal position would mean that they would become a member of the Iron Islands but at the same time be in complete control over Harrenhall. Obviously both sides did not intend to actually go through with this but either way the deal was struck and the Iron Islands prepared to send thousands of troops to Harrenhall in order to take control of the city. The Iron Fleet would arrive in the night and when Davos Seaworth saw the giant horizon covered with their ships he would in that moment come to truly understand what he had done, and would delay giving the command to start the ambush leading to an argument between himself and his sons of which other then Dale Seaworth worked to convinse Davos that this was the right thing to do. After minutes of argument Allard convinsed him to order his forces to lead the ambush leading to the massacre at the docks that would come about.
Fall of the Docks
"

Something changed immediately in my heart the moment I saw them on the horizon. They looked like monsters coming to destroy my home, and it had never looked like that in my dreams. But I guess that was the truth in that what was once just a thought was now going to happen. Looking out at the monsters I was tempted for a single moment to stop.

"

—

Davos Seaworth
Following the command of Davos Seaworth for his forces to execute the betrayal across the city the docks would become the first major source of the betrayal with his forces moving swiftly against positions of power at the docks. Allard Seaworth had been working tirelessly to bring Zooey Strong to his side of things and get her to suppport the Seaworth claim and in his twisted mind he came to believe that one of the main ways to do this was to eliminate that which she felt close to in House Strong in the form of her immediate family and most notably in her closest siblings in the form of Heather, and Kyle Strong. Allard would days before the Siege of Harrenhall happened create a situation where Kyle Strong was at the Lighthouse with a diminished garrison, while Heather Strong was tricked into believing that her betrothed in Dontis Peach was planning a suprise for her on the day of the siege and thus she was in a small dockhouse waiting for him when the siege was too begin.
Reaving Cerwyn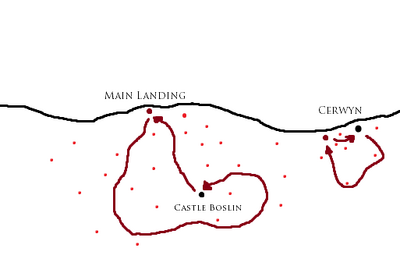 "

It all begin so simply. It was another succesful reaving by Maron, and it should have been a moment to look back on and be happy, but it now is clouded by Euron`s madness.

"

—

Kristanna Greyjoy
Balon Greyjoy had come to the conclusion that the Boltens had lost and he wanted to get a piece of their lands before the Lucernians completely overwhelmed Bolten. In order to do this he ordered many Ironborn including his son to reave along the coast of Bolten, and Maron specifically would be commanded to raid near Cerwyn. Maron would take some two thousand ironborn and by ship land two days west of Cerwyn. Capturing several villages in the area they reaved with relative ease as the main Cerwyn army was south trying to hold Hayford. During these intial days Kristanna and Maron fought side by side and during the nights there passion came together and there love was rekindled, but it was not to last.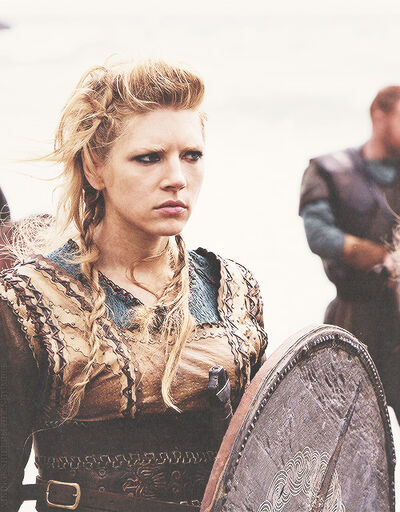 "

I hope that won`t end up being the last night I share with Kristanna. I understand it isn`t our way to live happily ever after, and that a violent end is a good thing, but I miss her. I always miss her.

"

—

Maron Greyjoy
In a final series of attacks Maron was able to capture the rich tin mines of Castle Boslin through a series of feignts where they drained the defenders of the castle while they stripped the mines clear of minerals. Travelling back to the ships weighed down by tin they were forced to wait two days for trade cogs to arrive to gather the tin for transport back to the Iron Islands. At this point Maron travelled inland with forces and continued reaving for the two days as he scattered his forces in order to maximize the damage he was doing. Maron at this point would hear from some of his men that they had heard rumors that Euron Greyjoy was returning and had been spotted in the northern ports of the Dontus, and this horrified Maron who knew this wouldn`t lead to anything good. When they were leaving Maron had been seperated from Kristanna Greyjoy but got news of her safety and thus left on his ships to return and speak to his father about the rumors of Euron.
Ambushed at Pyke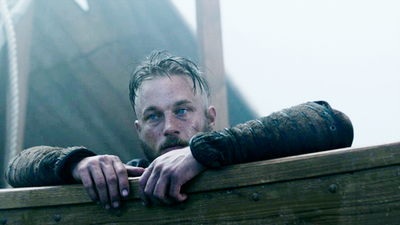 "

Hetrek felt something wrong, and it was one of the first times that I didn`t take his preminitions to heart. It got him and all our men killed by my failure to listen to him.

"

—

Maron Greyjoy
Maron Greyjoy would arrive in Pyke days before the rest of his raiding party, and when he arrived his second man Hedrek would warn him that it felt off and that they should not enter the port. Maron was so worried about the consequences of Euron Greyjoy possibly returning soon that he ignored him and entered the port. When they docked and made their way onto the port their ship came under fire from archers from walkways across the port, and two ships entered behind their ship firing more arrows. As they made cover the arrows stopped but had devestated the crew, and as they stayed hidden they were attacked by Ironborn in melee combat. After a brief fight they were overwhelmed and Maron was captured while the rest of his men were killed, and Maron was brought before Euron. Euron told him of the death of Balon but refused to admit to killing him, and told him that he was going to be held to secure the loyalty of rebels within the Ironborn that wished Euron harm.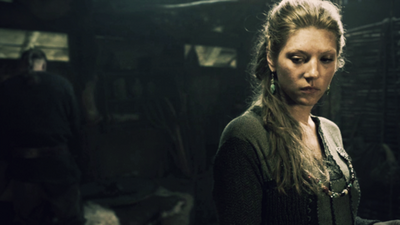 "

It was unthinkable what Euron did to our people. He believes himself the greatest Ironborn to have ever lived, but I saw without question or doubt in my mind that he will be remembered as the worst.

"

—

Asha Greyjoy
News broke quickly of the ambush on the dock, and one of the few men to see the massacre and be able to escape to tell of it was a Greyjoy loyalist named Dagmer of whom would command several of his men to gather Maron`s children who were staying on Old Wyke, and to make sure House Loken knew of what had transpired in Pyke. Dagmer following this would leave Pyke after he got a small boat and rowed it out to sea during the night. By his great skill he was able to intercept the fleet of Kristanna Greyjoy and the main force of Maron before they neared Pyke, and he would convinse her to pause her forces. Telling her what had happened, and telling her that he had already sent word to her family to make sure noone got her children, he was able to persuade her to not die foolishly on Pyke and to instead travel to Old Wyke and plan the rescue of her husband. 
Relationships
Maron Greyjoy
Community content is available under
CC-BY-SA
unless otherwise noted.