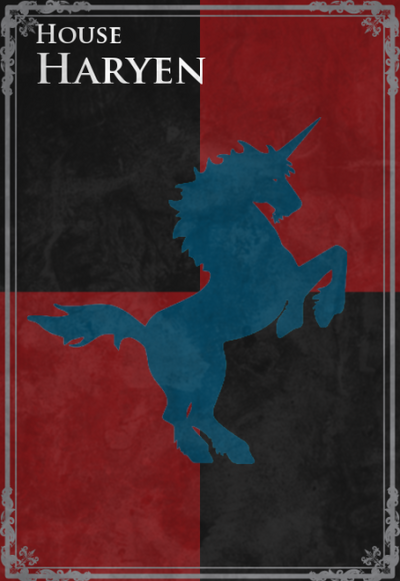 Insert Character Name is the son of Harrin, and Luciya Haryen making him a member of House Haryen
Daman Haryen would be born the second son, and third child of Lord Harrin Haryen making him third in the line of succession behind his elder brother and sister as House Haryen practiced Absolute Cognatic gender succession laws. Lucas Rurwell would be sent alongside Lord Harrin Haryen to represent the interests of House Ryswell during the Bolten Invasion of the Divine Lands and the co leadership of the two men worked well as they were close friends. Daman Haryen would take part in the Fall of Jeutenburg where during the assault on House Chandyll he would be horribly maimed in a duel with Toman Chandyll and fell into a coma due to his injuries and then passed away several days later.
Characteristics
Personality
History
Daman Haryen would be born the second son, and third child of Lord Harrin Haryen making him third in the line of succession behind his elder brother and sister as House Haryen practiced Absolute Cognatic gender succession laws.
Early History
First Bolten-Lucerne War
Main Article : First Bolten-Lucerne War
Fall of Jeutenburg
Jeutenburg was the first act of a truly insane man. Instead of offering quarter and hoping for any kind of assistence in the Divine Lands he butchered the first city he found and expected the rest to what...give in to him peacefully. Madness, and stupidity.
Fall of Jeutenburg
Main Article : Bolten Capture of Jeutenburg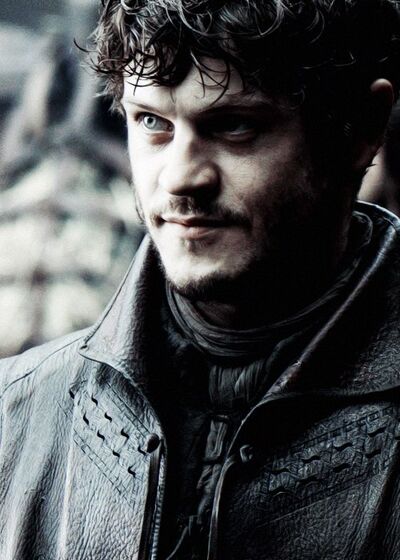 "

Daryn the truth is that nothing that happens here will end well. My brother is pretending that it will but the reality is that hes going to destroy Juetenburg. You need to stay here after its done and make sure as much of the city is protected as possible.

"

—

Domeric Bolten
The city of Jeutenburg with the promise of Lucerne to defend it should the worst come stood tall as the army of Bolten came to its door, and House Banner blocked there entry. At first the Boltens sent in emissaries of whom promised peace and they simply wished to pass peacefully so they could get to Koenisburg in order to stop Lucerne from taking Koenisburg. Nikolas refused this offer as he was now aligned with Koenisburg and told the Boltens they would not peacefully be passing by the city, and when this happened to his shock the Bolten emissaries said they would do this the following day. Despite these promises during the night spies, and mercenaries scaled the walls of Jeutenburg infiltrating the main gatehouse and once they got inside the walls they showed hidden weapons and overpowered the outnumbered guards they had before occupying the gatehouse. The forces of Jeutenburg were somewhat unprepared for this sudden attack and despite attempting to resist the taking of the gatehouse the Bolten forces held out for nearly twenty minutes while the army of Bolten reached the gate. With the gatehouse in their control they filled into the city overwhelming every point of resistance with their vastly superior numbers and for nearly an hour the sacking of the city went on before Domeric Bolten, and Daryn Hornwood were able to control the palace and large enough segments of the city that they slowed the killing. One spot where the Jeutenburg defences held was the estate of House Chandyll where under the leadership of Calrin Chandyll they held the gaps between the estate buildings killing dozens and forcing a coordinated assault on the estate. This assault would be led by the Stoney Shore forces of House Haryen, and House Rurwell who led by Lucas Rurwell launched a ferocious attack on the estate which by this point was simply buying time to get there people out of the city. While after nearly a half an hour of assault the estate fell the leadership of House Chandyll retreated in good order and had bought time for there members and vassals to escape out of the city, and alongside this Daman Haryen would be badly injured during the fighting and fell into a coma due to his injuries and then died several days after.
"

Brother what have you done? Every child, and man you just butchered could have filled our armies. Every family and home you destroyed could have given us gold. Why do this?

"

—

Domeric Bolten
During the sacking of the city Jeutenburg was given very little quarter with nearly half the city killed, and the survivors forced to live under the occupation of House Urnet of whom spent their time ransacking the city of its ancient wealth and history. As the army of Bolten did this their was division as the forces under the command of Domeric Bolten, and House Hornwood would protect several areas within the city, and were the main reason the entire city wasn't massacred. With conflict between this force, and the more chaotic forces of Ramsey Bolten looking likely a raven arrived from Roose Bolten who tasked them with quickly moving towards Koenisburg before the Lucernians could react. A meeting was held in the old Jeutenburg palace where Ramsey Bolten commanded the entire army leave Jeutenburg except for House Urnet of whom would hold the town alongside two companies of mercenaries. Domeric was able to trick Ramsey into allowing House Hornwood under Daryn to stay behind as well after he convinced everyone that Daryn was about to capture the Banner family. Following this meeting Ramsey would lead the army outside of Jeutenburg alongside Domeric of whom went along with him but during the first night of the march he abandoned the army and returned to Jeutenburg to meet with Daryn.
Behind Enemy Lines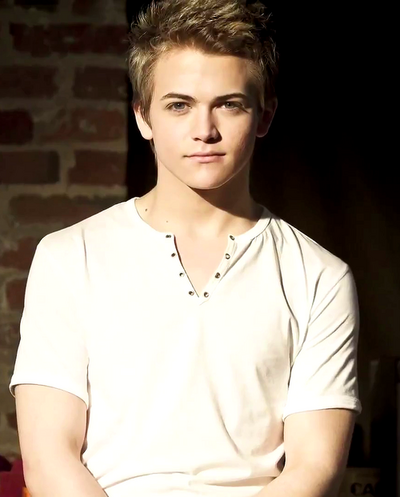 "

Daryn Hornwood raised his sword before smashing it against a log to the left of me. As I looked up I saw the crying faces of my family but I also saw his hand as he offered me help up. From there he would assist me in gathering as many of my supporters as we could find alongside much of my family and then shuttling me out of the city. I will forever remember the actions of Daryn Hornwood in doing what was right and not what was easy.

"

—

Nichlas Banner
Daryn Hornwood would be leading his forces alongside Orsen Stout and others in his personal council, and during his searching for nobles of Jeutenburg he captured Nikolas Banner and his family bringing them back to the Hornwood quarters in Jeutenburg which were once the Banner home. Daryn Hornwood would send word of the capture but by this point Ramsey and most of the other leaders had already left for Koenisburg and thus he was sent a raven saying he should kill all members of House Banner he had before taking House Hornwood, and his vassals towards Koenisburg. While an honorable young man he was also driven by duty, and thus when he first received this command he planned on following through but Daryn would have a change of heart after he spent the night talking to Nikolas's daughter Corina Banner. Originally meeting her by mistake when he was planning on going to tell Nikolas about the execution he found her crying and without thinking consoled her. Corina would see quickly that Daryn was a good young man and someone that didn't want to do what he told her had been commanded to do by the raven sent to him from Ramsey Bolten. The two spent the entire night talking and as he prepared to leave she would steal a kiss, and from the second that happened the already conflicted Daryn Hornwood didn't know what he would do when he raised the sword to kill Nikolas.
"

I was a man built on two pillars. My father had taught me of honor, and duty. On one hand I could do the honorable thing and let Jeutenburg live since it didn't deserve the death the Urnet's were instilling on it. Or I could do my duty and burn the town down and leave the Banners dead in it. The decision would destroy one pillar, and I only hoped it left the roof intact.

"

—

Daryn Hornwood
As he debated this in his mind he went to his war council of whom consisted of Jonas Intris, Lorant of Hornwood, Rafford of Wisborne, and Ser Roger Horntree and together he discussed with them his misgivings on what was happening. Lorand, and Rafford were very much behind the idea of protecting the people of Juetenburg but Roger and Jonas believed that they would be branded traitors and that the hostages held by the Boltens in the Dreadfort would be in danger. Roger Horntree had a son in the Dreadfort as a hostage and argued that his child would be killed if they did anything to hurt Ramsey Boltens ideas. Not coming to a complete agreement after talking for almost two hours they would break up but before they did Jonas who also had a child in the Dreadfort convinsed Roger of the honor of what Daryn wanted to do and thus

Roger

relented on trying to protect at least noble women and children. With this in agreement Roger would take the forces of House Horntree alongside several hundred others and begin rounding up women and children and bringing them east of the town to the main army of Hornwood who was camped there.
While the Hornwood forces arranged the saving of so many women and children it was the Urnet's led by Gunthor Urnet that were hunting the streets for more gold, and women when during one of their raids they discovered that the Banners had been taken from a hiding spot to the Palace and thus he realized that Daryn Hornwood had not killed them yet. For Daryn Hornwood though, the rest of the day was drawing away and Daryn knew he had to make a decision, and he found himself outside the makeshift cell of Corina Banner of whom he kneeled before the bars and rested his head against them. Corina would come towards him and gently rub his hair trying to make him understand that she understood that he had to do what he had to do. Entering the cell he pulled her into a hug and laid with her against the wall where the two would discuss what kind of life they could have lived together as Daryn came to the understanding that if he didn't kill her and her family then his own family including many people he knew from his time in the Dreadfort would be at risk. The two would kiss and the heated kissing was only interupted when Rafford would arive to tell him that several Urnet men had arrived and were demanding to see him. Rafford would depart and sadly Daryn went to go as well but before leaving she would give him a necklace that her mother had given her when she was a child, and the two would kiss again.

Conversation Incoming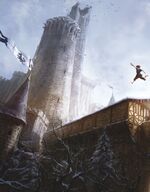 Fairmarket. The Riverlands. Lorderon, and Kul Tiras. Westbridge. All had fallen to our might. All had sworn the sword to the Valley of Lucerne. All that power, and yet I looked north and saw a great demon the likes of which I could not hope to resist. The Empire was the reason for growth. The Empire was the reason for everything we did. The Empire was the land that should have done great things for the world, but instead of this they did nothing. They allowed chaos to breed amongst them, and in that weakeness and failing they threatened to ruin the entire continent.
I walked down the corridors of the smoking castle not knowing where I was going, but knowing where I was going at the same time. A part of me didn't want to see her because I understood that I had to kill her father, and her with him. There just didn't seem to be a way to move forward without that simple truth. If I let her live the Boltens would without a doubt that they would kill his cousin Tyse and without a doubt all the hostages of the Hornwood's vassals would also be killed with poor Tyse. 
Reaching the cell door I fell to my knees, and the sound of my armor clanking on the ground made her jump, but whatever fear there was in her disappeared behind her smile when she saw me. I hated myself. I wanted to make this different...I wanted everyone to live...I wanted the Boltens to just stop.
"I was hoping you would come Lord Hornwood." She smiled as she walked up me, and I couldn't bare to see her face knowing what I had to do so I lowered my face against the bar. I scarsley knew what was happening and then I felt the first of the tears flowing down my cheek and her hand gently rubbing my head.
"I don't deserve your kindness my lady. We both know how this ends."
"We may know how this ends my lord, but we both also know what end you wish for. You know who you are. I know who you are, and doing this doesn't change that." I looked up at her and saw the tears on her cheek, and I removed my armored gauntlet and wiped the tears away. She moved herself into my hand, and broke inside feeling her so close. I felt onto my belt and grabbed the keys opening the door and moving myself inside the room where she enveloped me into a hug. "Will it be quick Daryn?"
"The Quickest. So quick you'll barely know what happened."
"I wish I could have married you Daryn...I wish I could have spent years with you in the warmth of a hearth instead of the coldness of this place."
"I wish that too."
"Tell me Daryn what our life would be like in Hornwood." Her eyes were filled with tears as I looked into them, but somehow she seemed to smile through it all.
"It would be beautiful Corina. We would spend our mornings just staring into the sky. My room has a cieling which during the summer you can stars so clearly it is as if you could reach out and touch them."
"That sounds like a paradise."
"It would be."
"Milord." The voice of Rafford would cause me to jump back from Corrina and stand myself towards him. "Lord Hornwood, there are several Urnet men at the gate who are demanding to see you."
"Do they bring with them a good reason?"
"Gunthor Urnet is amongst them and he has learned that Lord Banner still lives."
Daryn returned to the top level of the castle to find Lorant, Jonas and Ser Rafford talking to Gunthor Urnet of whom was accompanied by many of his men including several Karstark men led by Atolf Karstark. Gunthor revealed he knew they had not killed the Lord of Jeutenburg yet and was here to make sure the deed was done to the satisfaction of those above and heavily threatened death to the Hornwood hostages in the Dreadfort if the task was not done to their satisfaction as well. Daryn to the surprise of his council would tell Gunthor that they were fine to do it now, and that he would summon the family right away, and Gunthor could witness it himself. Rafford, and Lorant went to gather the Banner family, and while they did this Atolf Karstark begin bragging about the number of young girls he had been with during the sacking of Jeutenburg to the point that Jonas nearly attacked him before Daryn commanded him to stand down.
"

I knew what my orders were, but I couldn't do it. My father had taught me different and it wasn't until this moment that I finally understood that we were on the wrong side. We were the bad guys in this scenario. We were the ones causing pain to the world. We were the ones that children would one day read about and think to themselves of how could people do such things. If we wanted that to change then we had to accept that were on the wrong side of history. And that had to change, otherwise what the hell were we doing out here.

"

—

Daryn Hornwood
When Rafford, and Lorant returned with the Banner family Nikolas kneeled before Daryn and closed his eyes as Daryn prepared to execute the man. Daryn would raise the sword once before putting it down briefly when Atolf Karstark begin rubbing the hair of Corina's younger sister Cersei and taunted Nikolas about what he was going to do to the young before she died too. Gunthor Urnet would then taunt Daryn calling him a coward and this led him to raise his sword once more, but this time as he did he felt Corina's presence behind him, and as he turned to look at her she gave him a sad smile before closing her eyes. Daryn knew in that moment that he couldn't do it and smashed his sword against a block of wood nearby. Gunthor would push his way past Jonas screaming about the commands of the Boltens and calling Daryn a coward and a traitor. As Gunther Urnet stepped forward to try and kill Nikolas it was Jonas Intris that stepped forward and slit the throat of Gunther before he could kill Nikolas.
"

What you just did Lord Hornwood shows who you are. Look at me son. You may pay a price for doing what is right, but look out there. Those are the people you saved. Your actions saved all of there lives and trust me son. They will all know what you did here. They will all know who you are.

"

—

Nikolas Banner
The several Urnet, and Karstark men in the room tried to fight back, but were overwhelmed by the more numerous Hornwood forces and killed leaving only Atolf Karstark of whom begged for mercy, but without a word Daryn dragged him out of the courtyard and away from the Banners and once out of sight decapitated Atolf. Nikolas was set free from his bonds along with his family and Daryn would assist him in locating the loyalist members of his vassals along with his sister and her family. Following this he would set his men to helping Nikolas in exiting the city and as they left he stole his own kiss from Corina Banner before she was rushed from the burning town. Nikolas would thus be able to escape with much of his family and a significant force of his most loyal banner men. Staying behind under orders from Nikolas was his step-brother Otto Dragoon the bastard husband of his sister of whom led the rebels within the city while Nikolas rallied the Divine Lands to retake Jeutenburg. Daryn Hornwood would leave behind his knightly house in House Intris in order to better assist Nikolas Banner, and to make sure that his actions were not discovered by House Karstarke and Urnet who remained in the town with several influential family members.
Family Members
Relationships