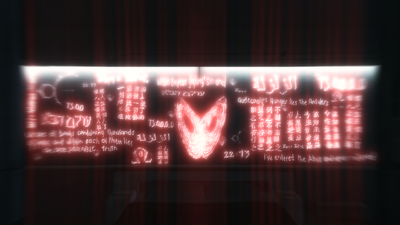 The Dead Grails
are a set of items that were created by the Dark Lord
Sauron
for dark purposes, and if pieced together they could create a truly destructive event. Constructed by the Dark Lord in order to corupt the more powerful of the Numenorian Princes they were instead captured by a Teutonic German named Ignotus Peverrel of whom hid them away. Over time nearly all have been incovered from their dungeons and thus have become exposed to the humans the way Sauron originally intended.
Elements of the Dead Grails
| Dead Grail | Power | Discovered | Held By |
| --- | --- | --- | --- |
| The Dead Pendant | Allows the user the ability to be unable to be killed while wearing the pendant. | Yes | Hermione Granger |
| The Dagger of Lost Souls | Allows the user the ability to mind control anyone near them while they have the dagger in their possesion. | Yes | Kren Scarlet |
| Frostmourne | Allows the user the ability to capture the souls of those they kill of which alongside the Cloak of Neverune, and the Black Chain of Kael would allow someone to resurect a soul. | Yes | Vault of Medizin |
| The Black Pearl of Kael | Allows the user the ability to see those who are dead and interact with them. | No | Unknown |
| Myctism | A book with the darkest, and most terrifying Magi ever imagined by the Dark Lord Sauron. | Yes | Hermione Granger |
| Black Chain of Kael | Allows the holder of Frostmourne to control the souls that he has taken. | Yes | Vault of Medizin |
| Cloak of Neverune | Allows the user to be invisible to the mortal plane, alongside not be visible within the Fade. | Yes | Hermione Granger |
| The Elder Wand | Allows the Magi user the use of the of the most powerful wand ever created. | Yes | Vault of Medizin |
| Black Ring of Mael | Allows the user the ability to know when death was coming before it had happened. | Yes | Hermione Granger |
| White Ring of Dael | Allows the user to reverse and slow time. | No | Unknown |
History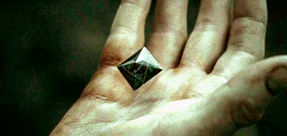 Creation
The Breaking of the Triumverate
Main Article : Dead Grails
Breaking of the Triumverate
I love the both of you. You should have never made me pick. This should have never come to this.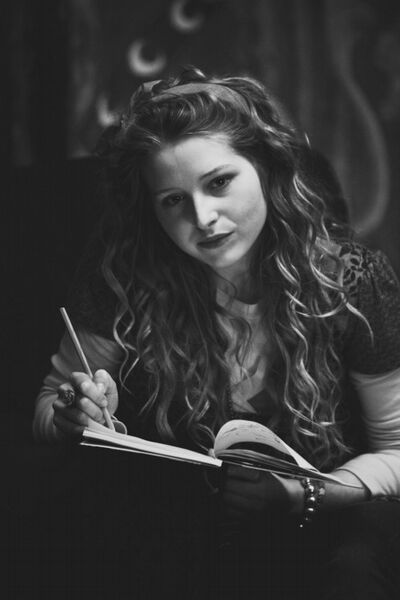 "

When Harry was hit by that spell my whole world appeared to flash before my eyes, and where I usually found my control to be something I could easily maintain I felt a level of anger I didn't even know existed ebbing from me. As I smashed her with spell after spell meant not to kill but to cause her extreme pain I cared nothing for her. She barely existed to me in the sense of being a real person. In that moment she was just the girl that had hurt the love of my life.

"

—

Hermione Granger
The Triumverate while once being a friendship that looked like it could survive everything that went against it, the situation between Harry and Ron was growing barely controllable and this was only going to get worse with the growing romance of Harry and Hermione. With Harry and Hermione now involved in a full out love affair the two were taking more and risks in their attempt to be together. They began to go almost religiously to the forbidden forest and proceeded to make love in their hopeless pursuit of each other, and to fill the emptiness they both felt after the loss of basically there entire families. While this was happening Lavander Dumebledore of whom loved Ron was still stung over her rejected love for Ron and begin to hate Hermione for being the reason in her mind that she and Ron were not together. On this day though they would be caught by the increasingly dangerous fellow army member Lavander Dumbledore, who had followed the two into the forest. The situation didn't spiral completely out of control at first as luckily she confronted them while they were just kissing but Hermione quickly realized that Lavander was dangerous and because of this she pulled out her wand just in time to deflect a spell which then hit Harry full in the chest and knocked him backwards. Now distraught that Harry was hurt, and completely overcome with rage she unleashed a massive wave of spells at the mismatched Lavander who was beaten quite badly by the superior Hermione. Harry of whom had been knocked out by the ambush spell of Lavander would be carried by Hermion back to Hagrad's home where the two would patch him up leaving Lavander in the forest.
"

We three had lived basically the entirety of our lives side by side. An entire life spent together, and in one instance the center of each of our worlds was gone. No words were said in that moment because I know we all knew what had happened. There's nothing like the loss of something to make you understand how much it meant to you. I wanted my world back, and the look in Ron's face told me that it was gone. It was lost to him now, the image of what we were. I have no doubt that me and Harry would be the same, but even though I didn't love him as he deserved my love for Ron was true, and without him it just didn't make sence in the same way that it had.

"

—

Hermione Granger
Following the attack between Lavander, and Hermione, it would be Lavender who despite being badly injured would manage to get herself back to Hogwarts and she broke into Ron's shared dormitory room injuring several other Gryfindor students who tried to stop her. Finally infront of Ron she would once again tell Ron about the events of the attack and the fact that she had seen the two of them together, and once again she was disgusted when Ron didn't believer her and basically sent her away like a crazy person. With the situation between the triumverate standing in very bad shape, the time came for the three of them to come together and decide what they were going to do about the actual situation in Hogwarts after they learned of the taking of Tevinter by Lord Voldermorte.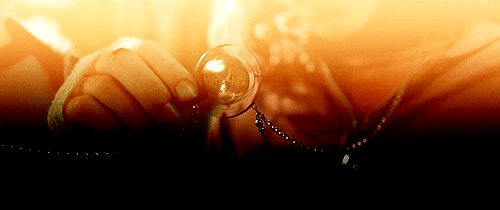 Despite the love the three shared for each other, the damage was quickly spreading into the core of the friendship and it was becoming a case that their was real hate brewing between Harry, and Ron. The Three planned to meet despite the hostility between Ron and Harry at their secret home in the fortress of Marni where no one can find them. Hermione following the three meeting would be approached by Ron of whom wanted to see her as they hadn't been alone together in weeks, and despite truly caring about Ron she rejected him and then left him saying they would talk again after they met at Marni. Following this she would go to see Harry to tell him that she loves him, and whatever happens between the three of them she will always love him. When she arrives the two as they always do lose themselves into each other, and make love. After they are done, she prepares to leave, but she sees Harry putting on a necklace and when she sees the necklace she recognizes the necklace as one of the Dead Grails. When he told her that Dumbledore had given him the necklace and said that Dumbledore said it was all that was left of his father's possessions she would nearly immediately run out of his room making excuses and make her way to the Hogwarts library.
"

In my pursuit of knowledge I had come across a book called The Nefarion. In this book I learned what true evil was, but I also had read about a pendent with the symbol of Mordor on it. It was the image from the book that had shined in my mind when I saw the necklace that Harry had put on. Seeing it on his neck made my heart skip a beat. Made me nearly fall down, and only Harry steadying me kept me from falling over. He begged me to tell him what was wrong, but all I said was where did you get that pendent?

"

—

Hermione Granger
Hermione had read at the library a book called The Nefarion which has chronicled a terrible truth about three mythical items. The Nefarion told a story about a book, a sword, a ring, and a pendent that were the complete construction of the Dark Lord Sauron, in his quest to destroy the Numenorians. The book was the first of the three, and the book was so violent in the writings of the pages that anyone that read it became eventually lost in the same kind of madness. This book had passed down throughout the life of Europe, and had destroyed all that had read from it including its most recent reader in the form of Bill Lovie. The next was the sword which the book said had been taken in ancient times by a truly honorable Knight who recegnized its evil, and had sacrificed himself by killing himself on the sword, and then burying it in the mountain he had wandered into.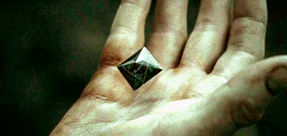 The Sword had the ability to capture souls of those it killed, and trap them within a part of the Fade forced to wander forever but also forced to be forever pieces of the one who wielded the sword. The next item was the Cloak of Neverune of which allowed the user the ability to be invisable but unlike Magi which did this through hiding within the Fade the use of the Cloak of Neverune placed you into a third place called the Neverune where no one other then the user of the Cloak could ever be inside of. The final item was a pendent which held a very recognizable icon of Mordor on the front, and was the most nefarious of the three because it allowed any who had bound themselves to it, to be completely unable to die, but since it portrayed itself visually however the user of the pendent wanted it to look it never revealed its true purpose. Another terrible product of the pendent was that it linked itself to the life of the person that killed the last user, which Hermione quickly realized meant that it had linked itself to Lord Voldermorte as the last wearer of the pendant was Harry's father of whom had been slain by Lord Voldermorte. Through reading she realized that only through the destruction of the other three items could end the darkness of the pendant's power, and release Harry from the link with Lord Voldermorte of which she could not even imagine what the link was doing to him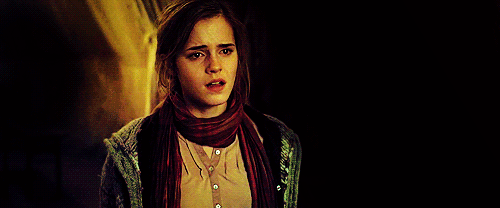 Harry had went looking for her after she had left his room, but had been stopped by Ginny Weezly of whom attempted to seduce him, but he was unwilling to do anything with her which caused her to cry. By the time he had calmed her down it had been hours and by this time when he found Hermione in the library he found her crying on the floor between two rows of books, and seeing this Harry held her close, but she eventually pushed him back and said she didn't want to upset Ron in case he came by. Harry could obviously tell something was very wrong, but he let her go, and when she walked out she immediately made her way towards Albus Dumbledore of whom had given Harry the pendant. When she arrived in his office his doors, and elevator led her right to him, as he was expecting her, and when she saw him she didn't know what to say.
Confronting the Truth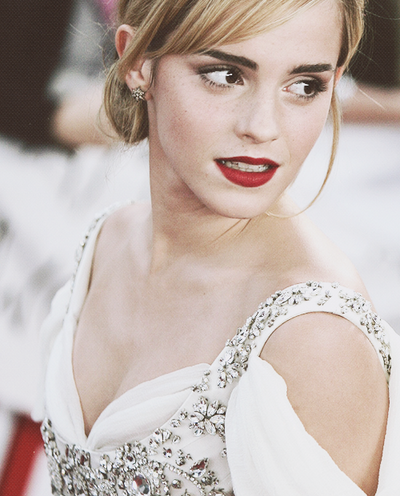 "

Looking at the man that for so long had been the moral center of our lives and not seeing that same great man was a painful thing. I just stood there staring at him waiting for him to tell me why it happened. I thought he would have an explanation. I thought he would say he was sorry. I thought he would say a thousand things to make the situation seem real. But instead he stood up from the desk walked over to me and said to me that he was sorry Harry had to die.

"

—

Hermione Granger
Albus Dumbledore knew that eventually he would have to deal with what he had planned, and he knew the moment she had discovered his plan that the moment was upon him. He had first noticed the Nefarion was in her possesion when he sent Severus to look for it and he came back telling him that the book had been taken out by Hermione, and when he learned this he would come to understand it was just a matter of time until she discovered the truth. She stood in front of Dumbledore and they just waited for the other to talk before he finally stood up and walked towards her and placed his hand on her shoulder. He told her that he was sorry that Harry had to die, but it was necessary. The two would argue and he would explain to her that the only way to kill Voldermorte was to destroy the Horcrux that bonded him to this world. She begged to know why they couldn't destroy it some other way, and he said that the only thing that could destroy the horcrux was someone of the bloodline that bore its hatred into the world, and this particular time it had been the killing of the Potters meaning that the only one would be Harry Potter himself.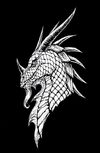 The Rise of Lucerne
I saw the destruction of the world, and knew I had to stop it. There was nothing left to do but become bigger then everyone else. The Empire was never going to be the beacon the world needed it to be. Westros was on fire. The Bretonians had reached for the stars and been burned. And the old shadow of Numeron was fading far too quickly. It was left to us in Lucerne to change the fate of all those who wished to reject darkness. We were the last hope for a world who had long since given up on believing.

Looking at the man that for so long had been the moral center of our lives and not seeing that same great man was a painful thing. I just stood there staring at him waiting for him to tell me why it happened. I thought he would have an explanation. I thought he would say he was sorry. I thought he would say a thousand things to make the situation seem real. But instead he stood up from the desk walked over to me and said to me that he was sorry Harry had to die.
Realizing that as long as he had the pendant he was in danger because Voldermorte would want the pendant back so she knew what she had to do. Albus would attempt to stop her, and another argument broke out as she attacked him causing damage all over his office, and leading to a near breakdown on her part. During this breakdown he would unknowingly reveal to her that the ring was in the possession of the Alcasian noblewomen Leliana Orsinio which led her even during the argument to begin formulating her plan to save Harry. Unable to stop her or dissuade her from stopping him he allowed her to leave, and she went to her room and got Nefarion before heading to meet with the Triumvirate for what only she understood to be the last time.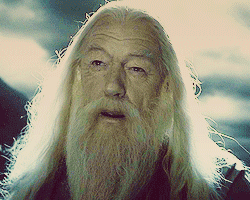 "

I just hoped that she would finally come to terms with the fact that I was the one she was meant to be with. He was nothing compared to what I could offer her, and she just had to see that.

"

—

Ron Weezly
The three engage first in a constructive conversation but it soon becomes about what Hermione is doing with Harry, and Ron forces her hand when he gives her one minute to decide between the two of the. Hermione in her heart knows that things have changed and she now wants Harry with everything in her but she can't hurt Ron in that moment so she just walks out. As she walks out Ron bolts at Harry and begins to strangle him. Harry loves Ron and refused to hurt him, so he basically doesn't fight back and the situation gets out of hand before Hermione uses a spell to teleport Ron out of the room and into Hogwarts Castle. Realizing that she just chose Harry she emotionally walks out of the room but is closely followed by Harry who begs her not to leave.
Hermione leaves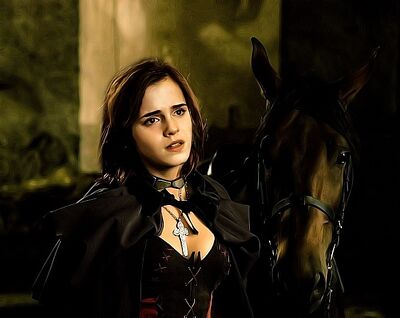 "

It just never seems that you will be mine Harry. Life just seems to constantly move between us, and I wonder whether that will ever change for us.

"

—

Hermione Granger
Harry Potter would catch up with Hermione and so overcome with feelings over what she now knew she would start kissing him and as they were getting more heated it was a shocking moment for the two of them as while the two were nearly sleeping together in the forest that had become their place they were shockingly found by a well aware Ginny Weezly of whom alerted the two to the fact that she knew about them. Hermione shocked by this would run off once again, and Harry left behind to deal with the damage would learn that Ginny was pregnant. Realizing that if she spread it so far that it was going to be a political nightmare to end it Harry would delay her through lying and told her how excited he was, and after kissing he would make excuses and leave to go find Hermione. So early on in their pregnancy he would decide to lie for a time and try to run off with Hermione, and it would be with this in mind that he would find her outside of the forest packing her horse.
"

Watching her walk away was the most painful moment of my entire life. Without her I just didn't see how continuing to resist was worth it anymore. Life was just such a struggle to just stay alive, and the main reason for fighting had just walked out the door. Ron's insults to me as she rode away didn't mean a thing to me while my world fell apart.

"

—

Harry Potter
Harry and Hermione get into a long and very emotionally fight which leads to them making love outside of the fortress. Harry following this attempts with everything in him to make them be together now because in his heart he knows that he needs her, but as she starts to give in to him and they begin to kiss they are interrupted by Ron who steps from the shadows to reveal that he had clearly witnessed the entire thing. With the situation of the Triumverate now in shambles Hermione tells Harry that she's leaving for a time, and that when she returns they will be together one way or another. She said that she wanted his pendant so that she would have something of his, and without thinking about it Harry gave her the necklace.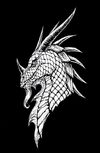 The Rise of Lucerne
I saw the destruction of the world, and knew I had to stop it. There was nothing left to do but become bigger then everyone else. The Empire was never going to be the beacon the world needed it to be. Westros was on fire. The Bretonians had reached for the stars and been burned. And the old shadow of Numeron was fading far too quickly. It was left to us in Lucerne to change the fate of all those who wished to reject darkness. We were the last hope for a world who had long since given up on believing.
"Look at me Hermione. Truly look at me."
"I am looking at you Harry."
"Then see the love in my eyes. See it and tell me you won't leave."
"I can't stay here Harry."
"You can." He was desperate. I was desperate too, but I couldn't tell him. I couldn't let him know what the man he loved so much was willing to do to him. I just couldn't tell him.
"This isn't goodbye forever my love."
"It is when you won't even tell me where your going."
"If I told you what would you do?"
"I would follow you."
"Which is why I can never tell you."
Realizing it was never going to be possible leaving him she would give him one last passionate kiss before getting on her horse and riding away from the fortress leaving Harry behind.
Turning Lavander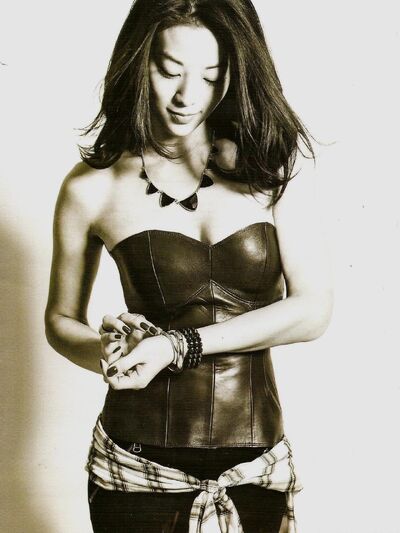 "

Getting to know Lavander Dumbledore was an interesting experience. As she cried into my shoulder about being used by everyone she had ever cared about I watched as she begin to care for me. I knew what I was doing, but a part of me understood that she was lost. What point was there in saving her when so much of her mind was already lost to the oblivion that she had become consumed in.

"

—

Melia Chow
For Lavander Dumebledore the fall of the Triumverate was of little interest to her but instead it was after Ron left her that something inside Lavander broke, and she found herself with a level of almost unimaginable angrier that she never thought possible. Finding herself this way she would walk away from the castle finding herself on the road when she would be stopped by Melia Chow of whom had witnessed the entire conversation and was now completely aware of the situation. Melia Chow was one of many silent supporters of House Malfoy in Hogwarts, and he saw this as a perfect opportunity to get in the good books of House Malfoy by turning someone so close to the dangerous Triumvirate. Watching from afar for as long as she had Melia would now move in and feed Lavander the words she wanted to hear, and further turned Lavander against Hermione, but also turned her against Harry of whom Mellia lied about in order to make Lavander angry with him as well.
Entering Alcase
"I was alone for the first time in my life, and the lonliness was a pain worse then anything I'd felt since the death of my parents. It wasn't the lack of human companionship it was the fact that I couldn't reach out and touch Harry if I wanted to. Everything that was good was just so far away, and it seemed clear to me as I searched the ruins that nothing was going to be easy on this path."
-Hermione Granger
Hermione would enter Alcase as the forces of the Kingdom of Alcase were battling internal chaos forces led by one of the ruling house, but for her she didn't see how truly dangerous the land was all she saw was the fact that she was seperated from everything that she loved including Harry most of all. She had teleported herself into the capital of Strasburg where she was hoping to find Leliana Orsinio of whom she had gathered had the ring because it was meant to be passed down to every female member of House Orsinio. As she searched the town she discovered that the royal family and most of the military of Alcase was in the west where they had gone to battle the forces of John Orsinio. Realizing she had to act quickly before Leliana Orsinio possibly was killed and lost the ring to the forces of evil that she might not be able to get the ring back from. Hermione would travel by horse for days, running her horse ragged until she discovered the battlefield, and the camped army of Alcase. When she waded through the thousands of bodies she wondered sadly whether she was too late, but when she was taken in by several Alcase gaurds her hope rose.
Finding the Ring
-Hermione Granger
She was immediatly taken to a low level commander, and when she was cleared that she wasn't a member of the defeated forces of John Orsinio she asked to be taken to Leliana Orsinio, and the gaurds told her where she was, and she bolted towards the area. Finding her tent she barged in without any sort of notice, and the gaurds posted at the tent didn't react quick enough and she was inside the tent with Lelliana. Once inside the tent she used Magi to close to entrances, and block herself in with Leliana. Leliana immediatly went for her sword, and as she grabbed for it Hermione saw the ring on her finger, and dropped to her knees in happiness. Leliana at this point was beyond confused but she called out for aid, and she could hear the sounds of swords hitting against the tent but as soon as they hit the cloth the sword was pushed away, and no damage was caused. As the commotion outside got more out of hand and more and more gaurds tried to get in Johanas reached the area after hearing the alert, and attempted to charge his way through the tent to no avail.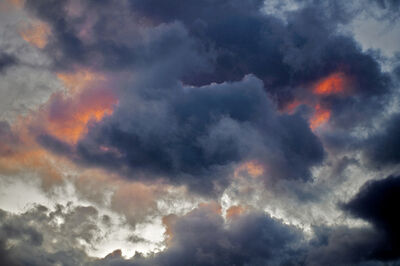 Leliana Orsinio :
What sort of Magi is this?...Do you not speak women?
Hermione Granger : I speak...its just I never thought I'd actually find one of them. I just assumed he would have been two steps ahead of me...but you...your proof that I can save him.
Leliana Orsinio : Save who?
"Hermione Granger : Harry.
The two would proceede to talk and Hermione showed her the book profising the danger of the ring in her company, and after realizing that Hermione meant her no harm she lowered her sword and Hermione released the spell blocking the tent. As the spell went down Johanson barged through the cloth and crashed into the tent before getting up and picking Hermione up by the neck and nearly killing her before Leliana was able to get him to release her. The three would talk, and eventually Hermione would eventually get the ring, and told them thank you for their help, and she was sorry for everything that she had caused to them. As she got on her horse to leave and everyone said goodbye the sound of trumpets went off, and as she peered towards the sound she saw a massive dark cloud on the horizon.
Community content is available under
CC-BY-SA
unless otherwise noted.