Diane Portmane




Vital statistics
Title
Princess of Lorderon

Princess of Lucerne

Alias
Dianna
Race
Vandal German
Status
Alive
Allegiance
House Lovie
Family
Father
Bill Lovie
Mother
Esme Portmane
Siblings
Full Siblings

Natalie Portmane
Jamie Portmane

Half Siblings

William Lovie III.
Sean Lovie
Alice Lovie

Spouse
None
Children
None
Diane Portmane is the oldest child of Bill Lovie, and Esme Portmane making her a member of House Lovie through her father, and a member of House Portmane through her mother. Diane has two siblings in Natalie, and Jamie Snow of whome Natalie is now the Queen of Arnor and may have been killed during the Fall of Arnor but her current fate is unknown, while her brother Jamie has grown rather quickly in the new Order of the Red Dragon following the realization that he was of House Lovie. From her father Bill Lovie she is also the sister of Andrew, Sean, and Alice Lovie whome she has grown close to Alice Lovie since she moved to Lucerne, her relationship with Andrew is fine, and Sean died before she got a chance to meet him but its doubtful that it would have been positive.
Diane Portmane was born the first child of Bill Lovie, and was born an illigetame child of House Lovie, and until the birth of William Lovie she was the heir to House Lovie. When Diane Portmane was only four years old her mother was with Bill Lovie and she came into the room and in a moment of confusion her father opened up to her. Its unclear why he did this but following this she was in on the secret and thus she was forced to later by her father to keep it a secret from everyone elce. She is the only one other then Esme Portmane who knows that she is actually the daughter of Bill Lovie, and therefore a member of the Lovie Family, and would be this secret that would come to define so much of her early life. She spent most of her early life attempting to rise in the ranks so that she could find her father on an equal foot to the royalty that he was, and she was close to suceeding when she miscarried her baby that she had become pregnant with from Arthas Menathil. Following this he broke things off with her and she grew desperate until Andrew arrived and accepted her and her siblings into House Lovie with open arms. With this realization she has grown into an influencial member of the Order of the Green Dragon where she is an advisor to Nicoli Machieveli, but her continued attempts to make Arthas see her for what she was forced her mother to intervene and send her to Lucerne. Her time in Lucerne was a very happy one for her as she found she was treated as the royalty that the Lucernians saw her as, and during this time she grew close to her cousin Emma Bell of whom treated her with great care and introduced her into many of the nobles in the city. Diane would be sent to Hillsbrad where it was hoped she could mend the broken relationships between House Greymane and their vassals. Spending months there she eventually left with assurances of their continued loyalty but she returned to William and told him that none of the vassals were particularly trustworthy and would rebel against the Greymane if they had a chance too. Diane would be sent to Lorderon after Josh Cole made notions to agents in Lorderon that he wanted to meet and discuss an alliance of the two houses. Diane Portmane would go about meeting Josh Cole on a barge in the river bordering the two kingdoms she would arrange the deal that gave House Cole the future control of a huge tract of land south of Lorderon and a position as Noble House within the Kingdom of Lucerne. Diane would enter Deepholme alongside many other Lucernians as they continued to plan for the coming engagement against the Boltens, and while she was there she would become involved with Peter Cole of whom was younger then her, but showed her a great amount of affection.
History
Early History
"I hate my mother and father. Not because they did some unforgiveable thing to me. Its because they forced me at a young age to live a lie for the rest of my life."
-Diane Portmane
When Diane Portmane was only four years old her mother was with Bill Lovie and she came into the room and in a moment of confusion her father opened up to her. Its unclear why he did this but following this she was in on the secret and thus she was forced to later by her father to keep it a secret from everyone elce. She is the only one other then Esme Portmane who knows that she is actually the daughter of Bill Lovie, and therefore a member of the Lovie Family, and would be this secret that would come to define so much of her early life.
Entry into Court
Arthas Menathil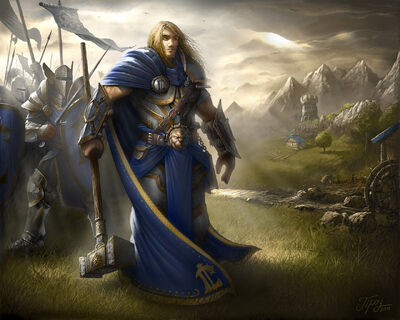 "He was the perfect person in my eyes. It didn't matter how many problems it would cost, I just saw everything I wanted being only possible through him. Even when things changed I still couldn't turn my back on the dreams he had stirred within me."
-Diane Portmane
With her entry into the Menathil court she knows she is one step closer to her goal of meeting the other side of her family. With Natalie in Arnor , and James very diligant with his training she has a one track mind towards rejoining the family she feels she was robbed of. As she grew closer to Arthas and they continued their romantic affarir, she became pregnant with his child shortly before the death of his father, and when she told him she menipulated him into accepting this child and he was preparing to leave Jaina when she miscarried the child. With the blackmail she was using now gone she was cast away from Arthas, and she found herself on the outs in the court. With Diane Portmane completely on the outs when it came to learning information on the comings and goings at court, she found herself shocked when the Kingdom of Lucerne annexxed Lorderon following a long period of negotiation. When she went to Arthas to find out he refused to see her, and thus she realized her time in Lorderon was finished and with little prospects elsewhere she begin contemplating suicide.
Learning Hard Truths
You think that you know everything, and then he comes back and shows you how wrong you were.
Learning Hard Truths
"

I should have been used to the lies by this point. At some point he just became a sort of running joke in my life constantly appearing and telling me something else he had failed at or caused to go wrong.

"

—

William Lovie III.
Bill Lovie had by this point come to accept the death of his son Sean Lovie, but became in his isolation saddened by the fact that his bastard children with Esme Portmane were stuck in Lorderon far away from the growing Kingdom of Lucerne. With this in mind Bill would concoct a plan to infiiltrate the city of Lucerne, and the Cloud Tower specifically so that he could tell William the truth of his extended family. Late at night Bill Lovie used all of his power to summon himself as a spirit into Cloud Tower bypassing the light defences of the Blue Dragon members that were in Lucerne. In this form William Lovie was approached by Bill Lovie who told him that he had fathered other children with a women named Esme Portmane in Lorderon, and that he was sorry for doing this. Bill in this moment apologized to William for creating all the damage and evil that he had created in his time, but he wanted William to know that whatever he thought this meeting was it wasn't the end because Bill was now completely gone when it came to morals.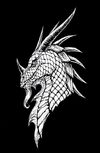 The Rise of Lucerne
I saw the destruction of the world, and knew I had to stop it. There was nothing left to do but become bigger then everyone else. The Empire was never going to be the beacon the world needed it to be. Westros was on fire. The Bretonians had reached for the stars and been burned. And the old shadow of Numeron was fading far too quickly. It was left to us in Lucerne to change the fate of all those who wished to reject darkness. We were the last hope for a world who had long since given up on believing.
I was awoken by a crash near the bed. Despite the loud crash I looked beside me and Bella remained asleep, and looking over I saw Ashley playing with the rattle hanging from above her bed smiling as if the most happy thing in her life was right before her. Getting out of bed I went to where the noice had come from and discovered nothing, but again I heard a noice. This time the noice came from outside the room, and I walked through the door finding darkness outside of the few candles that remained flickering. Following the noice into the next room I walked inside and nearly fell down when I saw my father sitting in a chair.
"Do not scream son I mean you no harm." Everything in me wanted to scream. Everything inside my soul wanted to lash out at him and kill for everything he had done. Back when I last saw him I knew only a sliver of what he had done. The massacre of a plague, the destruction of Tree Hill, the attempted destruction of Gondor, it just kept going and going.
"You give me one good reason why I shouldn't slash your throat and bury you beside the son you forced into madness, and made me kill." Seeing him brought up everything that had happened at Berne. I thought of poor Amber lying broken beneath me as I carried her fallen body back home. I thought of my poor son Thomas who would now grow up never knowing the love his mother had for him. I could tell him as much as I wanted but it wouldn't change the fact that she was gone. For whatever reason though with him sitting in front of me I thought of my broken brother. In his final moments I had seen him for he was. A scared little boy who had just wanted to be loved, and when he realized he couldn't have that, he broke.
"I'm sorry you were forced to deal with that, but I am not to blame for the madness in his soul." It was always an apology to me. Even as Alice was brutalized it was me he apologized too.
"He just wanted you to say one nice thing. How much different would he have been if you had said one god damn nice thing to him." For a moment he flickerered as if battling within himself, but in barely any time the battle ended and he continued.
"I didn't come here to talk of that boy. I came here to discuss more of the mistakes I have made. This is nothing but a spirit in the myst that I now inhabit, and already I have been senced by men better then I ever was. In the end I must tell you of things I have done wrong that you will never know if I do not." The vision of my father walked closer to me and insticively I stepped back, and the look on his face was momentarily quite sad, but he pulled that back and remained resolute.
"Thats a list too long for any man to keep track of." He had destroyed and entire city. He had killed hundreds upon hundreds of good men in the event many still believed was in fact a plague. He had created a spell to remove my sister from my life. All of this and I felt a chill at the thought that perhaps we had only scratched the surface of his failings.
"Perhaps it is, but I love you son and you deserve to know." I had never doubted his love for me, and that was the worst part of all his betrayals. I know that somewhere in his mind he honestly believes he's doing what's best for me.
"Say it and begone from here spirit."
"Long ago. While you were just a baby I visited Lorderon briefly on my way to the wars in France. During this time I met with a women. This women has three of my children. These three children do not have the shame of knowing who I am, or what I have done, and for that you must keep in mind. Find them in Lorderon, and make them whole. Do not make the mistakes I made with our family and hate those who deserve nothing of the kind."
"It never ends with you does it." He looked pained as he continued speaking.
"This will be the last time we speak son." His vision turned away from me and he rested briefly against a table, and I used that moment to loosen the strings on the dagger that I had hidden in my shirt." I know that may not pain you but for me that's the most painful thing to imagine in my entire life. I watched Kingdoms die. Watched armies destroyed in front of me. Those things don't even compare to the love I've had for you since the moment I first saw you. The first time I held you I knew you were it for me. You were the thing that would drive everything in my life, and I truly with everything inside of me wanted nothing more then your happiness. I know it all went to hell, and after this I'm going to be completely consumed by the things in my mind that are wrong...but I just want you to remember that you have a family now and you must protect it the way I never could. You must protect House Lovie. You must."
After this William would wake up his wife, and sister and as they talked his cousin Emma Bell came up as well telling them that Edward had arrived with several Order of the Blue Dragon members in order to see what had entered the Cloud Tower. Telling them what had happened there was shock around, and Edward reluctantly left not wanting to intrude as the Lovie's discussed the issue. They would all agree that the fault did not lay with these children as they were far away, and that they should make attempts to connect with them.
Finding Family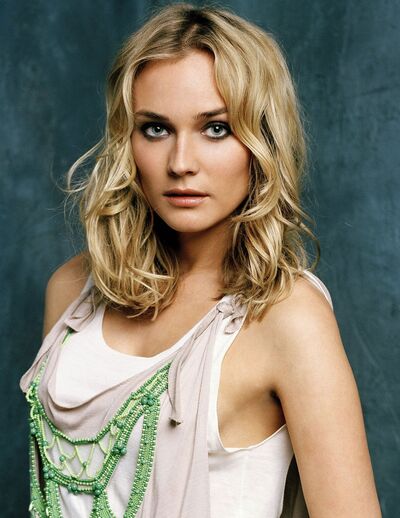 "

It was a no brainer in reality. While I had some fear of what there involvement in the family meant, these were my blood. Blood is everything in this world, and if we abandoned them then we were no better then the father we hated so deeply.

"

—

Alice Lovie
With the decision made William took his sister Alice, as well as his cousin Emma Bell to Lorderon where he planned to welcome his half siblings into the family as well as welcoming this women that had given birth to his father's children. The group would be joined by many others as the King of Lucerne travelling to a province so far from home would bring about all manner of problems. House Lovie would enlist nearly three thousand men from the personal levies to travel with the force and Oberyn Martell was placed in charge of the defence of Lucerne while they were away. The Shadow Council would obviously also join with the trip and Leven and William would ride together for much of the trip while Edward would ride with Jasper of whom was cold to him for most of the trip. They would be joined at the gates of Lucerne by Hedrik Clegane III. of whom had left immediatly when he had gotten the raven about the summoning from William, and thus would join them as well. When Alice asked William how he was going to se easily let these new people into the family he anwsered her with the following.
"

For whatever reason Sean never got along with anyone. I know in my head that there isn't a single kind word or accepting invite that I could have given to him that would have changed that but...my heart tells me not to make the mistake again.

"

—

William Lovie III.
As they made the trip the group found themselves nervous about what kind of people they would find as their new family. Emma Bell wondered outloud many times whether this was some sort of trap that had been carefully planned by his father, but when this was discussed most discarded it due to the belief that of all the things he had done Bill had shown no ability under any cercumstances to actually harm William. Travelling along the road they took boats waiting for them in Lole from the growing fleet of the Order of the Red Dragon. The group is forced to travel through the Trident where Walder Frey demands double the rate of usual passage from the Lucernian fleet as payment for the insults that Robb Starke had supposedly layed on them. Wishing to meet with Walder aboard the ships they were told he was to old to do this but William could land and meet him inside the castle. This was rejected diplomatically and the group continued without further interuptions to Lorderon where they arrived in the port to much happiness.
Meeting Family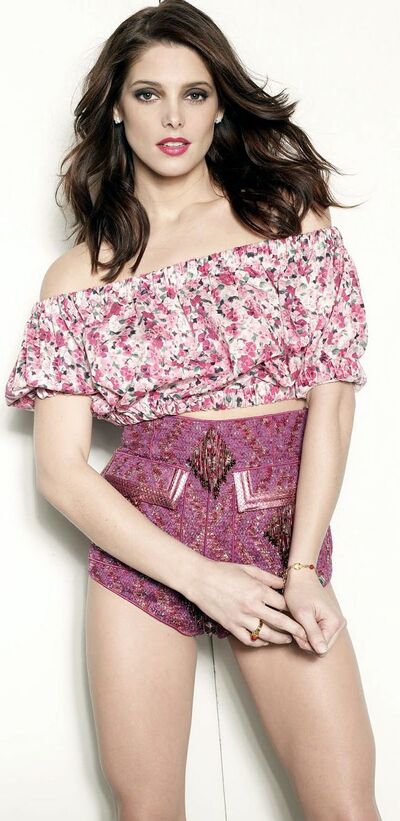 "

The idea of meeting them was one thing. Now we were actually there and had to actually meet these people who shared our blood.

"

—

Alice Lovie
Arriving in Lorderon they were met by Arch Lord Arthas Menathil, of whom many who had met him previously were confused by the shocking change in his appearance. Where before he was clean shaven and his eyes clear he now appeared to be ragged, and his eyes had changed in appearance to a near mennacing look. William would alert Jasper, and Leven to this change, and as this happened Edward saw that he was not consulted and was hurt deeply. The group doesn't notice as Edward is left behind and travels to a tavern, and they make their way to the palace where Arthas apologizes for his wife's absence but he cannot find her. Arthas has a fit that appears to be a siezure, and is taken away by several retainers, and following this they meet with Imlad, and Calia Menathil sister, and cousin to Arthas of whom would make arrangements to meet with Esme Portmane. Esme lived in the palace with her daughter and son while the remaining daughter lived in Arnor as a princess they were told. Esme arrived with Jamie, and Diane Portmane and the rest of the non Lovie members would leave the room as they discussed things. Esme immediatly knew what this was going to be about as she obviously knew who the father of her children were, and Diane also was aprised to the situation so it was only Jamie that they had to explain things to. Jamie would be clearly hurt, and William took him out of the room to talk as the girls all hugged and got to know eachother. Jamie and William would discuss many things, and eventually it came to his future and William said that he still had to prove himself but if he did he would be the eventual Lord of House Portmane and since it was being made into a cadet house of House Lovie his power would be heavy. Asking how this was possible when he was a bastard William made it very clear that he was no longer a bastard, and William's younger sibling and sole remaining brother would hug him so suddenly that Jasper nearly sliced him in two before realizing it was just a hug. The family would stay for several days before finally departing for the west where Diane returned with them while Jamie was left in command of House Portmane but would visit with Esme some time in the future. During those days they stayed William would also remain because he and Edward talked and he learned of the talk with Jaina and Medivh and he wanted Edward to look into this which he did with the help of Leven Martell.
Meeting with Medivh
"

Noone trusted Edward anymore they just refused to speak of it. He was lost in his own little world, and here I was convinsed to follow him into some dark tunnel. Doing things for old time sake isn't a good enough reason to risk your life.

"

—

Leven Martell
With William travelling with his wife and family Leven had some time to herself, and found herself in her room trying to get some sleep when a knock at the door brought Edward into her presence again. She and Edward hadn't got along since he left for Hogwarts and his declining status within the Shadow Council had become clear to all, and this had led to him becoming more distant to the members and thus even more reason for Leven to not be happy with him. The two would talk and he would eventually convinse her for old times sake to help him with something as there was noone elce he trusted to come with him, and he wanted someone with him.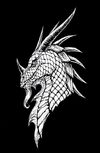 The Rise of Lucerne
I saw the destruction of the world, and knew I had to stop it. There was nothing left to do but become bigger then everyone else. The Empire was never going to be the beacon the world needed it to be. Westros was on fire. The Bretonians had reached for the stars and been burned. And the old shadow of Numeron was fading far too quickly. It was left to us in Lucerne to change the fate of all those who wished to reject darkness. We were the last hope for a world who had long since given up on believing.

He refused to tell me where we were going the entire time I followed him through the corridors. I knew we had time, but I wasn't used to being so out of the loop, and despite my long time as a friend of Edward there was a tinge of fear as we entered the increasingly dark tunnels beneath the palace. Finally he stopped at a door that had the sigil of an eye. "Do not fret Levia the secret shall soon be revealed." He went to open the door but I stopped him.
"I do not like keeping secrets from William, and in your current position I would think you'd be more careful of being seen as keeping secrets." I knew it was harsh, and from the hurt in his eyes I regreted saying it, but he had hit at a gnawing piece of me that worried what Edward's plans were. Had he come to the conclusion that with Jasper and myself as the right and left hand of William that he had lost his place, and that perhaps made him dangerous. Since he had joined the Blue Dragons he had been even more distant. I know he kept talking to William but I had barely seen him, and I know Jasper barely recegnized him anymore.
"Were not keeping secrets from William. He knows what I am doing, and he has blessed my mission."
"Then why all the secrets." I said it louder and more rudely then I had meant to, and I could tell he was torn by what to say, but after a moment he continued.
"The secrets are because the man were going to meet would be placed in great danger if anyone knew where we were going. I kept it a secret because here in Lorderon." He stopped and moved closer to me. "Were in a place none of us fully understand. This place is old. Older then anything elce we have dealt with, and I'm not alone in thinking that age may have corupted it." He turned back to the door placing his hand on the handle. "Do you not feel the darkness here. This place has darkness I have not felt since Berne." Without another word he opened the door and I followed him inside, and without meaning to as soon as I did my hand grasped my sword at my side. It disapointed me more then I thought it would in that moment that I still didn't trust Edward.
"I'm glad to see you Lord Cullen." I turned to the voice and saw a man sitting at a table in the corner nearly consumed by a large hood. He got up from the table removing his hood and looked directly at me. "You must be Lady Martell." He held out his hand, and not wanting to be rude despite my reservations of this situation I took his hand in return. "There is no reason to be frightened of my intentions Lady Martell, I mean you and Lord Cullen no harm." Noone frightened me. Certainly not this man. He had a sullen look to his face despite the smile that covered it. On his left cheek was a scar that stretched to his ear, and it looked like no sword or weapon I had ever seen as it nearly glowed blue. Whatever this man wanted, or whatever he was capable of he did not intimidate me.
"You do not frighten me Ser." He laughed before walking into the room and towards the back of the room. Looking back at me he waved at us to follow him.
"I am no Ser my Lady. I am Medivh a german just like you who happened to be born with the abilities as your friend Lord Cullen. I joined the Kirin Tor when I was young."He stopped for a moment and a splash of hurt went across his face clearly remembering a pain in the past, but he moved on walking further into the room as he continued talking. "Think of the Kirin Tor as the Lorderon version of your Blue Dragons, except for the fact that we serve no king. We serve Lorderon and the people that live within it. That means there are times. Times like now where our duty is to make those who are able to do something about problems, aware that these problems exist." He spoke with an aura of regality that made me think he was either noble born, or been around them long enough know how we spoke and what manurisms worked best in conversations.
"And what sort of problems exist here?"
"I still cannot believe that you don't feel the darkness here. Something evil lurks in this place, and I'm hoping that by working with Medivh we can destroy the evil." He looked at me as if I was some sort of alien for not being able to feel it, and it made me mad. Who was this man to bellitle me and what I could or could not see.
"I feel nothing." I said it with no emotion and turned my face from Edward as quickly as possible not wanting him to get anytthing from me.
"Be happy you fell nothing Lady Martell as the pain I feel when near him is unbearable." Stopping at the table he held his head down in a sort of ashamed look.
"You never mentioned it being a person before this Medivh." I felt a sence of relief that atleast I was not the only one out of the loop.
"I'm sorry for the lieing Lord Cullen but I had to make sure your Kingdom continued down the path of taking control of Lorderon this way."
"Who is this man that causes this darkness." Medivh raised his head an bid us to sit down which Edward did but I remained standing. I never liked the feel of a chair in these sorts of situations. Locking myself in just felt reckless, and I was anything but reckless.
"He was once a noble man. The people spoke of him in barely restrained whispers. They loved him, and his german bride from Kul Tiras. He defeated bandits learned his craft and everything was fine. " He stopped and looked to be in heavy thought for a moment. A smile crossed his scarred face as he must have remmebered the good times of this man. "Then one day, and I saw one day because I do not know what day, or what transpired. One day he was just gone. As if another had taken control of his body and replaced him with a demon. I was approached back then by several Magi from the Kirin Tor of whom said they had felt a terrible presence when near him, so I travelled to Lorderon to see for myself. When I did the two men had been executed for crimes created against them, but the truth they had told me remained. Walking near him was like walking near an empty space in the world."
"Who is this man you speak of Medivh."
"I know him as Azsharion Menathil, but in the toghnue of the germans he is known as Arthas Menathil."
The two would exit the tunnels with a new fear of Arthas Menathil of whome they had clearly been told by this Medivh was someone of extreme danger. Edward believed him without question, but Leven saw this Medivh as a misguided Magi that was clinging to fear and dillusions in his old age. Both of them though would meet with William and discuss the realities of what they had heard.
Kingdom of Lucerne
Main Article : House Lovie, Kingdom Of Lucerne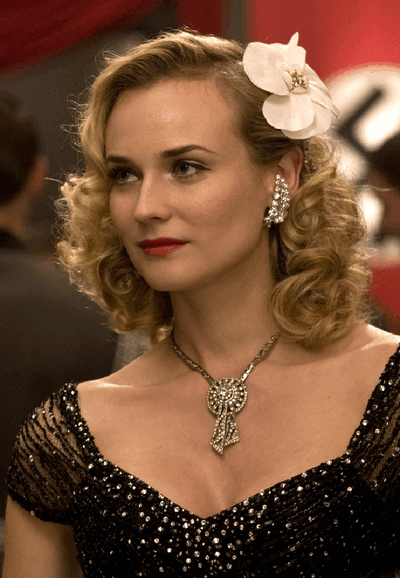 "

House Portmane was a noble house, but it was an upstart. Created due to our relationships, and nothing to do with history or legacy and that gives nobles a bad taste in their mouth. In Lucerne I was a Lovie, and that shared none of the same stigma. It was like stepping into the fantasy of every single non royal in the continent, and finding the dream was just as good as the reality.

"

—

Diane Portmane
Diane took little convinsing to return to Lucerne with her new siblings, and when she arrived she was shocked at the spectacle that Andrew's servents and gaurds made over her. She was treated by Andrew as a sister, and because of this those in the Kingdom were very quickly under the understanding that they must treat her this way as well. Her early time in Lucerne was defined by her needing to get up to speed with the way the Lucernian culture went, and she was led into this mainly by her cousin Emma Bell, and Alice Lovie her sister. During this time she came to know many things of which one of the main things was the web of alliance that permiated throughout the capital, and she became adept at navigating through this as time went by.
Order of the Green Dragon
Main Article : Order of the Green Dragon
"

Purpose is what drives any human being. For my entire life I was driven by either holding a secret to myself, or loving a mad man. For the first time in my life I was counted on for things more important then I had ever known. My words were heeded, and in many cases sought out.

"

—

Diane Portmane
Now situated in Lucerne she became interested as to what she could do to help her new House and Emma Bell who she had become close to told her that due to her background in court intrigues she would be a perfect fit for the new Order of the Green Dragon that Andrew had set up.
The Turning of House Cole
They have held my son hostage for years. Eventually there is a cost.
The Turning of House Cole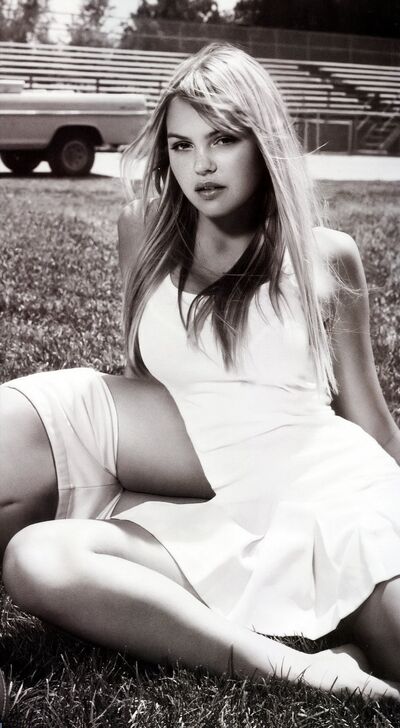 "

I sat in that meeting and watched as the words of that madman Ramsey Bolten were echoed in Roose. Speaking to him afterwards I got the impression that he was no longer willing to deny his young bastard, and despite my honest chritisims he would not budge. It was in that moment I knew I couldn't watch as my family was destroyed because of the decisions of madmen. It was in that moment I turned my back on the fools in Dreadfort and charted my own path.

"

—

Josh Cole
As the war in Bolten rose to prominence it was Josh Cole that saw the error of conflict with Lucerne, and when Roose commanded all the banners to send their forces to Karhold for the attack on the west, it Josh that begin to bring the elements of House Cole back to Deephome where he begin to plan for what he wanted to do in this new Ramsey Bolten dominated Kingdom of Bolten. He begin sending messengers to Lorderon and would communicate that he was interested in discussing a meeting of the minds, which he wanted to happen on the river border of the two kingdoms. House Scarlet, and House Menathil would arrange the meeting, and would send a few men to join Diane in her hopeful diplomatic mission with Josh Cole. Diane Portmane would go about meeting Josh Cole on a barge in the river bordering the two kingdoms she would arrange the deal that gave House Cole the future control of a huge tract of land south of Lorderon and a position as Noble House within the Kingdom of Lucerne. Josh Cole would be impressed with the generocity they showed him, and in return for this he promiced that when the time came he would turn his forces against Bolten and allow the Lucernians to cross the bridge in peace. He would also demand that his daughter Kristen Cole would be married off, and he was offered Taimen Scarlet as the choice and learning how high up Taimen was in House Scarlet he was beyond happy to accept the offer. As the army of Bolten marched on Jeutenburg it was Josh Cole that lied and said that the forces of House Scarlet were threatening and he couldn't pull his forces back. Following this act of good faith Taimen and Kristen Cole would be married in the Temple of Lorderon thus sealing the arrangement between House Cole and the Kingdom of Lucerne.
Conversation Incoming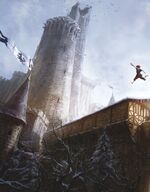 Fairmarket. The Riverlands. Lorderon, and Kul Tiras. Westbridge. All had fallen to our might. All had sworn the sword to the Valley of Lucerne. All that power, and yet I looked north and saw a great demon the likes of which I could not hope to resist. The Empire was the reason for growth. The Empire was the reason for everything we did. The Empire was the land that should have done great things for the world, but instead of this they did nothing. They allowed chaos to breed amongst them, and in that weakeness and failing they threatened to ruin the entire continent.

I don`t know how long I was sitting in that room on the boat, but by the time the Cole`s finally made their way into the room I had watched the day turn to darkness. Walking into the meeting I had heard of the the looks of this Cole Lord, and knew instantly from the scar on his face that the taller man was Josh Cole lord of the Coles. Accompanying him were three others of which only one I recegnized from reports, and that was the one directly behind him of whom I knew to be his vassal Baryn Shelt. I had heard rumors of the anger and jelousy that had been shown by Baryn Shelt whenever his liege lord was insulted, and for that alone I was suprised by his arrival.
``Well Lord Scarlet we are here, and prepared to discuss the issues at hand.`` I knew Lord Cole was a proud man, but for him to enter the room as if he was just damn important that we were wasting his time was quite annoying. The man had sent us letters begging us in careful words to take his people in and protect us, and perhaps that made him ashamed of his current weakened position.
``My King William third of his name has sent new offers for this meeting, and I`m sure a man of your understanding will see the judgement of a union of your houses and the Kingdom of Lucerne.`` Not much had changed in the new offers. More land was given to them, including some important port space in the west, but in terms of the real stuff it was more about the willingness to not force House Cole to intervene militarily unless completely neccessary that was going to excite this cowardly lord.
``Your King has become known for his rewards for those who please him, but my conserns lie with those he has destroyed when they misplease him.`` Many on our side of the table flinched openely at the insult to a king that not only I had great respect for. He had done so much for us in such a short time, and to hear someone besmirtch him nearly caused Tirion Fraizen to leap from his chair. Before anything could come of the comment I raised my hand to silence everyone before speaking.
``My King has only destroyed those that did not see the wisdom in joining with the winning side.`` I looked at the smug look on Lord Cole`s face and just wanted to reach across the table and smash him with my fist. Knowing that was going to somewhat derail the alliance talk I paused myself watching for a reaction, but Lord Cole didn`t respond he just begin speaking silently with the man to his left that I didn`t know. ``Judging from your history you shall surely see the wisdom of surviving.`` Baryn Shelt was off his chair before I had even finished speaking, and I knew I shouldn`t have gone that far, but the arrogance of this man to make us plead with him to join was infuriating.
``What do you suggest about my lords character.`` Laiden Rivers got up from my side and I saw the hint of movement towards his sword, and hoped to god sence would win out amongst the fools in this room. Knowing I had to calm the situation down, I spoke in the calmest tone I could possibly muster.
``Of course we mean no offence, but it is clear to everyone who is paying attention that the Boltens cannot win a conflict against Lucerne.`` Switching the insults to the Boltens seemed to alieve the persieved slight on his Lords honor and thus Baryn Shelt sat himself down once again.
``This may be correct but what promices do we have that your Kingdom will hold our current positions in regards to the future.`` I pushed the alliance papers to the side of the table indicating it would outline all of the anwsers he sought.
``My King has outlined the result of what your alliance with us will mean for your people.`` Without a second thought Baryn Shelt rose from the table and retreieved the alliance papers from William and brought them back to his Lord. Josh looked at the papers for some time and it was clear to me that he would see them fairly. A positon of Arch Duke within the hypothetical province of Westros. His loyal vassals all expanding to Grand Lords, and most importantly was the fact that not a single inch of his land was lost due to his alliance with us.
`` I see here that King William is willing to agree to marriage contracts as well.`` This was obviously something he had been thinking on as it was a small point on one of the lines near the bottom.
``He is willing to listen to our advise on these matters yes that is correct.`` Leaning forward I knew I had been commanded to offer a good match, and alongside my brother Darius I had decided that my son Taimen as an offer, and if that was unsatisfactory then several of the daughters of my brother Darius would be offered instead.
``Well Lord Saiden is there any amongst your family that you would offer.`` His face had twisted from arrogance, and there was now a truly obvious look of excitement splashed across him.
``I have my son of whom is my oldest and heir to my position.`` I turned around and whispered for Laiden Rivers to leave the room and find my son. ``My commander will go and fetch my son.`` When I looked at him his eyes were shining as clearly he had not thought he was going to get such a significant offer from us.
``In return for such a proposal I would gladly offer my oldest daughter Kristen Cole.``
``I would agree to this marriage.`` I knew the first thing we had to do was make sure his daughter wasn`t an ugly duckling, or was five, but the agreement was in place now.
``Excellent news.`` He made motions for his men to raise from the table, but I did not move nor did any of our men.
``We will need you to do certain things in order for us to know that you are on our side.`` He sat himself back down followed switfly by his men.
``And what would these things be Lord Saiden.``He probably already knew exactly what he would be forced to do, but knowing the man he wanted time to digest things in his mind.
``Firstly when the Boltens command you to move south, you will send none of your forces.``
``This will be difficult especially do to the prisoners that are held by the Boltens.`` The way he said it was more like he was expecting us to get his hostages out of the Dreadfort instead of just giving a reason. 
``This aspect is non negiotable but we will do our best to get your people out of Dreadfort safely.`` A look of genuine suprise came to his face as if he had no idea such a thing was even possible.
``A siege of Dreadfort is optimistic at this point don`t you think.`` As he spoke this Laiden returned throught the doors with my son Taimen in tow. Upon looking at my son this Lord Cole smiled aprovingly obviously happy that my son wasn`t a cripple or a fool.
``We will not need a siege quite yet. We have men prepared to free as many young ones as we can from the Bolten`s grasp.``
``You have a man in the Dreadfort.`` He looked impressed as he said it, clearly understanding how difficult infiltrating the Dreadfort was.
``We do.``
Relationships
Arthas Menathil
See Also : Arthas Menathil
Diane Portmane has engaged in a torrid affair with the young prince for the better part of 4 years. She has no emotional reaction to the prince whatsoever but she knows the only way to return home is if she is a valuable member of Lorderon. She knows perhaps better then anyone elce how far morally Arthas has fallen, as she is the one that has to endure it as his sexuality becomes more brutalized and violent.
The two once spoke before, during, and after their sexual times together, but now its become almost a routine for them, and they now barely say anything to eachother. Diane too obsessed with leaving that she ignored the fall, and Arthas to in love with the Chaos to care.
With the coming of Andrew and the annexation of Lorderon, Diane left Lorderon and now lives in Lucerne. She and Arthas have not spoken since, and since she got what she wanted he was just a pawn anyway.
Community content is available under
CC-BY-SA
unless otherwise noted.