House Catridge is a powerful but greatly diminished Vandal House located in the Republic of Dresdan and is one of the three major houses of Dresdan. A small house number wise, it wields a disproportional amount of influence due to the fact that it was once very strong and its money remains from this time allowing it to maintain a very large mercenary force which keeps its safe from the other major houses wanting it removed.
House Catridge would be one of the first Vandal Houses to rise during the Great Migration and because of this fact the leadership of House Catridge was always one of the longest of any of the Triumverate, and the only one that even approached House Catridge in time served was House Heety who they destroyed allowing House Munitz to rise. Following the events of the Fire Sale the surviving members of House Catridge have found their excistence as a House has come to an end with their removal from several high ranking posts, and positions there role as a Lord house is now in question by large numbers of the royal nobles of Dresdan. On top of the simple fact that others want them removed their Patriarch in Lord Heinrick Catridge's lone child is Amanda Bass, and she is married to other major house member Chuck Bass. This was meant by Heinrick Catridge to bridge the gap between House Bass and House Catridge but all it did was allow House Bass to destroy House Catridge and basically merge the two houses through the birth of the child of Amanda Bass.
History
Early History
House Catridge was one of the original houses that came to take power in Dresdan. House Catridge during these early days was Very close with the members of House Bass, which is ironic because the current destroyed state of House Catridge is because of the actions taken by House Bass. House Catridge would be one of the first Vandal Houses to rise during the Great Migration and because of this fact the leadership of House Catridge was always one of the longest of any of the Triumverate, and the only one that even approached House Catridge in time served was House Heety who they destroyed allowing House Munitz to rise.
The Dresdan Fire Sale
Main Article : The Fire Sale
The Dresdan Massacre
I'm sorry father. If your not with me then your against me.
"

You talk of easy things. Do you think it was easy for me to realize that I had to kill my own father. To murder my own mother. Do you believe I did this because it was easy? Grow up.

"

—

Bartholomule Bass
Despite constant attempts to turn Bartholomule Bass from this violent path it would be a complete failure by Francis, and Karie Bass and as their failure led to Bart beggining to live on the streets the marriage between Karie, and Francis would collapse with Karie leaving the House Bass estate and going to return home with her House Catridge family. This betrayal as Bart saw it would be the final straw for the violent Bart Bass of whom took this betrayal and confronted his father of whom would blame House Catridge for what had happened and at these words he realizes his mistake to late as Bart screamed that he would destroy House Catridge and leave them ruined his mother included, and realizing what he had done Francis Bass attempted to back his words back but failed at convincing Bart but did convince Bart that Francis was a coward. Convinced his father would resist what needed to be done Bart would murder his father, and when his sister Karie came into the room she too would be killed by the frenzied Bart.
"

There was some quiet talk about passing me in the line of succession. I killed few people and that talk went right away.

"

—

Bartholomule Bass
When Francis Bass died, the house clearly decided to make Bart Bass the new Lord of House Bass. With the power he had always craved now his, he went quickly about planning the moves he would become famous for.
The Massacre
| Name  | Killer |
| --- | --- |
| Benjamin Catridge | Bartholomule Bass |
| Julie Catridge | Bartholomule Bass |
| Heinrick Catridge II. | Bartholomule Bass |
| George Catridge | Bartholomule Bass |
| Esme Catridge | Jack Bass |
| Krulio Catridge | Jack Bass |
| Sasha Catridge | Jack Bass |
| Lilya Catridge | Jack Bass |
| Ophelia Catridge | Bartholomule Bass |
| Esme Catridge | Jack Bass |
| Karie Bass II. | Jack, and Bartholomule |
"

Killing on that scale is not easy Chuck. Killing my father was one thing, but wiping out entire families. That took planning.

"

—

Bartholomule Bass
The Fire Sale would first begin formulating in the mind of Bartholomule Bass during the days following the naming of Bartholomule as the new lord of House Bass, and having murdered his father and had any dissenting voices killed there was nothing to stand in the ways of his plans. Originally Bart planned to move against House Munitz but following a confrontation a second confrontation with Benjamin Catridge he would change his target to be completely House Catridge and begin forming his forces for the massacre that would become known as the Fire Sale. House Catridge had significant numbers (as detailed to the right) and thus Bartholomule knew that he had to organize something that would bring all of their numbers together and thus he begin planning a family reunion of sorts and to do this he bribed Fredrik of Catridge of whom stood as the personal steward of Lord Benjamin Catridge and had fallen in love with Benjamin but had been spurned in his advances leading to a bitter hatred to form in Fredrik against Benjamin who he felt looked down on him for his homosexuality. Of the male members of House Catridge Bartholomule was able to have every member of the family agree to the meeting outside of Markus Catridge of whom was in the Kingdom of Gilneas where all word of him said that he was a Dragonoph zeolet who would most likely become a Dragonoph priest and thus was of little threat. With the family forming for the meeting Bartholomule alongside his co-conspirator in his brother Jack Bass would gather dozens of men at arms secretly from the House Bass forces and dressed in House Catridge clothes they would take over the guard duties from the House Catridge honor guard on the day of the meeting. As the killing reached its zenith it was Bartholume and Jack that found their mother Karie attempting to get the young Flavion Catridge III., and Delice Catridge out of a window to escape the carnage but were stopped by her two sons. Realizing they were responsible for the killing she attacked them attempting to by Flavion and Delice time to escape but both her sons stabbed her fatally wounding her and then they killed the two escaping children who were too frightened to jump from the window.
The Aftermath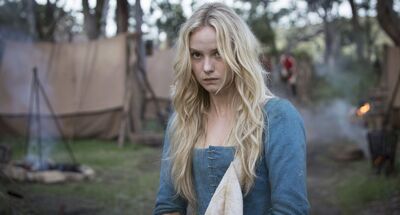 Heinrick would be in Gilneas during the events of the Fire Sale and as the oldest remaining male of the family he would become the new lord of House Catridge but shortly upon his return he was met by Bartholomule Bass of whom admitted that he had done the whole thing and then had Heinrick's leg cut off as a means of showing him his power.
Dresdan Market Massacre
Main Article : Dresdan Civil War
Dresdan Market Massacre
For whatever reason he wasn't happy with a slow growth anymore. He wanted more power, and I guess he was dumb enough to think that killing people's children, and brides was the right way to get that.
"

The Market was the first strike. After they butchered those poor souls in the market everyone knew the lines were drawn.

"

—

Sophia Lovie
The Dresdan Civil War could be argued started the day that Angelo Ambronogi entered Dresdan and turned Francis Munitz towards the forces of Chaos, but the actual event that sparked the conflict was the Chaos forces destructive event which is now known as the Dresdan Market Massacre. This movement led to the creation of the Forsaken which was built as a rebellious movement that wanted more rights in the region of Dresdan, but once you joined you realized that it was actually a chaotic movement that you either gave into Chaos or were quickly silenced. As this movement gathered steam they begin sparking a conflict between those who worshiped the Dragon, and those who worshiped Sigmar. As Francis Munitz begin planning for the Market Massacre he was completely aware of the growing religious movement, but as he shuffled in hundreds of Chaos cultists into the city swelling his numbers the Sigmarite's and Dragonoph's were far too busy with each other to notice the change. This conflict spilled into street fighting which the military of Dresdan was unable to contain, and entire neighborhoods were turned into battlegrounds as the conflict escalated. The religious section of Dresdan became more and more polarized and in this way each of the houses of Dresdan picked a side and this was believed to be the starting of the civil war, but in fact it was the massacre at the Dresdan Market that would truly begin the civil war. Around this time Sophia Lovie and the Order of the Violet Dragon would move northward in an effort to ambush a Sigmarite force that was moving towards the Dresdan Republic from the north.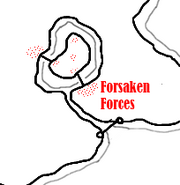 "

What manner of stupidity allowed me to not see that my brother was mad? Was he always this way or did some failing on our part turn him into this creature of madness.

"

—

Franky Munitz
With the Forsaken moving towards becoming a legitimate force within Dresdan the violent nature of Francis worked itself together during the events of the Dresdan Market Massacre. Francis wanted an event so grand in scope that his movement would finally get the notice and recognition that he believed it so desperately needed. His commanders argued that they were growing in strength and they didn't need the attention that would come with a large scale attack, but he controlled the movement and forced it to follow him. By this point Angelo had left Dresdan and moved onto his next coruption, but Francis was not ready to fully take control, and this was the first sign of this. The plan by Francis quickly became to use nearly the entire strength of the Forsaken to assault the Dresdan markets and kill everyone there. His commanders were horrified as this could kill many allies of the Forsaken and also frighten the merchants who were required for any kind of power play, but he was beyond control at this point. Alongside his madness in this was the chance meeting between Francis and his cousin Jimmy Fletzmiller of whom he would meet after Jimmy was returning from Dresdan on an especially long trading mission all the way north to Denmark. Jimmy was prepared to rest himself for a long time before going back to the road, but only a few days into his return he was met by his cousin Francis Muntiz who asked him to come see the opening of his merchant shop in downtown Dresdan. He agreed as he was glad that his cousin was taking an interest in the economic interests of House Munitz, and this acceptance gave Francis the idea of luring in others from his family.
"

My brother came by today Amanda. Everything in me tells me he's lying but my sister wishes for us to give him another chance and so I shall. I'll see you when I get back. I love you.

"

—

Letter to Amanda from Franky
In Francis's madness, and arrogance from the luring of his cousin he returned to his family where he had been absent from for well over a year, and with his return he invited them to meet him the next week to see the opening of his own shop in town. The day that his supposed open, and the attack was planned for was a very busy day for the markets as it was the monthly rush on new goods coming in from the port, and thus the numbers within the Market would be heavy. His family was obviously skeptical, and many simply turned him down outright but Franky's sister Jessie Munitz would push hard for her family to support Francis but despite this only Franky would go with her on the day of the attack.
"

I was walking fast trying to hold onto Jessie's hand so that she didn't run off in her enthusiasm to see Francis's booth. She looked back at me laughing as I held her tight and then I heard a whistle in the air. Jessie let out a scream and before I could hold her up I felt something ping against my shoulder knocking me to the ground.

"

—

Franky Munitz
On the day of the attack Franky left a letter behind for Amanda of whom by this point could barely walk due to her pregnancy and then left her sleeping in his room before finding his sister and gathering some men to take with them and then going to the market. Francis and his Forsaken had already by this point captured much of the market, with the least important stores captured by their men and closed signs placed on them. In these captured buildings they placed crossbowmen in large numbers, and this was especially true for the more center area where they had some three hundred men in the market square for the attack. One hundred Forsaken men waited on either bridge for the attack signal to be sent and when that happened they would storm the two towers guarding the bridge and then prepare to shoot anyone down who attempted to cross the bridge. With preparations done Francis waited in his fake store for his brother and sister to come and his plan was to signal the attack once he had killed Franky. Franky his four men and Jessie Munitz came to the Market around ten in the morning meeting their cousin Jimmy and his wife along the way, and by this point it was already packed to near madness but despite wishing to wait until it was less busy Jessie grabbed his hand and pulled him forward. Walking down the street he sees many nobles and makes notes of what they appear to be doing, but it as they walk that Dewey Munitz hiding on a rooftop sparks the attack to quickly when he sees a shot at Franky Munitz and takes it. Dewey misses Franky and strikes his sister Jessie in the chest killing her and then causing all the other Forsaken in his building to open fire as well. Dewey lights the signal fire for his building which spreads to the other Forsaken forces and causes the bridge forces to attack the towers.
"

The pain in my shoulder wasn't so bad but as I got up and saw her broken body I felt more pain then I had felt before. I crawled towards her touching her face briefly before a bolt flew through the air killing a poor women only a few feet away from me causing her to fall into me.

"

—

Franky Munitz
Franky took a shot off the shoulder plate of his armor and fell to the ground of which Dewey thought killed him and thus Dewey left the building commanding his force to follow him onto the street to take the head of his brother. Coming onto the street Dewey found a wounded Jimmy Fletzmiller crying over his fallen wife and without pause Franky saw Dewey stab him through the back of the neck, and realizing he didn't have much time Franky quickly gathered more men to him, and it was in this form that Dewey found Franky organizing the people fleeing to go into the buildings and fight inside until relief came. Franky though stopped telling people to flee when he saw that Dewey had seen him and seeing this Dewey charged with his eight men against Franky. Franky now aided by two others fought against Dewey and his forces, and despite Dewey being aided by his Chaos Mutations Franky managed to kill three of them men and knock Dewey to the ground embarrassing him and when two other market goers entered the fight Dewey found himself forced to flee. Fleeing down the street Franky chased after him finally catching him near the Forsaken headquarters in the Market where the two fought briefly before Franky stabbed him through the chest fatally wounding his brother. At the sound of Dewey screaming Francis Munitz came running and prepared to fight Franky when he was pulled away by two of his commanders who told him relief was coming and they had succeeded in their massacre but needed to escape while they still could.
"

He was screaming like a mad man as he ran to his boats. He wasn't my brother anymore. It wasn't the Chaos painted armor he wore. It wasn't the chaos flags he carried. These things were bad choices but still he would be my brother if that was all he did.

"

—

Franky Munitz
Barely controlling his rage Franky cursed his brother watching him flee onto boats with hundreds of other Forsaken going southward down the stream leading out of the Market. Franky quickly came to and went back to find his sisters body and hugged her tight crying into her shoulder until he was pulled away by his father of whom had a single tear in his eyes when he pulled Franky away. In the end the Forsaken had killed nearly eighty percent of the people that were in the market causing the deaths of hundreds of people of which many were nobles, and for their own side they had lost some numbers but not heavy enough to evan be remembered by their forces. The death of Dewey Munitz who was the third in command of the Forsaken forces was a large loss of which the Forsaken were shocked by.
Retaking of the Market
Noteable Members
Family Members
† Flavion Catridge II. Died of sickness

† Koria Catridge. Killed during the Fire Sale

† Flavion Catridge III. Died of sickness

Sasha Catridge

Heinrick Catridge

† Julia Catridge. (Julia Blackwooler) Died of sickness

† Heinrick Catridge II. Killed during Fire Sale
† Flavion Catridge III. Killed during the Fire Sale
† Delice Catridge. Killed during the Fire Sale

† Benjamin Catridge. Killed during Fire Sale

† Liyla Catridge. KIlled during the Fire Sale

† Ophelia Catridge. Killed during the Fire Sale

† Krulio Catridge. Killed during Fire Sale
† Sasha Cathridge II. Killed during Fire Sale

Thomas Blackwooler

† Thomas Blackwooler II. Killed during the Fire Sale
† Hedrik Blackwooler. Killed during the Fire Sale
† Ariana Blackwooler. Killed during the Fire Sale

† George Catridge. Killed during Fire Sale
† Esme Catridge. Killed during Fire Sale

† Karie Catridge (Karie Bass). See House Bass Branch
Historical Members
Willa Doren : Born three generations before Heinrick Catridge. Born under the name Willa Catridge but changed it to Doren under the advise of her new father of sorts in Eric Olden.
Other Members
House Bass Branch
Community content is available under
CC-BY-SA
unless otherwise noted.