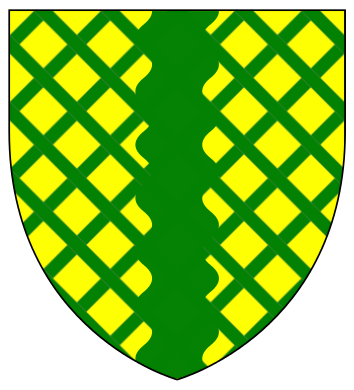 House Hayford
is a medium sized house that dominates the castle and land around Hayford and are within the Kingdom of Bolten. House Hayford has always been a vassal of
House Bolten
since the days of their uplifting by the Boltens, and for history have remained a very loyal house to the Boltens. House Hayford suffered severe losses due to plague, and the Lucerne conflict which forced Ellesandra Hayford the oldest of the remaining children to become the Lady of House Hayford.
History
Early History
Pree Rebellion
Main Article : Pree Rebellion
During this time waiting she was inside Hayford when it was embroiled in the fight between House Pree and House Bolten after a disagreement about hostages led to war between the two parties and this eventually caused a siege of Hayford which lasted for months and led to disease spreading in the castle which killed her mother, and two siblings.
Treaty of Ranhold
At the treaty of Ranhold the betrothal of Elessandra and Domeric was ended, but in return it was agreed that once she reached the age of six it would be Larra Hayford that would be sent to the Dreadfort to act as a hostage.
Killing of Carsten Hayford
Main Article : Killing of Carsten Hayford II.
When she was twelve she watched her father die of foolishness after he taunted Gregor Brobane of whom slaughtered him in front of nearly all the remaining Hayford`s and it was only after the intervention of Sandor Brobane that Carsten was stopped from fighting Gregor.
Meeting at the Dreadfort
Main Article : Dreadfort Meeting of 5136
The Bolten Decision
I thought if I supported you, then you would stop. I thought you could be bargained with Ramsey. I was so wrong. I should have never supported you. I should have supported my only true son.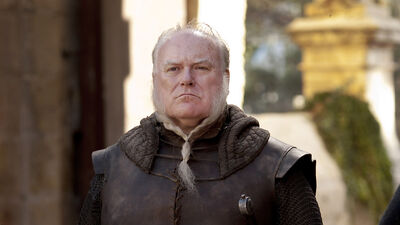 "

I wanted him to stop. I spoke to him with all the love I had in me for my brother, and yet all it did was make him believe I wanted him dead. What was there left for me when he refused reason.

"

—

Domeric Bolten
Domeric Bolten would travel to Hornwood so that he could attend a tournament they were holding there, and also so that he could see Halys Hornwood and his family of whom he knew very well and loved as his own family. Arriving there Halys would tell him that he had sent some of his men to follow Ramsey Bolten around, and from this had discovered that Ramsey had a small keep north of the Dreadfort and would use it to capture, chase, and then rape and kill women. Learning this as well as the plans that Ramsey was beggining to form alongside the power he was gaining Domeric would return to the Dreadfort with Halys, and several of the Hornwood vassals. Domeric and his party would meet Rodrik Cassel a little west of Hornwood where he was awaiting more boats for transport for himself and his vassals, and from Rodrik they learned that followed Domeric leaving the Dreadfort Ramsey had called a meeting of the Kingdom of Bolten, and Rodrik was already running late.
"

When we met Rodrik Cassel on the road it was a chance meeting. We weren't moving at a very high speed, and had we not of we would have taken the land route instead of the boat with him, and we would have missed the meeting.

"

—

Domeric Bolten
Taking a ride with the Cassel force Domeric and the Hornwood forces would reach the Dreadfort days before they would if they had been marching, and would arrive just hours before the meetings were to begin. Domeric would have a long talk with Josh Cole of whom warns Domeric that the Karstark's and the Urnet's are solidly behind Ramsey and that he and his forces will not follow Domeric into a conflict they cannot win. Hearing of the Karstark's joining with Ramsey Domeric meets with Halys Hornwood but finds he has come with a sickness and can barely move forcing Daryn Hornwood to join the meeting as the head of House Hornwood. Arriving at the meeting Ramsey, and Mallador Locke would taunt Daryn over the sickness of his father and would carefully make it known that they were the reason behind the sickness. The arrival of Trevor Hayford would stall the argument and they all entered the Dreadfort Keep where the meeting took place.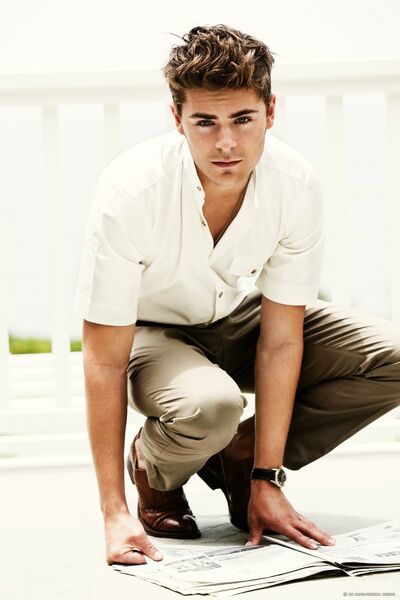 "

Ramsey was chaos, while Domeric was order. It will forever be the great shame of this land that we allowed chaos to grow. We all stood and watched as Domeric resisted, and was struck down. We all sat and we all watched as Chaos was allow to do that. We should be ashamed.

"

—

Daryn Hornwood
Entering the meeting the assembled noblemen would hear a speach from Roose Bolten which to the shock of many inside the room was praising towards Ramsey, and slightly insulting towards Domeric. This speach did much to turn many of those who might have followed Domeric, and turned them towards listening to Ramsey instead. Following this Rickard Karstark spoke of growing attacks by Dragonoph fanatics sent by the Kingdom of Lucerne against the western border of the Karstark lands, and Domeric would stand during this and tell the assembled that these attacks were not happening. Ramsey would attack Domerics honor and call him a liar who was secretly in the pay for the Lucernians which noone believed but turned the attention away from the lie about the Lucernian attacks on the Karstarks. Daryn Hornwood did his best to speak on the side of Domeric but was shouted down by the Locke's and Urnets of whom laughed at Daryn and rediculed his lands, and his weakened father. As things broke down and it became clear that Ramsey was going to have the war he wanted, Domeric would look across at Josh Cole and saw him smiling sadly at him, and as the meeting ended Domeric went after Josh Cole and spoke with him alongside Daryn Hornwood. Josh Cole told Domeric once again that the Cole's were not willing to die for some wasted war that the insane Ramsey Bolten wanted, and that Josh Cole was not going to do it, and Domeric realizing this could mean turning to the Lucernians, or staying neutral attempted to persaude him, but despite respecting Domeric there was no agreement from Josh.
"

I could litteraly feel the moment when hope died. He stood and he told everyone there a giant lie, and they all believed him. I knew the truth, and I knew what would happen if we did this. I knew their numbers. I knew their quality. I knew a lot about the Kingdom of Lucerne, and I knew that we were not a match for them. Not now.

"

—

Domeric Bolten
Domeric in that moment knew things were darkening in Bolten, and warned Daryn to take his father and their vassals and return to Hornwood and prepare the army because he would need them when the time came. Doing this Domeric was left alone and went to see his father of whom would be in his throne room with Rickard Karstark. Speaking with the two of them Domeric got the sence that neither agreed with Ramsey, but couldn't get them to tell him why they had sided with him, but Roose did tell Domeric that he needed to follow Ramsey this time, or else. When he resisted this Roose would command it as his king, and knowing the honor bound Domeric would follow this he left the room with the horrifying thought of having to follow Ramsey and his madness.
Conversation Incoming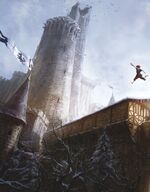 Fairmarket. The Riverlands. Lorderon, and Kul Tiras. Westbridge. All had fallen to our might. All had sworn the sword to the Valley of Lucerne. All that power, and yet I looked north and saw a great demon the likes of which I could not hope to resist. The Empire was the reason for growth. The Empire was the reason for everything we did. The Empire was the land that should have done great things for the world, but instead of this they did nothing. They allowed chaos to breed amongst them, and in that weakeness and failing they threatened to ruin the entire continent.

Father why would you have turned to his side in there." My father just stared at me with nothing there. I knew the leeches were draining him somewhat of his feelings, but I had never seen him this...this dead. He looked like a shell of himself. "I just don't understand father."
"Sometimes it isn't our place to understand why we are commanded to do things. Sometimes those below the top cannot see all things."
"What am I not seeing father."
"There are many things that a king sees, that his heir cannot. There are many visions that I know of that you can only grasp at."
"Ramsey is my blood father, but he has fallen into darkness. I cannot get him free of that. I cannot save him from himself."
"Of this I am painfully aware of."
"Then why give him the lead."
"Your just going to have to listen to him this time Domeric. Trust me when I say that I have a plan. I have a plan that gives us both everything we ever wanted. All you need to do is listen to Ramsey for a period of time."
"He will lead our men to the slaughter."
"Lord Domeric that appears to be your task then."
"What do you mean Lord Karstark?"
"I mean that you must protect the army from his version of war."
Fall of Hayford
Fall of Hayford
Hayford was the final step towards the Dreadfort.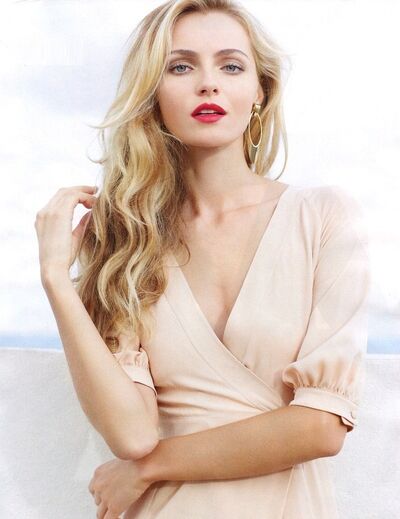 "

I was honest enought to admit that I was afraid. I didn`t want to watch anymore of my family die, and I was so scared that this time it would be me that led them to their deaths. I love my family. I love my family.

"

—

Ellesandra Hayford
Hayford and by extension House Hayford would enter the realm of great importance after Jamie Lannister and the army of House Lannister were able to defeat the forces sent against them, and would besiege the castle. Hayford`s defences were led by Lady Ellesandra`s bastard uncle of whom had married her aunt and thus ruined her aunts place in the line of succession. Her Aunt pushed young Ellesandra to fight to the death, but each night of the siege she returned to her room where her two younger siblings slept and became more and more afraid of their deaths. After a week the lines allowing the entry of ravens into the castle were cut as the Lannisters and their forces completely surrounded the castle, and thus although the Lannister scouts knew the forces of Cerwyn were incoming this news was not known by the Hayford`s. What was also known by the Lannisters was that word had come in from the Scarlet's in the north that the Cerwyn's were not going to actually engage as they were simply playing at loyalty to protect their hostages in the Dreadfort. Hayford`s small forces were weakened further when the cowardly Davon Hayford her bastard uncle would abandon the walls with thirty men where he would be captured and executed in sight of the walls. Losing her husband led Natasha Hayford to spend the next few days screaming in her room in one of the taller towers which even further weaknened the moral of the defenders. Elesandra Hayford would be assisted by Ser Thomas Swordwood of whom was a sworn sword for House Hayford, and he would stand up for Elesandra as she was being somewhat intimidated during a meeting on day three of the siege. Elessandra would promote Ser Thomas to the Captain of the Gaurd, and then asked him honestly what they should do, and he told her they should surrender without delay.
"

We have lost mother...just go look outside the walls and surely you will see that there is no hope of resisting such a force.

"

—

Ellesandra Hayford
When four days into the siege the walls were approached by the forces of House Lannister led by Jamie, and Tyrek Lannister they were met at the gates by Thomas Swordwood, and Lady Ellesandra stood behind him and listened to the offer. Jamie would tell them that this didn't have to end in violence and all they wanted was to gain control of the castle so that it could be a blocking spot for any relief from the north. Scared of the Boltens getting angry Ser Thomas feinged resistence but at this sign of resistence Jamie told them that House Hayford would retain control of the castle if they surrendered within the hour, and that a garrison of Lannister men would stay to fortify the area, but otherwise it would remain in Hayford hands. Ellesandra would hearing this surrender the castle, and as she agreed Tyrek fell to the ground couphing, and Ellesandra nearly on instinct stopped him from falling to the ground, and held his large armored self up until Jamie moved to him and brought him back to the camp. During the meeting her aunt had to be restrained in the dungeon beneath the castle for fear she would derail the arrangement, and thus Ellesandra would surrender Hayford and leave the route into Dreadfort open to Lucerne, and relief from the north now closed.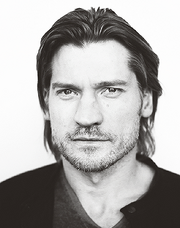 "

With the castle in our hands it would be a simple matter to further fortify the spot and the we had Dreadfort cut off and open for the taking. I left Tyrek in charge not only because of his injury but because he was someone when I looked at I believed I could trust for the job of holding the castle.

"

—

Jamie Lannister
Returning to the Lannister camp Tyrek had a serious fever, and the healers while attempting to reach him were pushed away by Tyrek of whom didn't want to look weak infront of Jamie, and it was only when Jamie had left that he allowed them to look at his wound. As he finally was allowed to rest for the first time and have a healer look at his wound, they were shocked to see how bad the wound had become. Maester Rhellin was forced by Tyrek to withold the severity of the injury to Jamie, and when he returned the Maester had left like he promiced and with him gone, Tyrek told Jamie it was a simple cut that would heal in a few days, and thus Jamie would give him command of some five hundred men that would be the garrison for Hayford, but also the eventual command of the construction that would take place once the Order of the Grey Dragon arrived at Hayford.  Jamie would organize his forces over the next several hours, and since the siege had been a non-conflict the army was quickly ready, and Jamie said goodbye to Tyrek and the army left to siege the Dreadfort, and what everyone believed was the end of the war.
"

I watched Jamie leave, and honestly the way Rhellin had made it seem I truly though that would be the last time I saw him.

"

—

Tyrek Lannister
As the Lannisters passed the castle it was Tyrek Lannister that was left in charge along with the five hundred men to hold the castle, and the increasingly sickly Tyrek would be placed in the Lord's Quarters of Hayford where Ellesandra's fallen father had once been, and Maester Rhellin did his best to make him better. As the infection became increasingly worse he became delirious, and the command of the castle was handed briefly over to his second in command Baelon Jolly. As his sickness worsened he was visited by Ellesandra Hayford of whom had heard his screams and had watched her older brother die of infection from a wound he had suffered, and thus brought herbs that she knew had somewhat helped her brother but it had been too late for him. Ellesandra prepared to leave after delivering the herbs but as she neared him and saw the tears on his face from fear, she moved closer and briefly held his hand. When she tried to move away his hand remained clasped to hers and he held her tight not wanting her to leave in his delerious state. Staying with him throughout the night she kept waiting for his hand to go limp as he died, but he only clamped on harder, and when the morning came Maester Rhellin came and the wound had somewhat gone down in infection. 
Getting Better
"

Getting Better was the only thing I wanted him too do. This was some invader from a long away land that I had never heard speak, and I was crying at night for fear the infection would stop improving. He could have been a monster, or a killer, but I didn`t care in that moment. I just wanted him to be alright. See what beautiful eyes lay behind the eye lids that never opened. Hear the lyrical voice that I had built into my mind that he would sound like.

"

—

Ellesandra Hayford
While Maester Rhellin had said the wound had improved overnight, Tyrek remained unconsious, and his grip on Ellesandra lessened, but Ellesandra simply held his hand tighter. As she remained all the next day she fell asleep on his chest, and was awoken by her younger sister Sarah of whom brought her food. Sarah stayed with her for a time, and she was soon joined by Jaelline Hayford and all three of the remaining Hayford's sat by the bed of a man they knew nothing about and prayed he survived. As the night neared Ser Thomas, and Baelon Jolly would carry the girls back to their rooms but Ellesandra remained at the side of Tyrek of whom she had by this point placed all her emotional well being on whether he lived or noth. As he woke a bit he stared her in the eyes, and as if pleading with her, she leaned in and hugged him, and laid beside him holding him tightly as his fever slowed but still was very bad. The next day she woke up curled in the bed with him, but he had woken, and was staring at her eyes, and seeing this and knowing she was not being what her position demanded she bid him a quick goodbye and left the room.
Mordor Invasion of Bolten
Main Article : Mordor Invasion of Bolten
Coming of Mordor
Humans and Orcs were not meant to fight alongside one another. The human traitors who fought with Mordor bring shame on the entire species with their actions. I care not for the reasons why these human traitors are not at fault. All I know is I would take a sword to my chest before I ever served the Dark Lord of Mordor.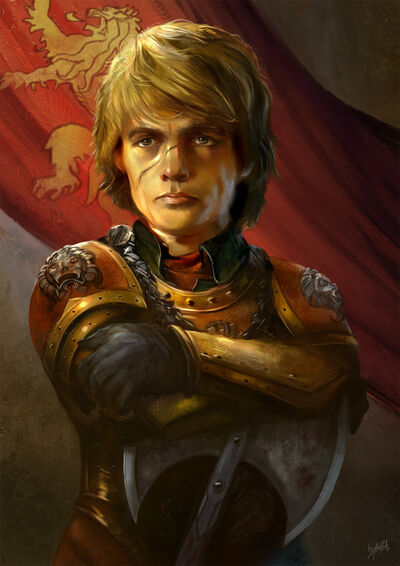 "

I had seen Orcs at Minus Ithil, and Tree Hill, but this was different. Here they stood side by side with humans, and their was an element, and a huge part of me that was just so disgusted that the humans would allow themselves to look the way they did.

"

—

Tyrek Lannister
Following the capture of Hayford and the collapse of the defenses of northern Bolten the main theater against the Boltens shifted the Dreadfort Peninsula. While Tyrek lay sick and near death the leadership of the Lucernian Invasion of Bolten would call for additional assistance at Hayford and seeing the Lannister presence there the assistance would take the form of Tyrion Lannister of whom arrived with a healthy thousand troops rallied from the Divine Lands.
Building the Stormwall
Siege of Hayford
Noteable Members
Family Members
† Carsten Hayford II. Killed by Gregor Brobane

† Lessa Hayford. Died of sickness

† Mathias Hayford. Killed at Battle of Whispering Winds

† Larra Hayford. Died during childbirth

† Larra Hayford II. Killed during Dreadfort Court Massacre

† Mishelle Hayford. Died during childbirth
Other Noteables
Banner Houses
Community content is available under
CC-BY-SA
unless otherwise noted.