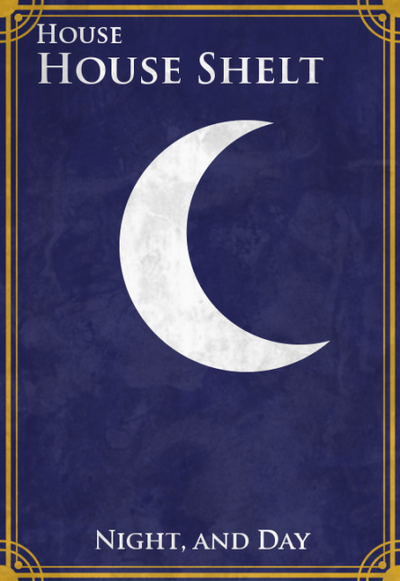 House Shelt
 is a large Vandal House located in the Kingdom of Bolten, and dominating the lands along the coast of the Rhine in the western section of Bolten. House Shelt is the vassal of House Cole, and provides a significant amount of the personal forces of the house due to the large population it controls in western Bolten. House Shelt has no major holdings, but controls dozens upon dozens of villages, and several castles of which add together into a siginicant fiefdom.
Baryn Shelt accompanied his liege lord in Josh Cole to the meetings between House Cole and House Scarlet representing the Kingdom of Lucerne and Baryn would support his liege lord when Josh decided to turn against House Bolten and the Kingdom of Bolten towards the side of the Kingdom of Lucerne. House Shelt would take part in the Lucernian invasion of northern Bolten where led by Baryn Shelt and two of his sons in the form of Daryn, and Dontis Shelt they would provide great assistence to the Lucernian invasion of northern Bolten.
History
Early History
First Bolten-Lucerne War
Main Article : First Bolten-Lucerne War
The Turning of House Cole
They have held my son hostage for years. Eventually there is a cost.
The Turning of House Cole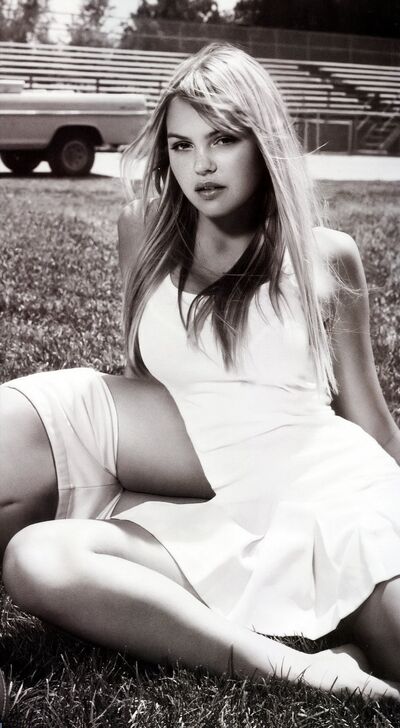 "

I sat in that meeting and watched as the words of that madman Ramsey Bolten were echoed in Roose. Speaking to him afterwards I got the impression that he was no longer willing to deny his young bastard, and despite my honest chritisims he would not budge. It was in that moment I knew I couldn't watch as my family was destroyed because of the decisions of madmen. It was in that moment I turned my back on the fools in Dreadfort and charted my own path.

"

—

Josh Cole
As the war in Bolten rose to prominence it was Josh Cole that saw the error of conflict with Lucerne, and when Roose commanded all the banners to send their forces to Karhold for the attack on the west, it Josh that begin to bring the elements of House Cole back to Deephome where he begin to plan for what he wanted to do in this new Ramsey Bolten dominated Kingdom of Bolten. He begin sending messengers to Lorderon and would communicate that he was interested in discussing a meeting of the minds, which he wanted to happen on the river border of the two kingdoms. House Scarlet, and House Menathil would arrange the meeting, and would send a few men to join Diane in her hopeful diplomatic mission with Josh Cole. Diane Portmane would go about meeting Josh Cole on a barge in the river bordering the two kingdoms she would arrange the deal that gave House Cole the future control of a huge tract of land south of Lorderon and a position as Noble House within the Kingdom of Lucerne. Josh Cole would be impressed with the generocity they showed him, and in return for this he promiced that when the time came he would turn his forces against Bolten and allow the Lucernians to cross the bridge in peace. He would also demand that his daughter Kristen Cole would be married off, and he was offered Taimen Scarlet as the choice and learning how high up Taimen was in House Scarlet he was beyond happy to accept the offer. As the army of Bolten marched on Jeutenburg it was Josh Cole that lied and said that the forces of House Scarlet were threatening and he couldn't pull his forces back. Following this act of good faith Taimen and Kristen Cole would be married in the Temple of Lorderon thus sealing the arrangement between House Cole and the Kingdom of Lucerne.
Conversation Incoming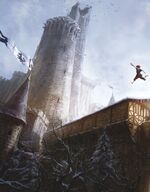 Fairmarket. The Riverlands. Lorderon, and Kul Tiras. Westbridge. All had fallen to our might. All had sworn the sword to the Valley of Lucerne. All that power, and yet I looked north and saw a great demon the likes of which I could not hope to resist. The Empire was the reason for growth. The Empire was the reason for everything we did. The Empire was the land that should have done great things for the world, but instead of this they did nothing. They allowed chaos to breed amongst them, and in that weakeness and failing they threatened to ruin the entire continent.

I don`t know how long I was sitting in that room on the boat, but by the time the Cole`s finally made their way into the room I had watched the day turn to darkness. Walking into the meeting I had heard of the the looks of this Cole Lord, and knew instantly from the scar on his face that the taller man was Josh Cole lord of the Coles. Accompanying him were three others of which only one I recegnized from reports, and that was the one directly behind him of whom I knew to be his vassal Baryn Shelt. I had heard rumors of the anger and jelousy that had been shown by Baryn Shelt whenever his liege lord was insulted, and for that alone I was suprised by his arrival.
``Well Lord Scarlet we are here, and prepared to discuss the issues at hand.`` I knew Lord Cole was a proud man, but for him to enter the room as if he was just damn important that we were wasting his time was quite annoying. The man had sent us letters begging us in careful words to take his people in and protect us, and perhaps that made him ashamed of his current weakened position.
``My King William third of his name has sent new offers for this meeting, and I`m sure a man of your understanding will see the judgement of a union of your houses and the Kingdom of Lucerne.`` Not much had changed in the new offers. More land was given to them, including some important port space in the west, but in terms of the real stuff it was more about the willingness to not force House Cole to intervene militarily unless completely neccessary that was going to excite this cowardly lord.
``Your King has become known for his rewards for those who please him, but my conserns lie with those he has destroyed when they misplease him.`` Many on our side of the table flinched openely at the insult to a king that not only I had great respect for. He had done so much for us in such a short time, and to hear someone besmirtch him nearly caused Tirion Fraizen to leap from his chair. Before anything could come of the comment I raised my hand to silence everyone before speaking.
``My King has only destroyed those that did not see the wisdom in joining with the winning side.`` I looked at the smug look on Lord Cole`s face and just wanted to reach across the table and smash him with my fist. Knowing that was going to somewhat derail the alliance talk I paused myself watching for a reaction, but Lord Cole didn`t respond he just begin speaking silently with the man to his left that I didn`t know. ``Judging from your history you shall surely see the wisdom of surviving.`` Baryn Shelt was off his chair before I had even finished speaking, and I knew I shouldn`t have gone that far, but the arrogance of this man to make us plead with him to join was infuriating.
``What do you suggest about my lords character.`` Laiden Rivers got up from my side and I saw the hint of movement towards his sword, and hoped to god sence would win out amongst the fools in this room. Knowing I had to calm the situation down, I spoke in the calmest tone I could possibly muster.
``Of course we mean no offence, but it is clear to everyone who is paying attention that the Boltens cannot win a conflict against Lucerne.`` Switching the insults to the Boltens seemed to alieve the persieved slight on his Lords honor and thus Baryn Shelt sat himself down once again.
``This may be correct but what promices do we have that your Kingdom will hold our current positions in regards to the future.`` I pushed the alliance papers to the side of the table indicating it would outline all of the anwsers he sought.
``My King has outlined the result of what your alliance with us will mean for your people.`` Without a second thought Baryn Shelt rose from the table and retreieved the alliance papers from William and brought them back to his Lord. Josh looked at the papers for some time and it was clear to me that he would see them fairly. A positon of Arch Duke within the hypothetical province of Westros. His loyal vassals all expanding to Grand Lords, and most importantly was the fact that not a single inch of his land was lost due to his alliance with us.
`` I see here that King William is willing to agree to marriage contracts as well.`` This was obviously something he had been thinking on as it was a small point on one of the lines near the bottom.
``He is willing to listen to our advise on these matters yes that is correct.`` Leaning forward I knew I had been commanded to offer a good match, and alongside my brother Darius I had decided that my son Taimen as an offer, and if that was unsatisfactory then several of the daughters of my brother Darius would be offered instead.
``Well Lord Saiden is there any amongst your family that you would offer.`` His face had twisted from arrogance, and there was now a truly obvious look of excitement splashed across him.
``I have my son of whom is my oldest and heir to my position.`` I turned around and whispered for Laiden Rivers to leave the room and find my son. ``My commander will go and fetch my son.`` When I looked at him his eyes were shining as clearly he had not thought he was going to get such a significant offer from us.
``In return for such a proposal I would gladly offer my oldest daughter Kristen Cole.``
``I would agree to this marriage.`` I knew the first thing we had to do was make sure his daughter wasn`t an ugly duckling, or was five, but the agreement was in place now.
``Excellent news.`` He made motions for his men to raise from the table, but I did not move nor did any of our men.
``We will need you to do certain things in order for us to know that you are on our side.`` He sat himself back down followed switfly by his men.
``And what would these things be Lord Saiden.``He probably already knew exactly what he would be forced to do, but knowing the man he wanted time to digest things in his mind.
``Firstly when the Boltens command you to move south, you will send none of your forces.``
``This will be difficult especially do to the prisoners that are held by the Boltens.`` The way he said it was more like he was expecting us to get his hostages out of the Dreadfort instead of just giving a reason. 
``This aspect is non negiotable but we will do our best to get your people out of Dreadfort safely.`` A look of genuine suprise came to his face as if he had no idea such a thing was even possible.
``A siege of Dreadfort is optimistic at this point don`t you think.`` As he spoke this Laiden returned throught the doors with my son Taimen in tow. Upon looking at my son this Lord Cole smiled aprovingly obviously happy that my son wasn`t a cripple or a fool.
``We will not need a siege quite yet. We have men prepared to free as many young ones as we can from the Bolten`s grasp.``
``You have a man in the Dreadfort.`` He looked impressed as he said it, clearly understanding how difficult infiltrating the Dreadfort was.
``We do.``
Noteable Members
Family Members
Other Noteables
Major Vassals
Vassal Houses
Former Vassal Houses
| Name | Reason for Departure | Current Status |
| --- | --- | --- |
| | | |
Community content is available under
CC-BY-SA
unless otherwise noted.