The Relationships of Haley Scott are those relationships that are important to Haley Scott.
Family
Lydia James
See Also : Lydia James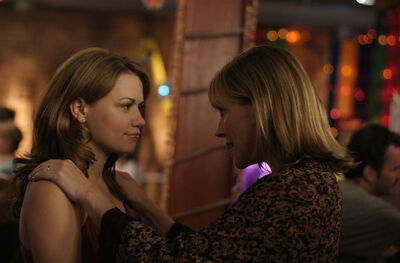 Friends
Garlan Tyrell
See Also : Garlan Tyrell
"

Do not fear your husband Milady. Lucas would never allow him to harm you. And if for whatever reason Lucas was unable to protect you. You know I would lift heaven and earth to make sure he never touched you.

"

—

Garlan Tyrell
Haley James and Garlan Tyrell met for the first time when Garlan was sent to be educated by his aunt's family in Tree Hill in the form of House Scott. Dring this time she was very kind to him as he was very nervous, and in this kindness he grew quite close to her, and this did lead to problems with Nathan Scott of whom was constantly having affairs on Haley despite their being betrothed.
Lovers
Lucas Scott
See Also : Lucas Scott
A quiet child that if he wasn't a member of an influential family might have found himself the center of bullying Lucas found solace in his youth in his one true friend Haley James. It was almost everyday that they would spend together, and because of the terrible state of her own family Haley came to sleep in Lucas's room basically everyday. What most would have assumed would become a romantic relationship never really moved in that direction. Despite the fact that they slept in the same bed for years, they never really had any sexual feelings towards each other. Haley and Lucas have been a constant source of trust and love for each other, and with the recent decline in Nathan's morals the two have grown even closer. Some whisper that without Nathan Haley is falling in love with Lucas. This part of their relationship was probably always there but it wasn't something that Lucas felt he was aloud to say out loud, and Haley was to scared to be the one to admit it out loud. Because of this the two existed in love but not saying the kind of love they shared, and because they were never sexually intimate the others among them simply accepted that they shared no physical attraction to each other.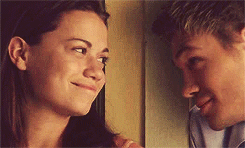 "

Everyone around simply watched Nathan believing he was the most perfect thing ever created, and for a time I also believed that. The more I got to know Nathan and Lucas the more I came to see how clearly greater Lucas was in nearly every aspect of life.

"

—

Haley Scott
During the Siege of Tree Hill the personality of Nathan Scott took a noise dive, and he and Haley begin to fight almost every time they saw each other. Despite this Haley found solice in Lucas who was struggling greatly with the emotional strain of what had happened to him. His relationship with Peyton was on the rocks due to her rejection of his proposal, and he was becoming conflicted by a girl that noone elce could see in Morrigan. But with Haley it was all just so simple. There were no games, or drama they just enjoyed eachother's company. It was during this time that she did become pregnant with a child following their first time together, and it was at this point that she realized that Nathan would know as they had been unable to sleep together and thus she would all but admit it to him in a brief conversation.
Best Friends
Brooke Scott
See Also : Brooke Scott
Enemies
Nathan Scott
See Also : Nathan Scott
Margaery Tyrell
See Also : Margaery Tyrell
Margeary Tyrell had a crush on Nathan Scott for years and when she became friends with Brooke Scott she finally found her way into the heart of Nathan who became completely overcome with lust over her to the point that he and her had sex while Brooke was asleep in the bed beside them. This was the beggining of their affair but it wasn't the end as even though Nathan got together with Haley he could never forget about Margaery and she and he became silently the most people to eachother. As Nathan and Haley drifted apart the two fell back together and the only thing that Margaery couldn't understand was why she wasn't pregnant yet of which would provide her with the one thing that Haley could not give him. When Haley got pregnant her dreams were crushed as Nathan decided to give their marriage another shot but by this point she was emotionally gone and it didn't take Nathan long to return to Margaery of whome tried everything to become pregnant with his child.
Community content is available under
CC-BY-SA
unless otherwise noted.