Conversation Incoming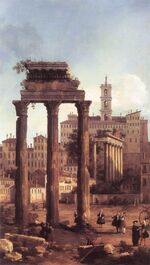 I cannot believe it has come to this. When I was a child the Roman Empire stretched from Hispania in the west, to parts of Francia in the north, to Africanas in the south, and pieces of Greece in the east. First Africanas had fallen, and we looked around and thought to ourselves that we still stood triumphent. What was Africanas. A land of savages we thought. I must admit that even in my own heart I thought that. Thousands upon thousands had fallen but it was so far from our home that what real danger could the Orcs pose to us here in Rome. It wasn't until Hispania fell that I actually think we saw what was happening to the Empire. When Hispania fell I think you noble Senators felt it in your pockets as well. The gold wasn't flowing as it once had to your endless pockets. But still you stood. Still you did nothing. How has it come to this that we now stand fighting for our lives in Italia itself. We have allowed ourselves to become corrupted by greed, and hatred of things, and in this failure we have let the monsters through the door. We have allowed those creatures of the night that once would not have dared to come to Rome to come right inside. Here we stand. Rome itself is burning. The entire empire is bleeding. This is where our failure has brought us.
Community content is available under
CC-BY-SA
unless otherwise noted.