Battle of Green Creek
The fool camped for an entire day on the words of a man he hated. He deserved what came on him that night. My only regret was the fact that I wasn't the one that got to kill the Bastard of Bolten myself.
Tyrek Lannister and Jamie Lannister land at the Port of Grandlen where they meet with Lord Ancel Grandlen and Nicoli Machiavelli but as they are unloading their Lannister force they can see that the Grandlen troops have already rallied and are prepared to move. Jamie becomes the leader of the Grandlen/Lannister force and places Hanzal Reyne, and Dale Grandlen as his top generals and with this in place they begin marching towards the north east where information they have says that Ramsey Bolten has retreated towards.
Battle of Green Creek
Main Article : Battle of Green Creek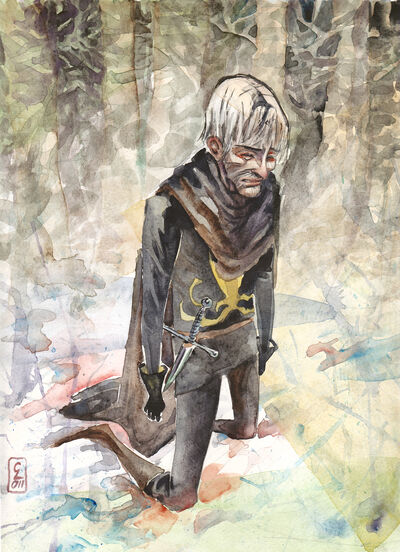 "

The fool camped for an entire day on the words of a man he hated. He deserved what came on him that night. My only regret was the fact that I wasn't the one that got to kill the Bastard of Bolten myself.

"

—

Jordin Bolten
What Ramsey did not anticipate was the fact that the moment that Jon Snow, Tyrion Lannister, Britt Lancave and Hedrik Clegane returned to Koenisburg they sent a raven to Jamie Lannister telling him to move against the Boltens. Ramsey had not realized that Jordin Bolten had joined his army but discovered his presence and begin to plot to kill Jordin. Jordin would at this point follow the commands of his cousin Domeric and begin to attempt to feed the mind of Ramsey with increasing amounts of lies. Jordin would tell Ramsey that he and Domeric had gotten into a fight and he was done with Domeric, and wanted to be close to the real leadership of Bolten in the form of Ramsey. So as Jordin gained slight influence he begin to say how under Domeric he had founded a scouting force which was the main reason Domeric had always been so succesful, and from this he knew all the comings and goings of the Divine Lands. So as they moved further northward and prepared to attack the town of Pomlet Jordin slowed them by saying he knew the location of scouts for Pomlet and took them on a massive route that delayed them significantly from where they would have been. As the delays continued Jordin knew that Jamie Lannister was close when a lucernian scout entered the Bolten camp and met with Jordin.
"

This was the moment where I picked sides. After this there would be no returning to Bolten, and my life here was at an end. I could only hope that Ramsey's death would lead to Domeric gaining control and I knew he would do what was right for the people.

"

—

Jordin Bolten
The scout was a man of Lannister named Toren of Castamere of whom told Jordin that the Lannister/Grandlen army was very close, and that they needed Jordin to move the Bolten army to a riverbed which would allow them to trap them, and destroy the army. Jordin would give the man a list of names, and banners of which he would pain with red on their tents and these men should be spared by any means necessary, and also he told Toren that Ramsey specifically could not survive. Following the departure of the scout Jordin would wake Ramsey in the middle of the night of whom was torturing some poor village girl in his tent, and would tell Ramsey that his scouts had discovered a lucernian force nearby and they needed to move quickly in the morning to a riverbed of which they would be able to hide and perhaps even ambush the lucernians.
"

We all heard about the destruction of the Boltens at Green Creek, and that was the end of the war from a public standpoint. From that point forward the Boltens moved from disaster to disaster.

"

—

William Lovie III.

[src]
The following morning the forces of Lucerne would move at full speed towards the riverbed where they knew Jordin would move them, and at the same point Jordin would have moved the entire Bolten army to the riverbed where he then told them the Lucernians had passed by them but they needed to remain where they were so that they could ambush the Lucernians from behind. Jordin would be commanded by Ramsey to have all the men sleep, so that when they attacked the Lucernians they would be at full strength, and Jordin silently laughed as Ramsey collapsed any chance of defence for the Boltens.
The Massacre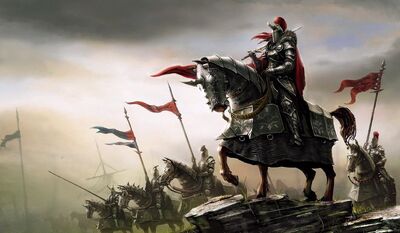 "

I knew the moment we were attacked that Jordin had betrayed us, and from that point forward I knew that Domeric needed to pay for what had happened to me.

"

—

Ramsey Bolten

[src]
Jamie Lannister and his three thousand cavalry would smash into the camp of Ramsey Bolten and in less then twenty minutes nearly the entire force was massacred. The four thousand infantry from Grandlen reached the camp midway through the battle and complete the massacre, and also make sure that they took control of the remaining noblemen that had been marked with red tents by Jordin during the night. It was as everything was falling apart that Ramsey Bolten would switch clothes with his servent Reek of whom he would smash the face of beyond any recegnition so that he could not be found to be not him. Reek had been known for being constantly covered in human refuse, and other garbage and thus to make himself look more like Reek so that he could get away with the swap. When Jamie entered the tent of Ramsey attempting to kill Ramsey or take him prisoner he found nothing but the supposed Reek standing over the destroyed body of "Ramsey Bolten". In that moment Jamie went to kill Reek but was stopped by Jordin Bolten who said to let Reek go as he was nothing but a slave they had captured from the Greyjoy's years past. Trusting Jordin Jamie would let "Reek" go and thus Ramsey Bolten escape the battle and made his way back to the Dreadfort.
Community content is available under
CC-BY-SA
unless otherwise noted.