Ygritte Styr




Story Role
POV Role
The North
Appears In
Lucerne Series
Vital Statistics
Born
5104
Title
Official Titles
Alias
Fire Kisser
Race
Wildling
Religion
Placeholder
Status
Alive
Allegiance
Family Loyalties

Personal Loyalties

Family
Parents
Father
Oralder Styr
Mother
Vera Stonesnake
Siblings
Siblings
Half Siblings

†

Grewa Styr

†

Gorrad Styr

†

Darrik Styr

Internal Family
Spouse
Jon Snow
Children
Base Born

---

With Jon Snow
"

Now is not the time to give up. Now is the time to fight.

"

—

Ygritte Styr
Ygritte Styr is a fifth generation Titan born the daughter of Oralder Styr and the fourth generation Valkyrie Titan Vera Stonesnake although she believes as does her father that her mother died during childbirth. Ygritte has several half siblings through her father Chief Oralder with those surviving being Gorrad, Darrik, and Grewa of which
Ygritte was born in the Wildling town of Styrten where as the child of Chief Oralder Styr she was a prominent birth in the town, although her mother would perish during the birth leaving her to be raised by one of her fathers other lovers. Growing up in Styrten she was very close with her eldest brother Harrik Styr who was a very influential warrior in the town and led one of the warbands of Clan Styr and his influence would be the most influential over her early childhood. Ygritte's brother Harrik would be killed in an honor duel with Hranald Magmar, and watching this she was horrified and tried to kill Hranald but was stopped by her father but despite this she would swear an oath of vengeance against Hranald, and following this she became obsessed with avenging her brother. Her dreams of vengeance would come to an end when she was sent away by her father in order to begin working at the task of capturing the Mountain Bulls on the slopes of the western Frostfang Mountains. Alongside her sister Grewa she grew quite skilled at the task, and this led her to rising in respect among the ranks of Clan Styr, and to this point she became the target of many men who came to want to make her their wife, but each time she became disappointed by their failed attempts at capturing her and she resisted them. She would become involved in something much larger then herself when her father moved Clan Styr into the growing alliance of Wildlings and she went southward to meet with the Night's Watch that was going to come to Hardholme to meet with them. On this march her clan mates were killed by members of the Magmar Clan who wanted to derail the peace process and targeted the Styr for their involvment. Ygritte would be protected by her friend Rattleshirt of whom was a Magmar but atleast an honorable member, and would join with them as they moved southward to intercept the Night's Watch. She would be captured by Jon Snow of whom would spark something within herself that she had never felt before for any of the multitude of men that had tried to make her theirs. Ygritte would protect Jon Snow and Domeric Highmore after they were captured by the forces of the Magmar, and following this she would lead them back towards Hardholme where she would protect them alongside her clan. As they got closer the camp came under attack from the vanguard of the White Walker army and many were killed but she escaped with Rattleshirt, Jon, and Domeric and returned to Hardholme where she would meet with her clan briefly and have an intense but brief affair with Jon. The White Walker army would attack and despite bravery by the defenders including Jon, and Ygritte burning hundreds the defenses failed and the city was overrun forcing them to abandon the city and flee. Ygritte followed Jon to the wall where she told him she would leave with him, but the moment she reached the wall and probably well before she knew she couldn't leave and thus the two lovers would say goodbye and promise to see each other again before going their separate ways. Fleeing the rampaging White Walkers it was Ygritte who returned to Styrten where her father held the town against the encroachment of the White Walkers, and alongside her father she helped to hold the town against several assaults from the White Walkers. Her assistance would end when she came to hear whispers in her mind and overcome by a desire to find the source she traveled north on a hunting mission into the mountains and it was while here that she was led to the Tower of Frostfang and a meeting with Vera Stonesnake.
History
Early History
Ygritte was born in the Wildling town of Styrten where as the child of Chief Oralder Styr she was a prominent birth in the town, although her mother would perish during the birth leaving her to be raised by one of her fathers other lovers. Growing up in Styrten she was very close with her eldest brother Harrik Styr who was a very influential warrior in the town and led one of the warbands of Clan Styr and his influence would be the most influential over her early childhood.
Death of Harrik
Ygritte's brother Harrik would be killed in an honor duel with Hranald Magmar, and watching this she was horrified and tried to kill Hranald but was stopped by her father but despite this she would swear an oath of vengeance against Hranald, and following this she became obsessed with avenging her brother.
Mountain Bulls
Her dreams of vengeance would come to an end when she was sent away by her father in order to begin working at the task of capturing the Mountain Bulls on the slopes of the western Frostfang Mountains. Alongside her sister Grewa she grew quite skilled at the task, and this led her to rising in respect among the ranks of Clan Styr, and to this point she became the target of many men who came to want to make her their wife, but each time she became disappointed by their failed attempts at capturing her and she resisted them.
The North
Main Article : The North
The North
It was so cold in its climate, and yet it was the first place I ever felt truly warm.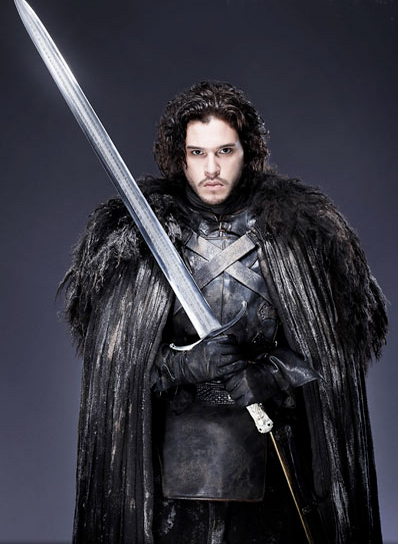 "

I was sending my son to a land I had never heard of, to defend a people I didn't know existed. His life was in the hands of the dragons.

"

—

Eddard Starke
Jon Snow had done extremely well during the Gondor-Lucerne War and because of this it was his stock in the family that was rising alongside his best friends Tucker Jurny, and Samwell Tarly who both were noble born with Tucker a noble born boy of House Jurny, while Samwell was a rejected member but still a member of House Tarly. It was in this situation that the family would watch the departure of two its members in the form of Dallia and Edric Starke who traveled to Gondor in an attempt to assist Gondor against what was a massive encroachment against the Pass of Ithil by the Empire of Mordor. With Edric and Dallia gone it was another crisis that reached the court of Stormwind when a letter arrived for Eddard written by his viscount Maege Mormont asking for assistance. The letter detailed that south of the Arnor central town of Galheim was a cold land sheltered between mountains called Frostfang, and it was in this sheltered land that Marge's brother Jeor had traveled to years previous and was now asking for assistance from. The request for assistance was something that Eddard couldn't offer much support to but decided to send Jon Snow and his personal forces to Bear Island in order to find out what was happening. Eddard Starke would go to find his son following him reading the letter, and he found him spending time with his two other sons Brann, and Robb and seeing this warmed his heart considering how far the family had come from the bitterness they had about Jon only a few short years previous. He would send Brann away but Robb accompanied him and Jon into the hall where Brandon, and Benjen Starke waited alongside many other nobles of House Starke to plan the journey of Jon Snow and his force to Bear Island. During the meeting it was made clear that the little information they had been given left them nearly completely in the dark and thus it would be up to Jon to handle the information and decide how best to handle it once he arrived there. Eddard Starke gave Jon command of the forces he had used during the Gondor War, and let him know that he could take whatever other men he needed but he had to travel with a relatively small force. Jon would gather together a few extra men that he had come to know, and then after saying goodbye to his family he would travel eastward to Bear Island and find out what the issue was.
"

My father entered my brother's room while me Robb, and Brann were horsing around, and the moment I saw his face I knew something terrible was coming.

"

—

Jon Snow
Arriving at Bear Island it was Jon and his party that would stay within the holdfast of Bearhold where they prepared to meet with Maege Mormont, who at the time was out hunting leaving her daughter Dacey Mormont in command of the city. Jon had met Dacey previously during the Gondor-Lucerne War and thus the two were able to get along quickly but there was silence on her part as she refused to speak of the mission her mother had requested help in. Waking in the morning to a knock on his door he follows Alysane Mormont and two Mormont guards to the Great Hall where upon arriving he finds Samwell waiting for him, and together with Alysane they both enter the hall. Inside they find Dacey, and Maege sitting at the table joined by several other Bear Island nobles. Maege doesn't speak as they sit down, she just continues eating the meal in front of her and this leaves Dacey to introduce Jon Snow to the other nobles who are shown as Halmen Woodfoot, and Derek Bearmant. Following this introduction its Dacey that begins reading the letter sent to Maege by her brother Joer Mormont. The letter details his need for assistance at the Southern Frostfang Wall where he stands as the Lord Commander of the Nights Watch. Unaware of what any of this means its Maege that finally begins speaking and tells Jon a story about the dangers the wall protects the world from, and how her family has always sent a member of its rank to the wall to help the Nights Watch. Samwell is skeptical of the dangers beyond the wall, but Maege brushes this aside and tells the group assembled that Jon will be leading a force to assist her brother in whatever he needs and realizing that his father gave him the power to ignore this request he asks for several hours to think on things. Maege smashes the table and storms from the room leaving Dacey to smoothj things over with Jon telling him that she will get him the time he needs, but for all the Mormont vassals they needed to be ready by the end of the day to leave. Jon leaves the hall with Samwell and goes to meet with his force who remains at the boat. Meeting with the force he tells them what he was told and most begin laughing but the laughter is stopped by Tobias of whom tells the group that Maege Mormont is not one for jokes. Tobias argues that if Maege is asking for this then they should not ignore the request, and his words turn several of the others leading to Jon also agreeing despite the resistance of Samwell. Jon and Tobias return to the great hall where they find servants and soldiers moving goods to a ship and finding Dacey they see that the group is leaving quicker than even it was said in the great hall. Jon agrees to go and Dacey thanks him, telling one of her knights to begin loading his boat with supplies for the journey northward.
The Road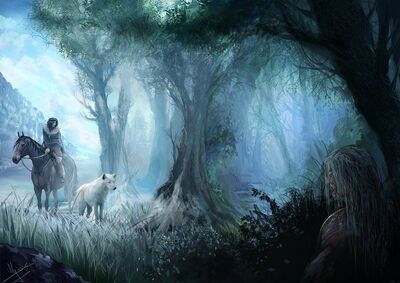 "

A long boat ride followed saying goodbye to my family, and it was during that boat ride that I for the first time sat back and accepted that I was going down a possibly dangerous road I might not return from.

"

—

Jon Snow
Leaving Bear Island, they made the trip by sea to their eventual stop at Storhold. The trip to Storhold was completely uneventful but during this trip the group would mingle during stops with the other boat which was filled with the men of House Mormont. During these stops they learned more about the dangers of the Frostfang mountains and what was once a simple task to complete became much riskier with each passing day. One of the main things they learned was from what Halmen Woodfoot tells them was a second letter that arrived at Bear Island but this letter was not shown by the Mormont's to Jon Snow. Halmen tells them that this letter detailed that the Kingdom of Storr the primary supporters of the Nights Watch were involved in an internal struggle and thus were at the time unable to help when the Wildlings inside the Frostfang mountains attacked the Wall. Arriving at Storhold the group would be given permission to travel to the Nights Watch by the Commander of the port, and then as they prepared to make their way to the Wall they were stopped by two men clothed in the armor of House Highmore, and one in the colors of House Martell or whom without saying a word passed a note to Jon Snow that said to meet them east of the town in the town of Stor. Forced due to the Highmores being vassals of House Lovie they would move to the town of Stor which was the capital of the Kingdom of Stor, and thus was heavily populated by the Storr. Jon would follow the notes command and traveled east to Stor where two days from the town they were greeted at their camp by the two men of House Lovie. The men introduced themselves as Harven Moore, Hedrin Tolhmave II., Cotter Highmore, and Domeric Highmore of whom had been sent to Storhold to assist Jon Snow in the mission. This group also had several men at arms with them with the Highmores bringing five men, the Moore's two, and the Tolhmaves bringing three. Cotter Highmore told Jon that the force from House Lovie had been sent by Carlisle Cullen with the purpose of gaining access to a Magical item known as the Shard of Erdillin. Realizing that his purpose there was quite different to the goals of the Lovie force he wanted to travel separately but it was Cotter that let him know that they would be joining him with or without his acceptance of them. Traveling through the lands of the Storr went without issue but upon arriving at border with the Nights Watch they were stopped at Long Lake where they were blocked on the road by a group of soldiers clothed in Black Robes. Led by Waylar Dalt the Nights Watch asked for the purpose of their business and giving the letter they had been sent by Joer Mormont calmed the Nights Watch who were obviously quite concerned about the arrival of more than five hundred foreign heavily armed troops at their border. Now escorted by the Nights Watch they entered what the Nights Watch called the Gift. The gift they said was land given to the Nights Watch by the King of ancient Stor so that they could provide for their mission protecting the Storr against the dangers of the North.
Castle Black
"

The Night's watch that escorted us to the castle had made the wall sound impressive but when you actually saw the wall it was breathtaking. Taller then most mountains the wall was something out of a dream. When my shock at seeing its size wore off I remember immediately thinking what threat could possibly warrant building that kind of defense.

"

—

Jon Snow
As they entered Castle Black they were met by the Nights Watch Commander in the form of Joer Mormont of whom assigned several of his stewards to make a place for the Lucernian force to stay. While this was happening Joer had Samwell, and Jon accompany him to the Lord Commanders tower where he would discuss with them why he had called for assistance. Entering the tower, they go up many levels until they reach a floor with a large table and several men sitting down and realize this must be the meeting hall of sorts. Sitting them down Joer is pulled away by a Maester and leaves Jon and Samwell at the table with the three Nights watch who were already at the table. These men introduce themselves as Bowen Barsh, and Denys Bucknet of which Bowen explains he was a noble of Storr but as the third son he chose the honor of the Nights Watch to inheriting nothing from his family, while Denys Bucknet explains he was the fourth son of his noble family in Lombard to the east and joined for similar reasons. Jeor returns and tells Jon that he asked for help as the wall was coming under increasing threat from the Wildlings who live in the valley of Frostfang. Denys discusses a very large series of attacks against the wall led by a Wildling Ornrad Hornfoot. This battle known as the Second Ornrad Hornfoot Attack on the Wall which had managed to actually get Wildlings past the wall and they had sacked several villages in the Gift before being killed to a man near the Shadow Tower. Explaining that usually this would be a matter for the Kingdom of Storr or Kingdom of Lombard who have supported them he reveals that both are caught up in larger issues and that he needed immediate assistance. Joer details that the Lucernian force would help them to augment the defenses of the wall while the Storr and Lombard governments finished their issues. Jon though would take an elite force with Joer and travel with a small Night's Watch force accompanied as well by several knights from Storr to meet with a man named Craster. Joer would be travelling to Stor to push for more assistance from the Kingdom of Stor thus leaving Jon Snow to delay any issues in the Frostfang.
"

The world that exists beyond the walls is one of great danger, and darkness. The world was young once, and during this time a great evil was awoken, and the best the good of the world could do was hide them in the dark. Frostfang is one of these prisons.

"

—

Joer Mormont
Following the departure of Joer Mormont it was Jon Snow and his commanders that would rest for a few days while the Nights Watch prepared their force to accompany the Lucernians, as well as awaited the arrival of the knights of Storr and whatever forces they sent. After several days the Storr Knights arrive in the form of two knights named Orland Glovelyn, and Anthor Stanlire of whom bring three hundred and fifty men with them. The arrival of Orland and Anthor changes the Nights Watch demenor as they become subservient to the Storr Knights and despite knowing that they are going into a dangerous area its Orland that refuses to cross the wall instead sending Anthor who is shown as the lower tier knight. Anthor takes thirty of the Storr men who join Jon's force, and a group of two hundred Nights Watchmen led by First Ranger Dorin Orkwood. When the force traveled north through the tunnel below Castle Black, they headed towards the lands of Craster which from the power Jeor described this man having he assumed was a tiny little kingdom. When they arrived, Jon discovers that the keep is a large town that had the look of an expansive slums, and a large wooden holdfast situated in the center on a large hill. The plan is to meet with Craster so that they can gain his support in keeping the Wildlings from attacking the wall, although the Nights Watch accompanying them seem to feel this is a fool's errand. For the part of the House Lovie contingent, they plan to use this time to find information on the location of the Shard of Erdillin. Entering Craster's Keep they are met by groups of armed women who appear in rough armor and weapons, and these women Dorin warns are not to be spoken to by any of the men, and all agree to this except for Anthor who laughs at being constrained around savages.
Craster's Keep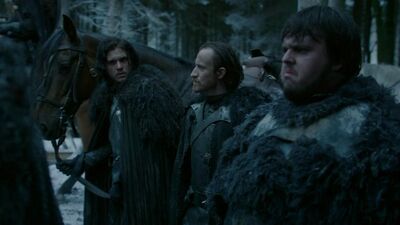 "

Things happen in this town that we would find unnaceptable. You will not speak of this inside. This is Craster's Town. Not ours.

"

—

Dorin Orkwood
Most of the men are told to remain outside leaving only Jon Snow, Samwell, Dorin, and Anthor to enter the hall. Entering the hall of Craster's keep they find the first man inside the holdfast and as Dorin shakes his hand they see this man as Craster. As the group sits down its Dorin that speaks first asking Craster what he knows of missing rangers who were said to have passed through his lands. Hearing this for the first time Jon just listens as Craster refuses to answer any questions before he receives his gifts. To get him to speak Dorin gives Craster his own sword, and when this isn't enough Dorin gives him his shield which does the trick and Craster begins to speak. Craster tells them that a group of rangers did pass through his lands, but they left without incident. Craster does tell them that the rangers were planning on heading to the Fist of the First Men, and skeptical on why they would go there its Craster that reveals he had told the rangers that he heard a magical vault was located at the site. Craster ends the conversation, telling them they can stay in the lower grounds which are the houses outside the holdfast, and this nearly leads to violence when Anthor laughs at the request. Calming Craster down its Dorin that leads the group out of the hall and back into the homes outside the hall. Preparing the force to leave its Craster that comes outside and demands Jon come back inside speaking to him for the first time. Jon goes back in alone and entering the holdfast again its Craster that tells him he knows him to be a Starke which surprises Jon. Giving no further information he tells Jon that he is welcome to stay in the holdfast with some of his men, but the remainder of the force must leave immediately. Leaving the hall again he tells Dorin, Anthor, and Samwell about this and Dorin tells him to accept this but to keep an eye out for danger, and to learn what he can. Dorin and Anthor are going to lead the force northward to a place called the Fist of the First Men, and they will attempt to find out what the rangers were going to find there.
"

First thing that came to my mind. Where are all the boys?

"

—

Jon Snow
Samwell gathers the rest of Jon's men who now enter the hold fast, while Jon is introduced to several women for the first time by Craster who calls them his wives before leaving them to direct him while he grabs a younger girl and leads her towards the tower beside the hall. The women would introduce themselves as Dyah, and Ferny and the two would show Jon and his men to one of the houses where they will stay. Arriving at the house they find several younger girls preparing the house and one of the girls bumps into Sam causing her to flee the house and Samwell to follow her. Jon and his group would stay in the keep for several days with each day Craster inviting him into his hall for a quick conversation, and then after asking him a few questions its Craster that sends him away. During their time there Jon's friend Sam would fall in love with the girl he had run after and introducing her to Jon she is called Gilly and unlike many of the other girls she is not plain but in fact quite beautiful. From the girl they learn more about what is happening in the area including the truth of why there are no boys in the holdfast. Gilly reveals that Craster is her father and all the girls at the holdfast are his daughters with him having lived for many normal lifetimes breeding with his own children. Hidden beneath the heavy furs it's only Ginny revealing her stomach that Jon realizes she is pregnant. Samwell begs Jon to leave the holdfast and to take her with them, but Jon is unwilling to violate the agreement he has made with Craster despite the horror that he is committing on the people of the town. The next morning, he is awoken by the girl he had met the day before. Sam had told her Jon's father is a king, and she pleads with Jon to take her and her unborn child to the king. She fears for the child's life, and Jon learns that if it's a boy, Craster will give it to the gods. When Jon asks what gods, Gilly elaborates 'the cold gods, the white shadows', and Jon knows that he needs to finally push Craster for answers. Jon tells her he can't help her, and she runs off. Jon later confronts Sam, who tells him he thought they could help the girl when they returned from the north, but Jon tells him he was a fool. Following these confrontations its Jon that is summoned before Craster and before Craster can speak Jon demands to know why he is being given these conversations and what the white shadows are. Craster for the first time shows emotion and reveals some of the truth of things. Revealing that he has made a deal with a creature lying trapped beneath his tower, and the deal requires him to give the creature all the boys born of his line. In return for this the creature gives him complete resistance to age, and safety from what is coming. Jon begins to move towards the tower preparing to kill this creature but is stopped by Craster who shows Magi abilities. Craster tells Jon that if he wants to stop all this he needs to travel to the Tower of Frostfang, and it's there he will find answers.
Fist of the First Men
"

The Fist of the First Men was described to me as one of the first places that the Numenorians had settled in the mountains and it was here that they had made their great last stand against the White Walkers.

"

—

Jon Snow
Lord Commander Mormont's men, and the Lucernians arrive at the Fist of the First Men, an ancient ringfort of the First Men during the Dawn Age, an old place that is strong with magic. It is also extremely defensible due to its position, Mormont decides they will camp there to await for Qhorin Halfhand and his men from the Shadow Tower and later he decides to wait at the Fist for the wildlings to emerge, as the only path they can take is down the Milkwater and past the Fist. Jon and the rest rides in but Ghost will not enter the fortified area of the Fist, despite Jon's efforts. That night however, Ghost awakens Jon and beckons him to follow. The direwolf leads him to what appears a grave under the shadow of the Fist, but as Jon digs, he realizes that there is something buried there. Inside, he finds several daggers and arrowheads made of dragonglass, and an ancient warhorn. The cache appeared to be buried relatively recently, and it was wrapped in the cloak of a sworn brother of the Night's Watch.
Moving North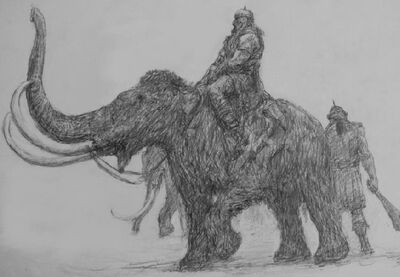 "

The Land was all wilderness, and it made me long for the relative warmth of Stormwind.

"

—

Jon Snow
Jon hears the call of a warhorn, one blast to signify brothers returning. Qhorin Halfhand has arrived, with 100 men from the Shadow Tower. Qhorin recognizes Jon, and tells him that he knew many Starkes in his own way. When Jon attempts to find out how he could know of Starkes he is told that he once visited Bolten on a trading mission and met the leader of House Karstark. The men from the Shadow Tower were delayed because they met Alfyn Crowkiller and his men who had been scouting along the Wall but had been attacked by the men of Magmar. They killed the wildling leader, but lost four men in the process. Later, Jon overhears dissent in the ranks as Chett and Lark the Sisterman speak of not going into the Frostfangs, no matter what the Old Bear orders. Jon had given the warhorn he had found to Sam, because it was cracked and he could get no sound from it, but Sam liked ancient items. Jon walks in and overhears Qhorin telling Mormont about a captive claiming that Magmar's forces had wargs and mammoths in his army. He also explains that the captive claims the wildlings plan to breach the Wall, not climb it or burrow beneath it. Qhorin tells them that Magmar is seeking something in the high, cold places of the Frostfangs, some power or artifact. Qhorin advises the Old Bear to send scouts into the mountains, and Mormont agrees. Jarmen Buckwell will take four men to climb the Giant's Stair, Thoren Smallwood will lead a party to probe the Milkwater, while Qhorin himself will lead a third party into the Skirling Pass. Qhorin immediately chooses Jon Snow as one of his five men, stating that The old gods are still strong beyond the Wall. The gods of the First Men…and the Starks.
| Clans in Frostfang | Loyalty | Strength |
| --- | --- | --- |
| Hornfoot | Day's Watch | High |
| Nightrunners | Night's Watch | High |
| Ice River Clan | Night's Watch | Medium |
| Frozen Shore Clan | Night's Watch | Medium |
| Magmar | Day's Watch | Very High |
| Thenn | Night's Watch | Very High |
"

The old gods are still strong beyond the Wall. The gods of the First Men…and the Starks.

"

—

Qhorin Halfhand
As Qhorin Halfhand's party moves through the Skirling Pass, they note watchers high up in the pass. Qhorin sends Callith Maller, Domeric and Jon to dispatch the watchers, and they were warned not to let them sound a horn. Callith teaches Jon how to climb a sheer cliff face, and they eventually reach the top above the wildlings. There were three, and after killing two, the third turns out to be a woman. She yields to them, and Jon takes her captive, despite Callith's warning that she should be killed. When she learns that Jon is a bastard son of a Stark lord, she tells him the wildling story of Bael the Bard. Supposedly, before he joined the free folk, he was a raider, or, according to Stonesnake, a murderer and robber.
"

The Starke King wanted Bael's head, but was never successful in capturing the bandit. To teach the king a lesson, Bael slipped into Winterfell calling himself Sygerrik, which means 'deceiver' in the old tongue of the First Men, which the giants still speak. In return for his performance, he requests the fairest flower in Winterfell, and the king gave him the rare winter rose. In the morning, the singer was gone along with King Brandon's daughter. A year later, the king's daughter is found in her bedchamber with a young baby. Bael had hidden her in the crypts of Winterfell. Thirty years later when Bael was King-Beyond-the-Wall and led the wildlings south, it was his son, the new Starke King, who slew Bael, since the bard would not harm his son. Upon returning home, the young king's mother killed herself when she found out Bael was dead, and so is the tale of your family.

"

—

Ygritte
Domeric and Jon both remain for a time with Ygritte talking to her trying to get her to explain what she knows of what is going on, and she refuses stating she will only tell if they allow her to escape. Domeric is called away by Qhorin of whom needs him to join them as they cross the sheer cliff, and he places Jon in charge of watching the wildling until they return.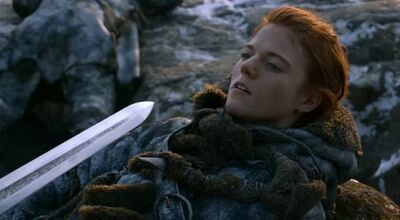 Jon Snow stands guard as the others leave, and Ygritte during this time begins to seduce him, of which he attempts to keep her from doing, but he is unwilling to harm her due to his upbringing, and so she is able to get out of her clothes somewhat showing herself naked to him. Attempting to seduce him into having sex with her, he finally is able to resist her, and ties her up again and puts her top back on before holding her down with his body. As he does this she continues to flirt with him, and this continues in her hope she could escape. When Qhorin and the others arrive, Ygritte recognizes the Halfhand and confirms that the wildlings would kill him if he yielded. When Qhorin commands her dead Jon says that he will do it, and the other men leave to continue on the path while Jon says he will catch up. Ygritte tells Jon that Mance Rayder would accept him if he ran off with her. Jon, about to behead her, finally stops himself and tells her to run off.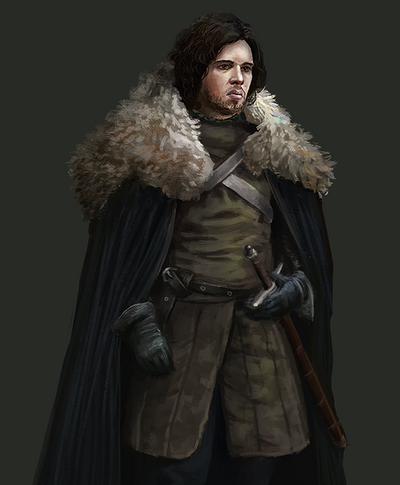 "

I let her go for a reason I couldn't explain. She just in that moment didn't deserve to be hurt, and I knew most of all there was no way I could hurt her even if she deserved it.

"

—

Jon Snow
Jon tells Qhorin Halfhand what Ygritte had said to him about Mance Rayder accepting him if he ran off. Qhorin confirms this. Qhorin knew Mance when he was a black brother, and the ranger tells Jon that Mance loved songs and wildling women, and that he was a wildling captured as a child by the Watch. He was the best ranger they had, but he returned to his roots, some say to gain a crown. Qhorin suspects that Jon let Ygritte go, and Jon confirms that he did, however Qhorin understands that the girl was not a threat, and if he had wanted her dead he would have had Ebben do it, or have done it himself. Qhorin tells Jon that he now knows him better than he did before, and that it was important for a commander to know his men. They were traveling at night and resting during the day, and during this time Jon Snow grows closer to Domeric Highmore of whom he finds a brave young man worthy of the respect he has earned. That morning, Jon dreams of six direwolves, of which he realizes are the Starke Direwolves. Seeing through the eyes of Ghost, he finds himself in a forest and senses a voice calling his name from a nearby weirwood, one that resembled his brother except it had three eyes. His brother explains to him how to open his eyes, and the tree reaches down and touches him, and he finds himself back in the mountains. He is atop a cliff, and oversees thousands of men training for combat, and he also sees mammoths with giants riding them. Suddenly, an eagle soars out of the sky coming straight for him.
"

It was all falling apart and yet what could I do?

"

—

Jon Snow
Jon awakens shouting Ghost's name. The others hear his shout, and he tells them what he sees. Qhorin calls it a wolf dream, and Ebben calls Jon a skinchanger. Qhorin, however, does not balk at the thought of wargs and giants during a time when the dead walk and the trees have eyes again. They set out at just before dusk, and spot an eagle watching them, well out of bowshot. Soon after, they find Ghost wounded and dress the direwolf's wounds. Qhorin tells them they must head back to the Fist, for they have been seen by the eagle which they fear is a skinchanger as well. They begin the journey back through the Skirling Pass without lighting any fires despite the cold. But their lead on the enemy was shortening, and when they came upon the place where the wildlings were killed, Dalbridge remains behind with all their arrows, sacrificing himself to give the others an advantage.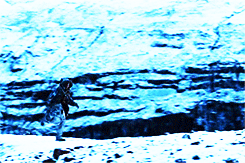 "

It was a hopeless escape and yet what other option did we have for ourselves.

"

—

Jon Snow
The weather in the Skirling Pass has gotten worse. Qhorin sends Ebben back with the last garron to reach the Lord Commander with all haste, while the rest try to head off pursuit. Watched by the eagle, Qhorin then sends Callith back as well, to take the high passes to reach the Fist of the First Men. Qhorin commands Callith to tell Mormont all that Jon saw: that he faces giants and wargs and worse, and that the trees have eyes again. As Night rises Domeric Highmore and Jon Snow talk of how neither thought it would end this way, and as they walk Domeric tells him the beauty that is Lucerne Hold and everything that he needed to see before he died. That night, the Halfhand asks Jon if his sword is sharp, and makes the young man recite his oath with him. Qhorin then commands Jon to yield when they are overtaken, and not to balk no matter what the wildlings ask him to do to prove himself. Jon is appalled at the suggestion, but Qhorin tells him to go among the Wildlings and learn what they plan, watch what they do, but to remember who he is and to return to Mormont when he has learned what the wildlings are searching for. Qhorin promises to tell the Lord Commander that Jon never broke his oath when he sees him again.
"

You couldn't see or hear them but you knew they were always just right at your back. No matter where we moved that damned eagle just watched us.

"

—

Jon Snow
They are overtaken soon after by Rattleshirt Thenn and a large force of wildlings, Ygritte amongst them. They have Ebben's head, and Rattleshirt orders them killed. Jon yields, as Qhorin ordered him to, and the Halfhand says in contempt, "I was warned bastard blood is craven." Rattleshirt commands Jon to kill Qhorin to prove himself. Jon slays the big ranger only after Ghost gives him an opening by biting the man's calf. The wildlings accept him despite Rattleshirt's misgivings, and Ygritte tells him that the eagle was once the man he killed up in the passes when they captured her. Jon and Domeric are kept together for a time but as they travel they are seperated after Trin Hornfoot believes they are plotting an escape when actually they were just talking. When talk grows again about killing Jon and Domeric before they arrive Ygritte stands up for Jon and says that they are vouched for by her and that none will harm him or his companion. Not wanting a fight due to knowing her father Trin Hornfoot backs down and moves his Hornfoot towards Hardholme and the growing darkness.
Hardholme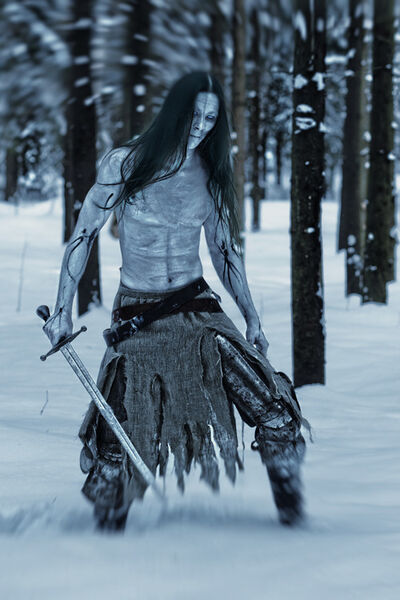 "

Something changed within the wildlings once we camped near Hardholme and the way in which Ygritte watched us told me that something was going down.

"

—

Jon Snow
Arriving at the edge of Hardholme Jon, and Domeric are gaurded closely by Ygritte who clearly begins showing an interest in the young Jon Snow and protects him while they camped during a particularly bad snow squal. Jon awoke to the sounds of screaming as a wildling stood bleeding on the ground with Ygritte stabbing him with a spear before grabbing Jon Snow and forcing him to his feet. Running alongside Ygritte he saw Domeric being dragged in a similar way by Rattleshirt as the two pairs ran through a massacre of the wildlings and towards what Jon assumed was the city of Hardholme. As they ran the cries started to die down as they reached far enough away. Walking further they finally spotted the vast city of Hardholme situated on the peaks of what Ygritte called the Fist of the First Men. When Jon told her that was where Mormont had also gone she told him that was because they were working together. Telling Jon that the Wildlings that had hunted and killed the Nights Watch and forced Jon to kill Qhorin Halfhand were not Thenn but Magmar men who wanted to destabilize the talks between the Nights Watch and the Thenn. Jon would finally discover much of the truth as she told him that the White Walkers were the real threat not the fake civil war in Hardholme as the Thenn were those Wildlings loyal to the old ways and to the Nights Watch style for the Frostfangs while the Magmar were loyal to the Day's Watch of which were the men that gaurded the northern wall in much the same way as the southern wall except they had grown greedy and no longer cared for containing the White Walkers as much as they cared for making money. As they got closer to the city they were greeted by Sam Tarly and the other Lucernian members as well as Mormont, and a Wildling that stood proud enough that he must have led them.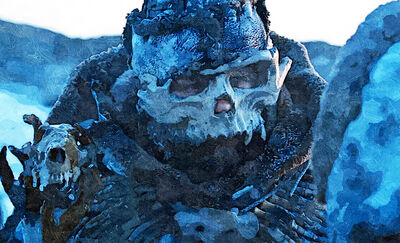 "

Entering Hardholme was quite the experiance as I had never seen such a primitive but also massive city in my life. Stormwind was much bigger but Hardholme held its own impressiveness.

"

—

Jon Snow
Jon Snow would go with Ygritte as she brought him to the place that he would stay the night resting before the three groups met the following day. Wanting to know more but realizing that he was beyond tired he layed down, and without much coaxing he was joined by Ygritte of whom laid with him. Waking up in the morning to the sounds of knocking at the door he found himself snuggled with Ygritte and in this place he felt more at peace then nearly any other time in his life. In this place noone cared he was a bastard, and noone judged him for things he had no control over. Jon would go behind a screen to get changed, and when he came back he found Ygritte naked standing in front of him. Never having seen a naked girl before he knew little of what to do, but as she kissed him things moved forward and despite the knocking on the door he ignored it and the two would make love.
Finishing she got dressed and kissed him one last time saying the following.
"

You are mine now Jon Snow, and I am yours. You will not betray me or do me harm. Promise me.

"

—

Ygritte
Feeling something powerful towards Ygritte he nodded and followed behind her as she took him out of the room and into the street where a clearly aware Sam Tarly followed behind them alongside the rest of the Lucernians. As they marched up the mountain side pathway into the core of the city they were stopped by a loud horn that went off high in the mountain. As the first horn blew she told him that meant that Rangers were here, and that suprised her because the Day, and Night Watchers were both already here. The second went off describing that the city was under attack, and she told them they needed to get higher to meet with Rattleshirt and the others, but they were stopped in there running by the third horn. Ygritte stood motionless as all the hustle and bustle around them of Wildlings running about preparing for battle stopped and everyone just stood staring blankly. Jon moved in front of Ygritte and held her face begging her to tell him what the third horn meant.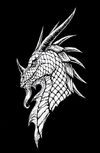 The Rise of Lucerne
I saw the destruction of the world, and knew I had to stop it. There was nothing left to do but become bigger then everyone else. The Empire was never going to be the beacon the world needed it to be. Westros was on fire. The Bretonians had reached for the stars and been burned. And the old shadow of Numeron was fading far too quickly. It was left to us in Lucerne to change the fate of all those who wished to reject darkness. We were the last hope for a world who had long since given up on believing.

She stood there with her eyes utterly blank staring at the high peaks of the mountain as if my face was not right in front of her. I moved her with a kiss and her eyes focused on me for a moment and I knew she heard me speak this time. "Ygritte what does the third horn mean?" She swollowed quickly before grasping my hands in front of me as if to protect herself.
"The third horn...it means the White Walkers are here." A tear fell down Ygritte's face as she said it, and with that I held her hand harder as the people around us started to move again as soldiers started to pour out of the fort at the top of the hill including the black clothed men of the Night's Watch and the Crimson men of the Day's Watch. Watching Jeor Mormont come out of the tent he moved towards me and grabbed me by the shoulder.
"It's time to go Lord Snow." He grabbed me by the shoulder and my hand got loose from Ygritte's for a moment and as I turned back towards her their was utter fear on her face. She reached her hand out as I moved away, and I got out of Mormont's grip and took hold of her hand. Mormont stopped as he saw my hand in hers and laughed. "Milord I know that you are smitten. I can see it on your face, but this entire city is going to burn to the ground. Its time to go south."
"And what about those that cannot flee. We need to buy them time so that they can get to the wall." There was a pause as I looked between Ygritte, and Mormont, and as neither responded I knew the truth. "Thats it isn't it. You can't let them get to the wall."
"The Night's Watch was founded in order to bring protection to the land from the White Walkers, of this there is no question...but at some point the world stopped being afraid of White Walkers, and we were forced to make a choice."
"What choice?"
"The Day Walkers found their survival through tolling the waters west of the wall, and forming their own small kingdom. They still had support from Arnor though as well. But for us down here we had nothing. We were running ragged, and we needed help."
"So thats how the Strom bribed you into caging us in here." Ygritte's grip on my hand clenched, and I watched as she silently reached for her dagger. I couldn't believe that I was sent all this way just to let all these people die. These Wildlings were people, and yet they were born on the wrong side of a wall someone built once, and now they were supposed to just lay down and die.
"I'm sorry if that isn't fair, but we need swords, and volunteers and the only way we get that is if we keep the walls blocked from any large migrations of the Wildlings." He must have seen the look of rage on my face as he continued. "Jon I can let her through, and maybe few hundred others but I can't allow more then that through the wall."
"Were going to get through your wall Old Bear."
"I'm sure you will try." He said it with a sence of doom so strong that I didn't need to remember the stories he told me of the WIldings attacking the wall and being defeated to understand that attacking that wall was a hopeless motion.
Battle of Hardholme
Main Article : Battle of Hardholme
"

I couldn't believe I had been sent all this way just to watch them die. I couldn't let them die. I couldn't just leave her here.

"

—

Jon Snow
Realizing the severity of the third horn the group followed Ygritte as she brought them to the inner keep where they met with Rattleshirt. Rattleshirt told them that the White Walkers had massed a very large army of which the vangaurd had hit them back at the camp days before, and the full army was now massing around Hardholme. From the top of the peaks of the fort it was nearly zero visibility due to the clouds and snow, but as the hours dragged by, and the nigh approached bringing with it the darkness and loss of snow accompanied by the fires all along the road the Lucernians were shocked to see nearly the entire horizon covered with the army of the White Walkers. Rattleshirt enlightened them to the fact that very few actual White Walkers had ever been seen but instead they used reanimated corpses of the slain to fill their armies while they hid in the background and mopped up those surviving. Rattleshirt would lead them down onto the lower battlements where the forces of the Wildlings massed all along the walls in the hopes of slowing their advance but Rattleshirt told them that the Wights of the White Walkers could only be destroyed by fire, and thus their walls would only slow them. By this point there was a growing retreat from Hardholme as the women that didn't fight, the children and old fled through tunnels under the city into the surrounding region, while the Night's Watch, and the Day's Watch also prepared to flee the city as well. Jon Snow would stand beside Ygritte as the shambling horde of Wights approached the walls and watched as dead men covered in arrows didn't slow as they moved and used makeshift rams to bash at the gate. So many were the Wights that they layed themselves on the ground massing in areas so that they could scale the walls, and it was here where the Battle first begin.
"

Dead men are difficult to kill for a number of reasons, but the main one being that as long as they have a head they just keep moving. Still capable of holdings axes, and swords they were a dangerous oponent made even worse by the ever present fact that they were nigh invinsible.

"

—

Harven Moore
The Wights had a massive element of fear as the men fighting them were horrified to be fighting dead men, and this allowed them break the moral in certain sections easily and overruning their way across the wall. Rattleshirt, Jon Snow, Ygritte, and Domeric Highmore and his father Cotter fought near the gate, and the fight there was terrible as the Wights moved forward irrigardless of their losses, and each dead Wildling only pushed them back farther. Seeing a spot east of them being overrun Rattleshirt had Domeric, and Cotter follow him there leaving Jon, and Ygritte at the gatehouse nearly alone except for several Wildings of whom were falling one by one. The two were able to hold for several minutes before Jon pushed one of the Wights back over the wall and pushed an entire cauldron of oil over the side of the wall, before Ygritte threw a torch at the oil igniting much of the ground in fire, but also igniting the wall as the wall was made of wood and not the stone of the more advanced lands. As the fire spread they had cleared the walls but watched the gatehouse burning down, and realized that the breach had been made. Running towards the direction that Rattleshirt and the Highmore's had went they ran into Harven and Hedrin who told them that the eastern wall had been overrun and they needed to escape. Finding Sam standing over the body of a Wight as they moved towards the tunnels they were caught up to by Rattleshirt and Domeric who said that Cotter had fallen along with the men at arms and basically the entire western wall.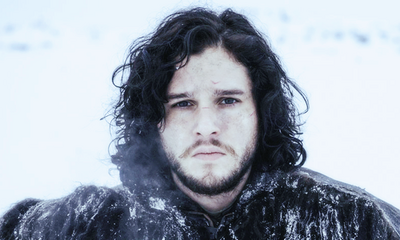 "

We stood side by side as the Wights pounded against us, hoping to hold out for just a few minutes in the hope that more men could escape the destruction, but the entire time we did we didn't save a soul. Everyone was dead.

"

—

Jon Snow
After fighting by the tunnel entrance for ten minutes they realized that noone was coming and they entered the tunnel sealing it behind them. Travelling down the tunnel after hours they reached the exit and met with hundreds of other survivors of whom relayed stories that the retreat had been suprisingly succesful and many had been able to escape due to the length of time the defenders had held on for. Clans had retreated into the mountains, while the Day's Watch had retreated, and only the Night's Watch remained. Ygritte asked them how the retreat of Clan Styr had when, and when she learned they had survived relatively unscathed including her father she was relieved. 
Retreating
"

You could see the smoke from miles around as the city of Hardholme burned to the ground. In a matter of a single day the only city we had ever managed to build and make our own was gone.

"

—

Jon Snow
The Lucernians would meet with Mormont of whom told them that it was time to leave as they were going to quickly be overtaken by the White Walkers of whom had now destroyed the only city between them and the southern Wall. Ygritte loved Jon but didn't want to leave her family and her people behind for a people she didn't know, but after spending the night together before leaving once again he was able to convinse her to follow him. The group would travel to the wall, and along the way the Wildlings all but abandoned the group as they knew that they were not going to be able to cross the wall as they were Wildlings, and as each group left Ygritte became more and more ansy about remaining behind despite her love for Jon. As they reached the wall they moved through the gate which was opened for them, and made their way into Castle Black where Jon and Ygritte spent one last night together. The next day Ygritte made Jon take her to the top of the wall before they were to leave and he did as he she bid him. Reaching the top of the wall she would begin weeping as she knew that she was leaving him and returning to her people. Ygritte would make a tearful request for him to come with her, but he like Ygritte had a family that he knew needed him back and thus the two would stand on the wall looking out onto the wall that seperated their lives. Returning to the ground she was allowed to leave throught the gate, and a teareful Jon woul say one last goodbye begging her to not leave him.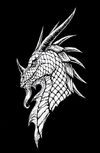 The Rise of Lucerne
I saw the destruction of the world, and knew I had to stop it. There was nothing left to do but become bigger then everyone else. The Empire was never going to be the beacon the world needed it to be. Westros was on fire. The Bretonians had reached for the stars and been burned. And the old shadow of Numeron was fading far too quickly. It was left to us in Lucerne to change the fate of all those who wished to reject darkness. We were the last hope for a world who had long since given up on believing.
We stood in the tunnel and I wanted to change it. I wanted to make this different, and yet I couldn't manage a way. Words failed me in that moment and I came to hate Nan for all her lessons as clearly it had done me no good the moment I needed my words. We held eachother, but the feeling of loss was everywhere, and it hurt so much. "Ygritte that land is gone. I cannot lose you. You are mine."
"And you are mine Jon Snow....but we both have things we need to do now. You need to accept that one day the moment will come where this place will come back to you. All the things you have seen here and all the things you won't be able to escape these are your cross to bear." She kissed me hard on the lips before speaking again, and her eyes had such passion in them. "You must return to me one day Jon. Promise me this last promise. Promise me that you will return to me." 
I knew in that light that I would never know more beauty or perfection then the girl in front of me, and that any smart man would go with her. Protect her from it all. But I also knew that after everything my family and my kingdom had been for me, I couldn't just abandon them. "I promise you Ygritte. I'll come back to you." I didn't know if I was going to be made a liar by that promise, but I know that in that moment I believed it. I know right now that everything in me could never forget her face. She smiled back at me and brought her lips to mine. She was so cold, and I felt the pang of regret as I knew that noone would be there for her now to keep her warm in the night, and as if sencing my brooding she kissed me harder.
Saying their last goodbyes she walked through the gate, and the two stared at eachother as the gates went down, and brought eachother from their sight. For Jon Snow he made his way into Castle Black to discuss what there next move would be, but as he and Domeric reached Castle Black they would see several very well armored, and equipped knights carrying the sigil of Strom. The Knights would be led by one of the sons of the King of Strom, and he instructed Jon Snow and Domeric that the Lucernians were to leave Strom now, under the command of their king. Refusing to tell Jon anything more Jon and the rest of his much diminished party were escorted away by the Strom Knights and Mormont.
Defence of Styrten
Fleeing the rampaging White Walkers it was Ygritte who returned to Styrten where her father held the town against the encroachment of the White Walkers, and alongside her father she helped to hold the town against several assaults from the White Walkers.
Meeting a Mother
Her assistance would end when she came to hear whispers in her mind and overcome by a desire to find the source she traveled north on a hunting mission into the mountains and it was while here that she was led to the Tower of Frostfang and a meeting with Vera Stonesnake.
The Reckoning of the Day's Watch
Reckoning of the Day's Watch
The Day's Watch was created to protect the world, and I would make sure that was what they did.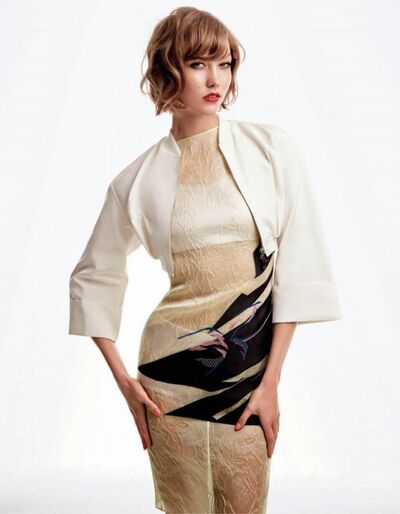 "

This is the beginning Sam. After this none of our lives will ever be the same, and do you know what the best part is. Were going to do something truly valuable to the world while were here. Were going to be the people who don't just sit by and watch, were going to be the people that stand up and fight for what is right.

"

—

Jon Snow to Samwell Tarly
Jon Snow would arrive in Tyke alongside the rest of his party, and there three ships entered the port to little fanfare they thought, but in actuality they were being watched from afar. Jon Snow would command his men to gather their things and prepare to move out the following day, as Jon planned to go into Tyke and using funds he had gathered in Westbridge, and from the others of his party they would hire mercenaries. Following this the main plan was to use the mercenaries plus their forces to sack the main fortress of the Day's Watch - in the form of Castle White - and then hold it for long enough that they would be able to allow the Wildlings inside the wall, and then alongside the Wildlings they would take control of the Day's Watch, or retreat out of the area. Jon Snow, and Benjen Starke would come to shore with a dozen men, and as they did they were stopped by the dockmaster in the form of Jerico Swain, of whom was also accompanied by a beautiful women clad in armor and weapons of whom Jerico introduced as Allerie Greyjoy.
"

You look at me bastard, and you see something beautiful. Something weak. But let me tell you bastard that I am not to be trifled with, and the day you forget that is the day I put an axe in your back.

"

—

Allerie Greyjoy to Jon Snow
Jerico Swain would introduce himself as someone that had known Eddard Starke very well, and indicicated that because of this he was going to help Jon in his attempts to retake the Day's Watch. Jon would attempt to force Jerico to tell him about how he knew Eddard Starke, but his attempts to do this failed, and Jerico would briefly leave in order to deal with a situation, and Jon was taken aside by Allerie Greyjoy.
Conversation Incoming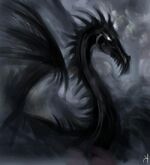 When I was a young man I thought everything in my life would go a certain way. I would squire for a great knight, and he would put his sword to my shoulder one day and tell me I was now a true dragon knight. I would marry a beautiful girl that loved me, and together we would have a happier family then the one I remembered most days. I would rule the kingdom as a fair king, and the land would prosper. I was never squired because my father kept me in Lucerne for my childhood. I married a beautiful girl and had children with not only her but three other girls of which ultimately led to her death. My rule had definetly prospered the kingdom, but as the tally of my actions grew I begin to question how fair I am.

"Samwell are we expecting anyone?"
"No Benjen. Why do you..."Samwell didn't have to finish as the sight of the large group of heavily armed men moving towards us told him why my uncle had asked. He looked back at me with pure fear, and I stepped forward to stand between him and the men. "What do we Jon?"
Before I could anwser a women's voice broke through "You are Jon Starke of House Starke?" I looked the women up and down and she was a frightening mixture. The beauty of her face. The curve of the small amount of skin you could see beneath her heavy armor. All of this beauty was quite the contrast to the heavy mace she held swaying in her hand. "Was the question confusing Dragon?"
"I am Jon Snow." The girl's face broke into a smirk but as she went to speak a man came beside her.
"You continue to call yourself a bastard." The man spoke with a questioning tone, as the girl beside him stopped her smiling and returned her gaze to me. The man who spoke was lanky, and wore a giant green cloak with the cloak going up to his noise covering the bottom part of his face.
"I am a bastard." The truth was the truth, and despite what anyone was going to say this was who I was.
"Your father named you a Starke. Your king logitimized you in the sight of your Dragon Gods. You are not a bastard anymore."
"Call me what you will ser, but I would have your name as well."
"My name is Jerico Swain. This wonderous beauty is Allerie Greyjoy. Now that we know eachother you may tell me what brings so many noble Lucernians to the land of ever winter."
"We have come to join the Day's Watch."
"I don't think so Jon Starke." He looked behind him nodding at several of his men of whom moved further away from us and led several watching fishermen away.
"It is the truth. It matters little if you believe it."
"So now we have a problem Jon Starke. I don't like being lied too. Some would say its the thing I hate most in the world."
"I would suggest that at this time you stand before us. Two people who I might add have nothing nefarious in our hearts towards you. I would hope that you would atleast stand before us with a shred of the honesty your father is so famed for having." As she spoke her face softened, but also while she spoke several men all carrying the same 
"You wish for honesty Jerico?"
"That is what I expect."
"Fine." I turned around to look at Samwell of whom gave me a nod. "The truth Jerico is that I have come here to find someone."
"The Wildling girl." Jerico looked towards Allerie. "What was her name again Allerie?"
"Her name is Ygritte."
"Oh yes. Ygritte. Her name is Ygritte."
Alliances with a Family Friend
"

When I was a boy Jon Starke, I knew your father. Everyone except for your father. I mean everyone in my life was worth less then the air they breathed outside of your father. He protected me when he had no reason too. He was kind to me when it would have been easier to have been cruel. I shall not forget that.

"

—

Jerico Swain
After meeting Jerico Swain, Jon Snow and the rest of his forward party would be taken by Jerico back to the Townhall of Tyke where Jerico would introduce them to his inner circle. After showing Jon Snow the trickary that was present in the world of the Day's Watch the two would begin planning the capturing of an abandoned castle along the Wall of which Jon Snow could use to get through and shuffle Wildlings through.
Capturing Castle Lucerne
"

We walked to the edge of the forest and the young squire pointed down the valled. Looking down I saw what looked at first like a pile of rocks, but as I looked closer I realized this was the castle we had come to find.

"

—

Jon Starke
Jon Snow would be given the command by the Magistrate of Tyke in his ally Jerico Swain to retake the Eye Tower of which had been painted as a mission to further expand the power of the Day's Watch, but in fact was for no other reason then to give Jon Snow a base of operations away from the madness of the inner circle of the Day's Watch. The abandoned Castle along the wall had once been known as the Eye Tower, but this changed when Jon Snow and his men took it over, and they would rename it Castle Lucerne after their homeland.
Through the Wall
After the expansion of Castle Lucerne, and the further growth of Jerico Swain in Tyke the situation was ripe to finally pass through the wall when they had finished repairing the gatehouse leading through the Wall. Needing more materials for the construction of the repairs the gatehouse needed Jon Snow would begin to reopen several damaged mines, and mills in the area around Castle Lucerne, and brought in nearly four hundred Atlantians that were sent to him as assistence by Jerico Swain. As the mines, and mills reopened he was forced to place Samwell increasingly under a more civilian command as they needed to create farms, or else they would starve out if they lost the constant supplies of Jerico Swain, and Samwell Tarly was the perfect person to put in charge of such a thing.
Finding Ygritte
"

It would have been beyond painful it I got this close only to find out that the worst had come to pass.

"

—

Jon Snow
Travelling through the wall Jon Snow would move with a small group, and moved immediatly to the rivers where he knew the Wildlings had begun to settle due to the mild protection that the water gave them. Travelling by horseback for two days down the riverside they didn't see anything until the third day when they saw a large group of boats towed together in the middle of the river. Dozens of boats all tied together, and above them flew the flag of Clan Styr of whom he knew was Ygritte's family.
Battle of Castle White
"

I never wanted to move from her side. I knew before that she was who I wanted to be at my side for the rest of my life, but being back here in the flesh made me realize that the love was so much stronger then even I realized it was.

"

—

Jon Snow
Following the bringing of Ygritte and her Clan of Wildings through the gate she and Jon Snow would make themselves quite shut inside the inner Hold of the castle, and during this time Samwell took brief command of the Castle Lucerne forces. Also upon there return begin the whispers that the White Walkers were moving against the Northern Wall, and that they were moving in incredible numbers that had never been seen this far north. Samwell was sent word from Castle White commanding them to send reinforcements to Castle White, but this was ignored as Jon, Benjen, and Sam decided that they needed to see how this played out and told Castle White that Castle Lucerne was under siege. The attack on Castle White though would finally come to fruitition when the White Walkers and a massive army of Wights arrived at Castle White and put it under siege.
Battle of Frostdown
Following the capture of Castle White by the White Walkers they would move agressively against Frostdown putting it under siege as well.
Second Battle of Castle White
With the Emperian army arriving at Frostdown and slowing the advance of the White Walkers Jon Snow would counter assault at Castle White - alongside the remaining Days Watch forces present in Tyke - of which if succesful they would close the gate in Castle White thus blocking the White Walkers from getting across.
Family Members
Relationships
Jon Snow
See Also : Jon Snow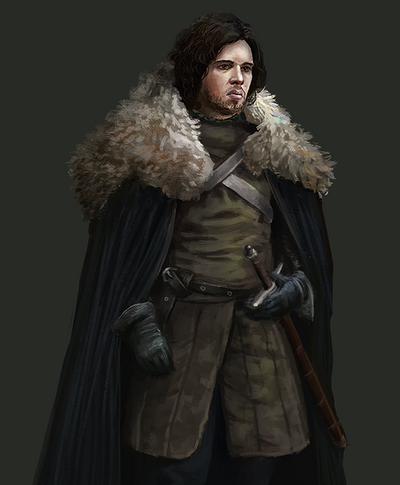 "

Leaving you is too hard Ygritte. From the first time I saw you I knew in my heart that I had never seen something so beautiful in all of my life. I want to hold you in my arms until I can't move. Your everything to me...don't you see that?

"

—

Jon Snow
Ygritte and Jon Snow would meet when Jon Snow, and his party entered the Frostfang Valley and she would be captured while there was confusion over what they were doing in the Frostfangs. Jon would be unable to kill her, and this led to a relationship growing of which forced her to protect him, when the other Wildings wanted to kill him. Sleeping together upon their arrival in Hardholme the situation was perfect for them until the White Walkers attacked the city. Fighting side by side they would survive the Battle of Hardholme and made their way through tunnels out of the city, but following this Jon Snow and his forces were fleeing the Frostfang Valley while Ygritte refused to leave her people. Jon would despite great reservations leave Ygritte behind, and this led her staying with her Wildings of whom were now being hunted mercisilly by the White Walkers and forced to cosntantly be on the watch. During this time Ygritte would gain more and more influence over her tribe, but also the relationship she had built with Jeor Mormont meant that she passed on information to him about the events within the Frostfangs, and in turn Jeor would send letters to Jon Snow telling him of what Ygritte's situation was.
"

There wasn't a single day I didn't think of you. Not a single day that I didn't miss you. My love for you overwhelmed me.

"

—

Jon Snow
Ygritte and Jon Snow's relationship would continue in a way, and become more deep once he had left as Ygritte missed him terribly while he was gone, and this was matched equally by Jon Snow. For Ygritte there was no way out of the Frostfangs now, and that meant that she was stuck being constantly hunted by the White Walkers, and never knowing if Jon would come to save her. For Jon Snow his missing of Ygritte would eventually cause him to abandon his command in Bolten and alongside many Lucernians wanting to help him, he would travel to the land of the Day's Watch in order to save Ygritte from what he knew was eventually going to be death.